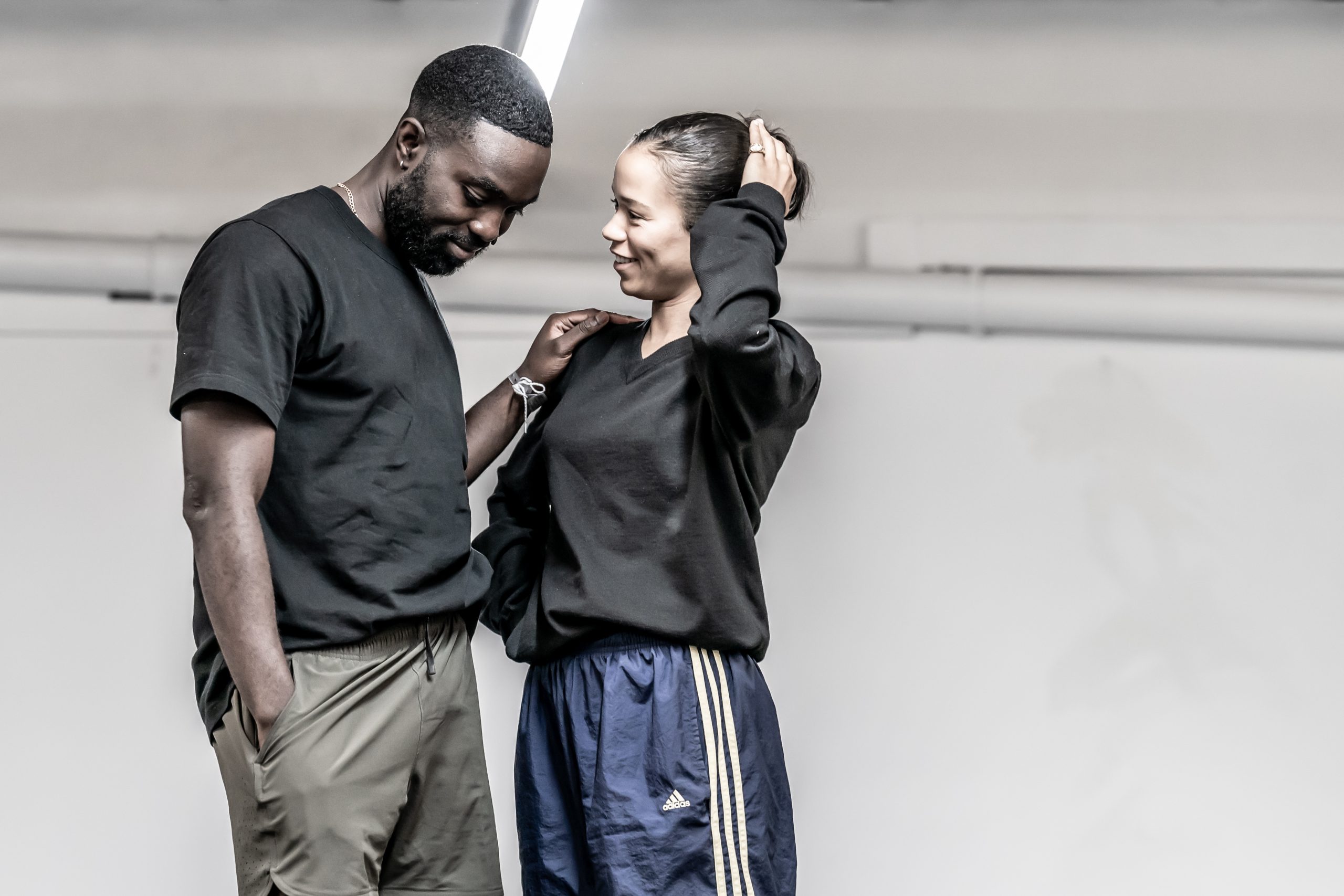 We were excited to be invited into the rehearsal room for The Effect and get some insider information on the revival of Lucy Prebble's (Succession) highly-anticipated production.  Ahead of its opening night on August 9th, read on to get some behind-the-scenes intel from director Jamie Lloyd and lead cast members Paapa Essiedu and Taylor Russell.
The Effect is a funny and insightful examination of love and ethic. See listing for more information.
Prep before the rehearsal room process…
Paapa Essiedu: What we've tried to do is allow our play to emerge in this room. Almost purposely, we've tried not to bring too much stuff from outside and strip back as much as possible to allow the play to live and vibrate. It's built on a foundation of knowledge and there has been so much discussion and collaboration as we're trying to create something organic and instinct lead. 
Taylor Russell: What's been exciting for me is that we've had all these conversations around trials and different medications and learning about that too as I haven't had a lot of prior knowledge with that. There was a Panorama documentary that a lot of people watched about the history of different depression medications, and Prozac and the beginning of that and how it affected different people on trials and we're still dealing with a lot of those side effects, now.
Jamie Lloyd: "This has been one of the most special rehearsal periods of my entire career working with Paapa, Taylor, Michele and Kobna – it has been amazing".
And, thinking about all the layers of that within the play alongside exploring love and what that feels like to fall in love with somebody and often it can feel confusing and that you don't know where it's coming from and what's real. So, it's all living alongside each other and researching that within having all these conversations about different experiences with relationships – it has been eye-opening.
Jamie Lloyd: It's a very highly intelligent play by a highly intelligent playwright, so the play does so much of that work for us. My feeling was never to get bogged down – I could see another production bringing academics in and lectures with the cast with all sorts of stuff on the walls. But, actually, it's more about what's going on spontaneously – the physical, the emotional and the visceral. The combination of that means we have something very exciting.
On Lucy Prebble being in the room
Jamie Lloyd: What's amazing about Lucy and I've never experienced this ever but she writes around whoever is playing the roles.  She's always made it specific to those people. So, getting to know all the actors, and speaking to the actors, she starts to shape that according to what feels appropriate to them. What's amazing is that there have been lots of discussions with Lucy about specific scenes that have been rewritten with the actors. It's the same with the production – it's a whole new approach.
She's been so open and it's never been done like this before. She's a real collaborator in that way as it's all about making it work in this particular moment, in this room and with these people. It's an exceptional experience.  I always ask actors to find themselves in the characters and the characters within themselves so it's like they're discovering something within themselves and bringing that to the role.
Paapa Essiedu: My part was played by Jonjo O'Neill and Taylor's part was played by Billie Piper (2012, National Theatre) What we've tried to do is allow our play to emerge in this room and I think Jamie has really facilitated that. Lucy has been intimate to our process but not intrusive and she doesn't interrupt. She's got this thing where she'll sit at the table at the back of the rehearsal room and she'll have her laptop out, typing away and pretending she's not watching and then she'll deliver a note that will just crack open like a nut something we've been struggling with.
She's so insightful and outward-looking in her process, she's not trying to make us do her play, she's trying to bring her to play to us and allow us to make it into something new and specific to us. It's been a real joy and you don't always get that with writers.  There's something about working in collaborative teams that produces something that's exciting and dangerous. Lucy's a real one for facilitating that.
Paapa Essiedu: "There's something about working in collaborative teams that produces something that's exciting and dangerous".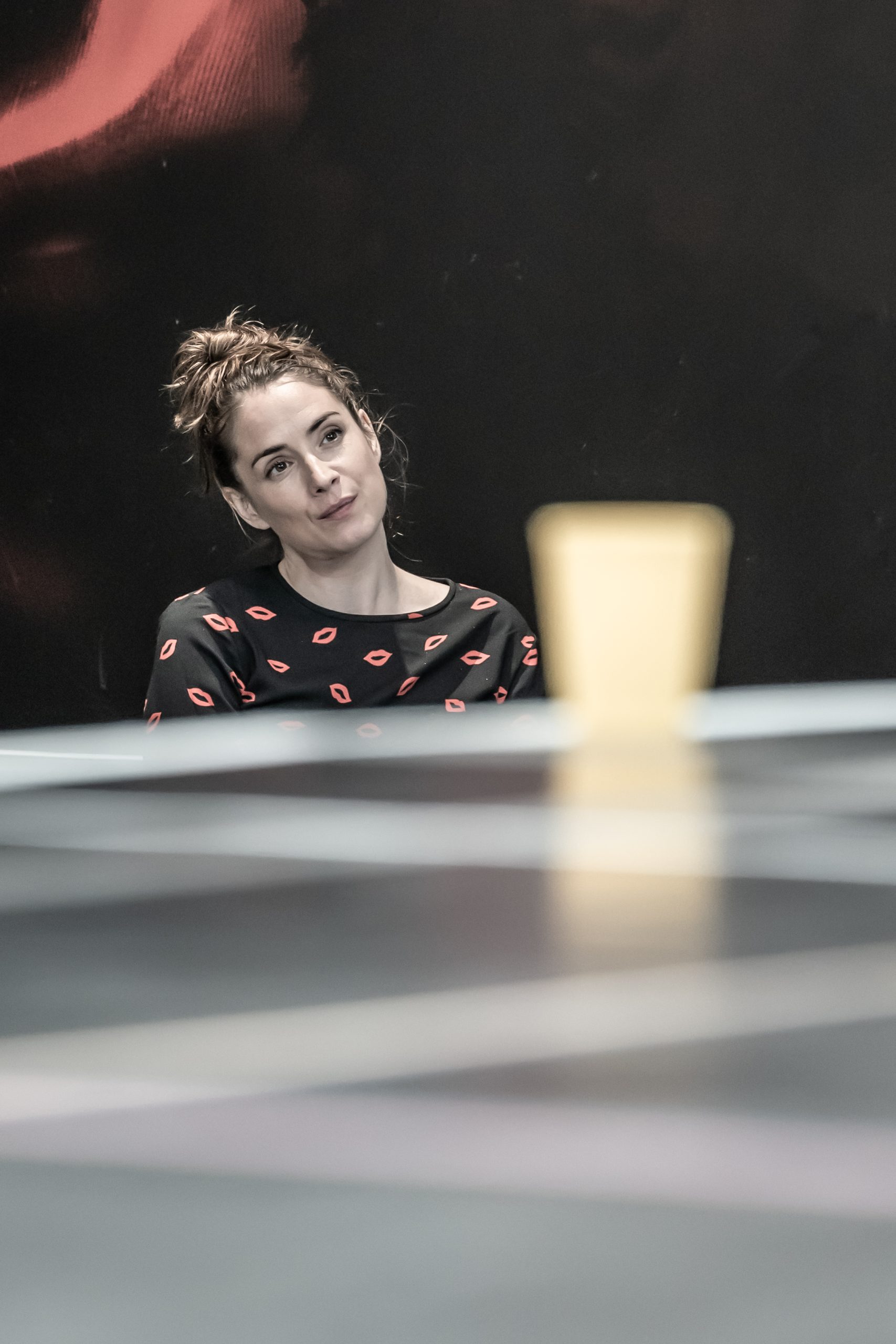 Feeling held…
Taylor Russell: For this process, what I feel grateful for with Paapa is that there's a really nice connection and we try to be as present as possible. It's an evolving thing and I know there are people here with the Jamie Lloyd Company and the National who help us with processing these big things. 
Jamie Lloyd: There's some heavy stuff to explore. It's not just the actors but we don't know what's going on for anyone in this room so there's this whole support network put into place to give everyone the support that they need. It does plummet to some murky depths in terms of the human psyche so I think it's necessary to protect everybody involved. The way we are approaching this production is we're taking away a lot of the circumstantial detail, we are taking away a lot of the set, props and detail so the emphasis is on the actors in terms of precision, focus and discipline. They need to connect very, very deeply. They have to play as it's also very joyful and a very funny play.
Paapa Essiedu: We're doing very focused, short days. At the National, you're blessed with a slightly longer rehearsal process which is 5 and a half weeks and the way Jamie works is that we turn up on the first day already knowing our lines. A lot of the anxiety that I usually associate with the rehearsal process – trying to figure out where I am on the page, where I'm standing, what prop am I holding – all of that stuff is taken away early in the process which allows the facilitation of what Taylor was talking about and time to build in the connection and keeping it and deepening it. But it's not necessarily about repetition, repetition – we're drafting, redrafting and allowing it to settle and bed in then coming back to it. It allows me at least to not get lost in the minutiae of 'Why didn't I say that line like that'.  
Intimacy
Paapa Essiedu: The first day that we met was when we shot the trailer and the poster for the show which was intimate. Up until then the extent of our relationship was a couple of voice notes on WhatsApp. I think we've got fairly similar approaches to work and life, maybe even? I feel very blessed to be working with someone that's so open and so up for it and honest. With Taylor from the very first day she's always been so open, welcoming and challenging and leading by example. I've found it easy to build that intimacy because we haven't had to force it or generate it or pretend.
Taylor Russell: I can't imagine doing the play with anybody else because of everything that we've built but also we've been very present from the jump. Because I'm new in this space, you overthink things – at least I do and I thought maybe I'm not going to fit in or it will be a little bit jolted. Even just you (Paapa) sending me the voice notes from the beginning and being so welcoming, creating that initially felt like there was already a web of safety building between us which meant a lot to me and helped me feel at peace in this process.
Also, how sensitive you are, how gentle you are – I've never felt like anything I could say would be perceived as something that it wasn't. That's to do with the person that Paapa is and the space he creates. Even in the room he's always connecting and looking at everybody and being super present and I admire that a lot about him. It shows in our relationship so I'm incredibly grateful to have him there and to know if I'm lost, all I need to do is connect with my friend and it's all going to be ok. It's such a gift to have that connection with the person that you're working with. I feel the same with Michele and Kobna and everyone in the room. I feel so held in this space of gentleness and ease. I think it's a very special space.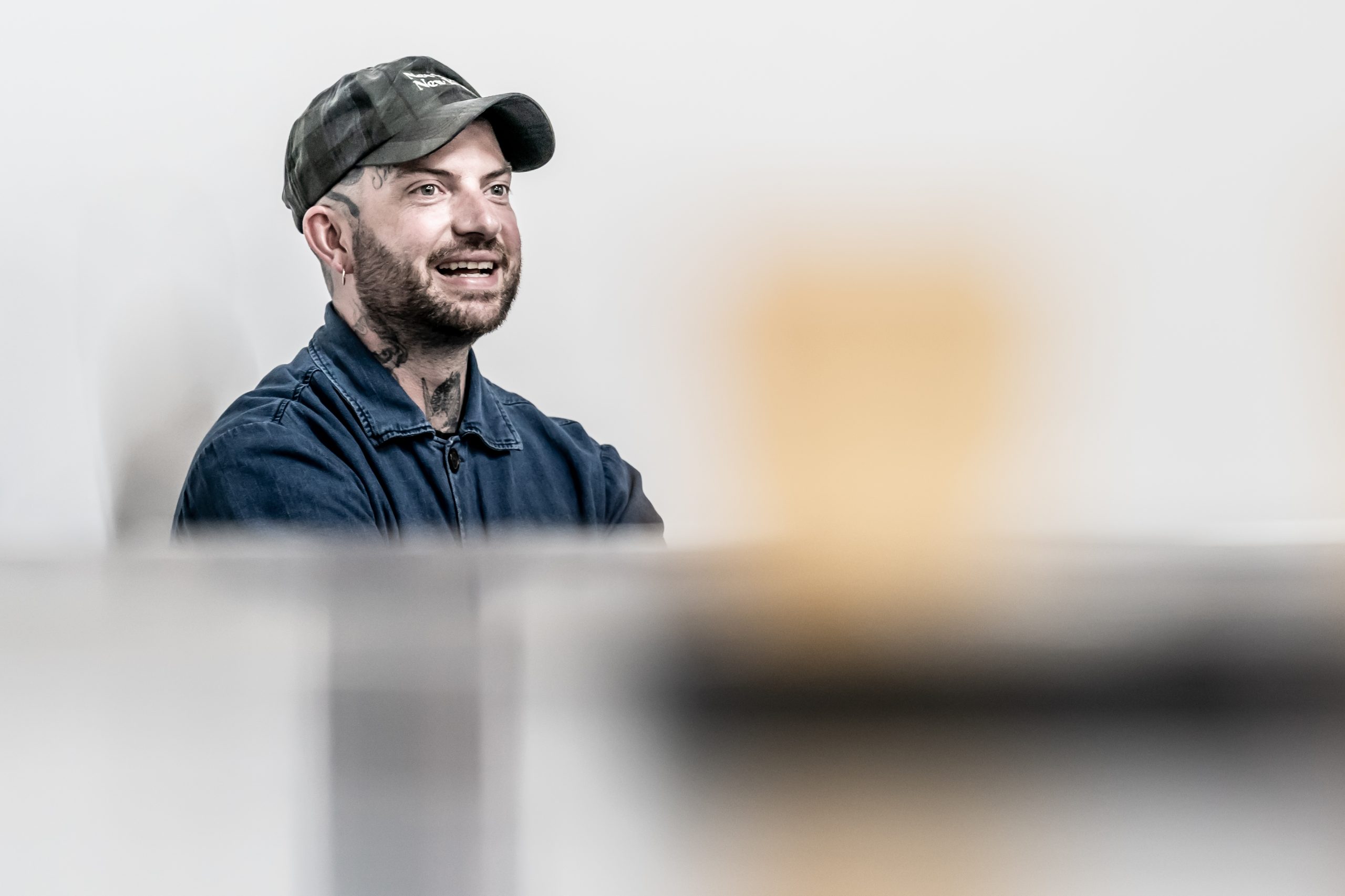 The audience and the message
Jamie Lloyd: Theatre is a space for us to learn something about ourselves. Seeing all of our nonsense, all of our delusions and of course all of our positive qualities. Obviously, it's set on a drug's trial so there are two people that are being analysed, almost dissected. We're performing on two sides in one space of the Lyttleton theatre for the first time ever so there'll be two banks of seats. It's very much like the audience is witnessing this trial and therefore analysing and seeing the minds of the people and the doctors. And therefore, connecting very deeply and see something about themselves so everything we're doing is to try and ensure that the audience is the co-authors in this experience. There are no hospital beds, no props, there's nothing – everything needs to be in your imagination. This puts the emphasis on the actors and on the words on this psychological journey.
Taylor Russell: "For this process, what I feel grateful for with Paapa is that there's a really nice connection and we try to be as present as possible. It's an evolving thing and I know there are people here with the Jamie Lloyd Company and the National who help us with processing these big things".
It means the audience has to fill in the gaps, they have to radically listen and listen with every cell of their being not just their ears so they are connecting very deeply. Then maybe they start to question their own lives and how they behave. It's a really intimate play and the actors are very closely mic'd so it means they can speak more intimately than we are now. Which is about really stripping it away to the real bare bones. It means where we are frequently wherever you're sat in the auditorium, there's an immediate connection with the actors – up close and personal with the actors. In your mind and in your ears. Which creates this real interaction between people in the auditorium and actors in the space. It's my job to get in the way of that. 
At the same time there's kind of this compulsive energy in the play because of course we're dealing with Dopamine (laughs) and the effects of falling in love and that can be kind of thrilling and exciting. There's a real energy in the play. I'm a big Kendrick Lamar fan and went to see him twice and read the play at the same time. Maybe it's the Dopamine kick but there's the energy of a hip-hop gig in this play in my mind, anyway (laughs). It's a combination of very intimate and hugely energetic.
NEED TO KNOW:
The Effect plays at the National Theatre from 1 Aug – 7 Oct 2023
|
See listing