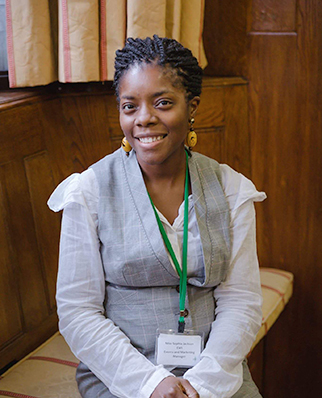 Sophia A Jackson is a communications professional with extensive experience as a journalist and editor, events manager and as a digital PR/marketing expert.
In 2003, Sophia made one of her best life-decisions to date. She went to the University of Westminster to study for a masters in journalism studies. Here she was able to turn her dreams into reality by learning the tricks of the journalism trade. Through work-experience she started writing for black community news website Black Information News [Blink]. Sophia then went on to become listings editor for New Nation newspaper. Since then Sophia has secured a number of journalism opportunities particularly within the African-Caribbean entertainment industry.
Sophia is the founder and editor of Afridiziak Theatre news – a website, celebrating African-Caribbean theatre: www.afridiziak.com. Since the site was launched in September 2008, it has become the one stop guide for the latest news, reviews and interviews in the world of theatre from an African-Caribbean perspective. Afridiziak Theatre News has proudly supported the following theatres in the promotion and marketing of their productions – Oval House, Royal Shakespeare Company, National Theatre, Royal Court, Theatre Royal Stratford East, Talawa Theatre Company, Sadler's Wells, Barbican, The Albany, Young Vic, Bush Theatre, Tiata Fahodzi, The Tricycle, Cutty Sark Studio and Unicorn Theatre.
Sophia was been featured in various publications and been asked to speak at the Royal Shakespeare Company, Treading the Boards initiative for young people at the Bernie Grant Arts Centre and for Inspirational U.
SNAPSHOT
2009, a regular theatre pundit on Colourful Radio
August 2009, became a co-founder and editor of Lime magazine: www.thislime.net a multicultural listings guide
November 2009, Afridiziak Theatre News sponsored for the arts category of the annual Black Youth Achievement Awards
January 2009, become editor of www.bfmmedia.com – a website dedicated to black film news and activities. This is a return to bfm having previously been the printed magazine's, sub-editor and entertainment editor
October 2010, Afridiziak Theatre News, the UK's only website dedicated to African-Caribbean theatre was featured in the historic 2010 Black 100+ photographic exhibition of black achievers in modern Britain. www.black100plus.co.uk
December 2010, launched Afridiziak Gifts and Occasions [AGO] with her cousin Deanne Rowe. AGO celebrates African-Caribbean inspired cultural gifts: www.afridiziakGO.com. They host an annual winter fair showcasing African-Caribbean entrepreneurs.
In 2013, Sophia was the chief writer for OK! Nigeria magazine and was flown out to Nigeria for the magazine's launch.
EDITORIAL
Sophia has been the editor of the annual Screen Nation Awards magazine three times (www.screennation.co.uk), and written for the Images of Black Women Film Festival brochure, Live Listings, bfm Magazine, Pride magazine, too.
EVENTS
From 2008 to 2010 Sophia worked on the annual You're Beautiful, Woman event as the exhibitor manager and was producer for the documentary 'What Makes a Black Woman Beautiful?'
Sophia has also been the festival coordinator for the bfm International Film Festival having volunteered at the festival for many years.
CLIENTS
Sophia was the PR/marketing manager for Angie Le Mar's, 'Do You Know Where Your Daughter Is?'; 'For Colored Girls, London'; Moji Kareem's 'The Shepherd's Chameleon' and Ade Solanke's 'Pandora's Box'. Other clients include the bfi, Kush PR, Juwon Ogungbe, the Black Cultural Archives, chef Maurice Charles and Kings Place. Sophia has worked with Joyful Noise on the marketing and PR for the annual London African Music Festival for the past five years.
GIVING BACK
In 2009, Sophia visited Sierra Leone as part as her work as the communications manager for TEBBS SC: www.tebbsc.com – an organisation that collects and distributes stationery to disadvantaged school children in West Africa.
---
Connect with Sophia A Jackson:
[e] sophia@afridiziak.com
[m] 07855 86 77 78
[w] www.afridiziak.com
Twitter: www.twitter.com/afridiziak
Facebook: www.facebook.com/afridiziak
Instagram: afridiziak_
Last updated: 28 November 2016