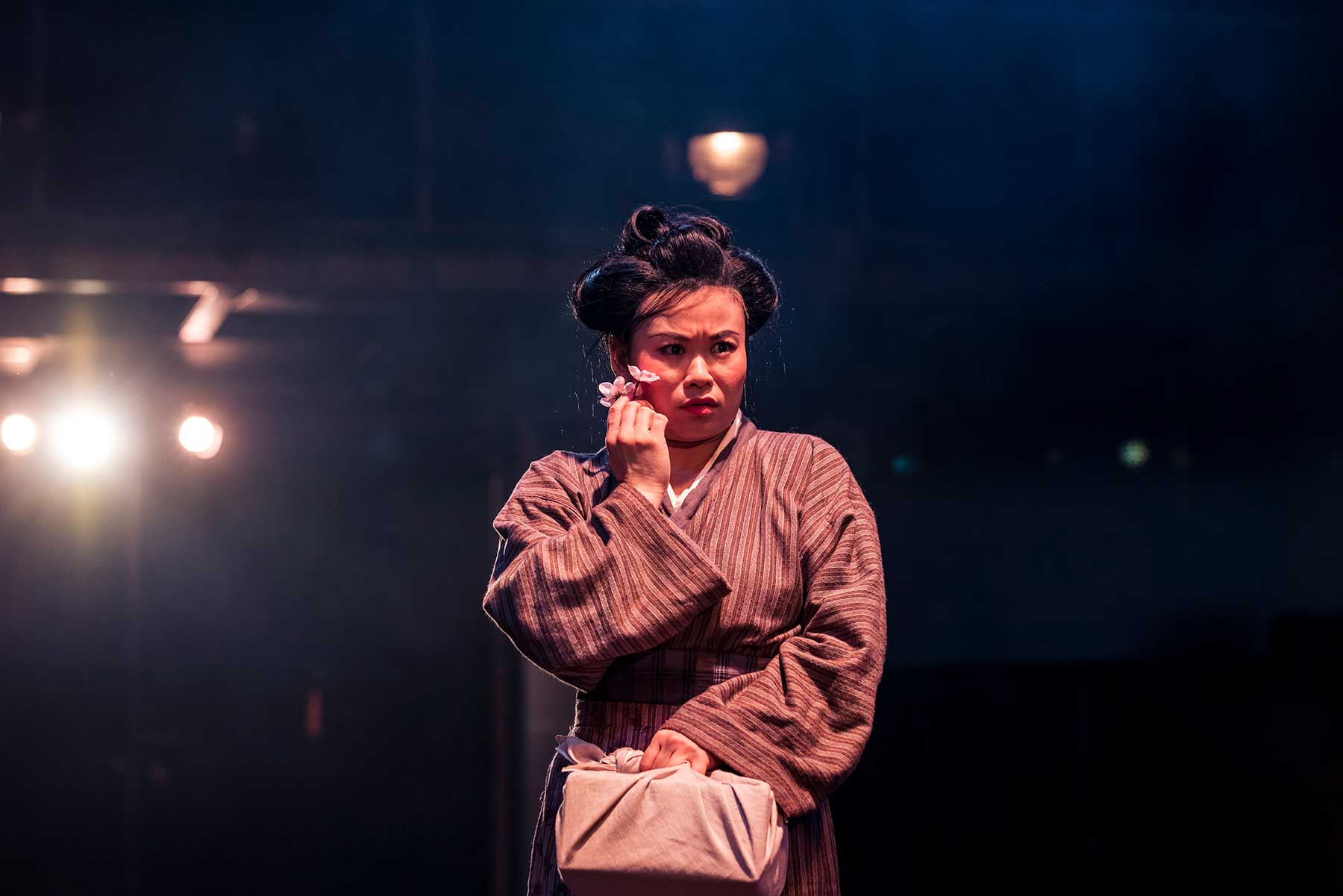 There are some evenings of theatre that feel a little… perplexing; watching this particular farce was just such an occasion.
This particular satirical play deals with the historical manner in which 'Kim' gets caught in a South Asian woman's version of 'Groundhog day; a series of unfortunate events – seemingly culled from various Western stereotypes writ large by such dramatic luminaries as Gilbert and Sullivan, Rodgers and Hammerstein, and Schönberg, Boublil and Maltby Jr. – involving the invasion and subjugation of her country, prostitution of her body, desecration of her morality, destruction of her hope and will, abandonment of her child (to the Western 'invader' that claimed to love her but seeks only to use and steal from her) and, finally, the final denouement of… a violent suicide.
Therefore, from the off, we are presented with a succession of highly parodied sketches with pretty much the same basic storyline, protagonists and outcome.
During a U.S. military occupation within A.N.OTHER South or S.E.E Asian province, an American GI is introduced – either by an ambitious mother or 'boyfriend'/pimp – to a pretty, innocent village girl.
They spend time, get 'romantic' and have sex; whereupon he has to 'follow orders' and leave her. She believes that he will come back for her and – in the meantime – gives birth to his child.
He arrives back, after several years, with his new bride, and convinces the young girl that it will be in everyone's best interests if she lets the Western newlyweds take her/their child to America.
Of course, being subservient to Western demands – and blessed with an almost supernatural level of masochism – the Asian femme fatale always acquiesces, before removing herself from this world – and from Western guilt – via various methods of self-martyrdom.
Blackout.
Rinse-repeat… in ever-decreasing circles of trope and major movie/ musical plot recognition.
The Asian girl (Kim) is habitually played by Mei Mac, with knowingness, energy and charm, Tom Weston-Jones plays the US GI, while Jennifer Kirby plays 'the bride'. The cast is rounded out by Lourdes Faberes, Jeff D'Sangalang and Rochelle Rose (Narrator/ Brenda). For me, it is Rose's velvet tones, confidence, wit and consummate timing that make the repetitiveness of the initial sequences manageable.
For – while the central concept is interesting and thought-provoking – I found the manner in which it was handled to be tiresome, after a while. Yes, there were witty asides and clever allusions to racial stereotypes; however, the whole enterprise felt a little too lumpen and self-referential for my taste. Yes, I know self-reference is the order of the day when one is dealing with satire, and I'm sure that there were many in the audience – more 'culturally connected' to many of the tropes than I – who might have enjoyed it more than me, but… (sigh).
By the end – during what appeared to be a present-day dinner party unpacking various relevant cultural signposts and talking points, I found my patience swiftly wearing thin.
The movable staging was a fresh and interesting aspect of the production, as were aspects of the script and  Rochelle Rose's performance.
I'm sure this play has its fans – alas, I shan't be waving mine in appreciation anytime soon.
NEED TO KNOW: Untitled f*ck m*ss s**gon play is at Young Vic until 4 Nov 2023