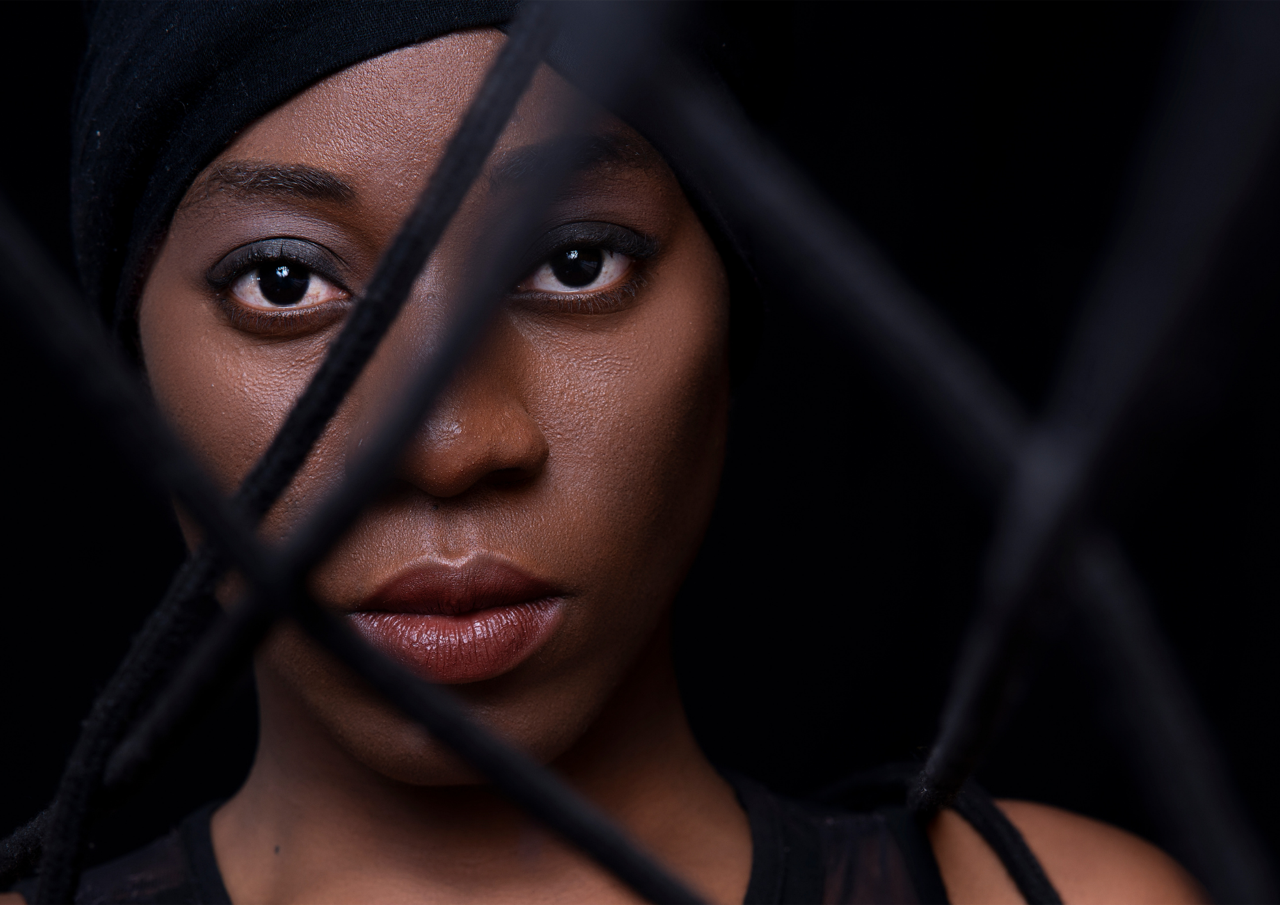 For the first few minutes, the audience is immersed in complete darkness as our writer, narrator and performer, the formidable Julene Robinson (The Witcher, Netflix; Get up, Stand Up!, London West End), intros her 50-minute production on black womanhood.
Through Caribbean folklore, we join The Night Woman on a deeply-moving life journey filled with sorrow and trauma albeit told beautifully – it's a story of what it means to be a woman with the colour of midnight.
Directed by Martina Laird, The Night Woman is inspired by Julene Robinson's grandmother, and her hairstyle of choice is Bantu knots whilst dressed in black cloth for the most part  with black bandaged arms which become free as the play progresses – her costume is at times interspersed with glimmers of colour for a shimmery headband or a simple, striking strip of  red satin which I imagine to be blood. These simple yet effective changes throughout the play help to understand the complexities of being a woman with black skin whether from centuries gone by or present day – the challenges remain but are manifested in a different form, but we rise, and we heal.
A deeply-moving life journey
The lighting (Chuma Emembolu) is brilliant throughout and has particular significance in this production serving to powerfully illuminate, highlight and contrast one scene to the next and as an aid to Robinson's intimate storytelling.
I equally loved the use of music and sound (Bella Kear); making for an atmospheric treat for our ears through subtly indulging our senses with the sound of a tropical night-time insects or the creaking of a slave ship alongside crashing wave – truly  effective in involving the audience on this journey. Robinson's voice is powerful, and she skilfully flits between narration, poetry and song.
This is alongside movement (Buntu Yello) which also plays a key part with Robinson using her body to rhythmically depict centuries of pain through dancing. Personally, I would have loved to see more dance as I found this to be joyful and a perfect accompaniment to the narrative of healing.
The Night Woman is a one-woman show like nothing I've ever seen as it stands proud and strong in its true and authentic blackness.
It's the next day and I'm still thinking about Robinson's phenomenal performance and what it means to be a black woman.
You can catch The Night Woman at Edinburgh Festival Fringe this summer. Julene Robinson continues in Get Up, Stand Up – The Bob Marley Musical.
NEED TO KNOW: The Night Woman was at the Other Palace from 11-13 March 2022.