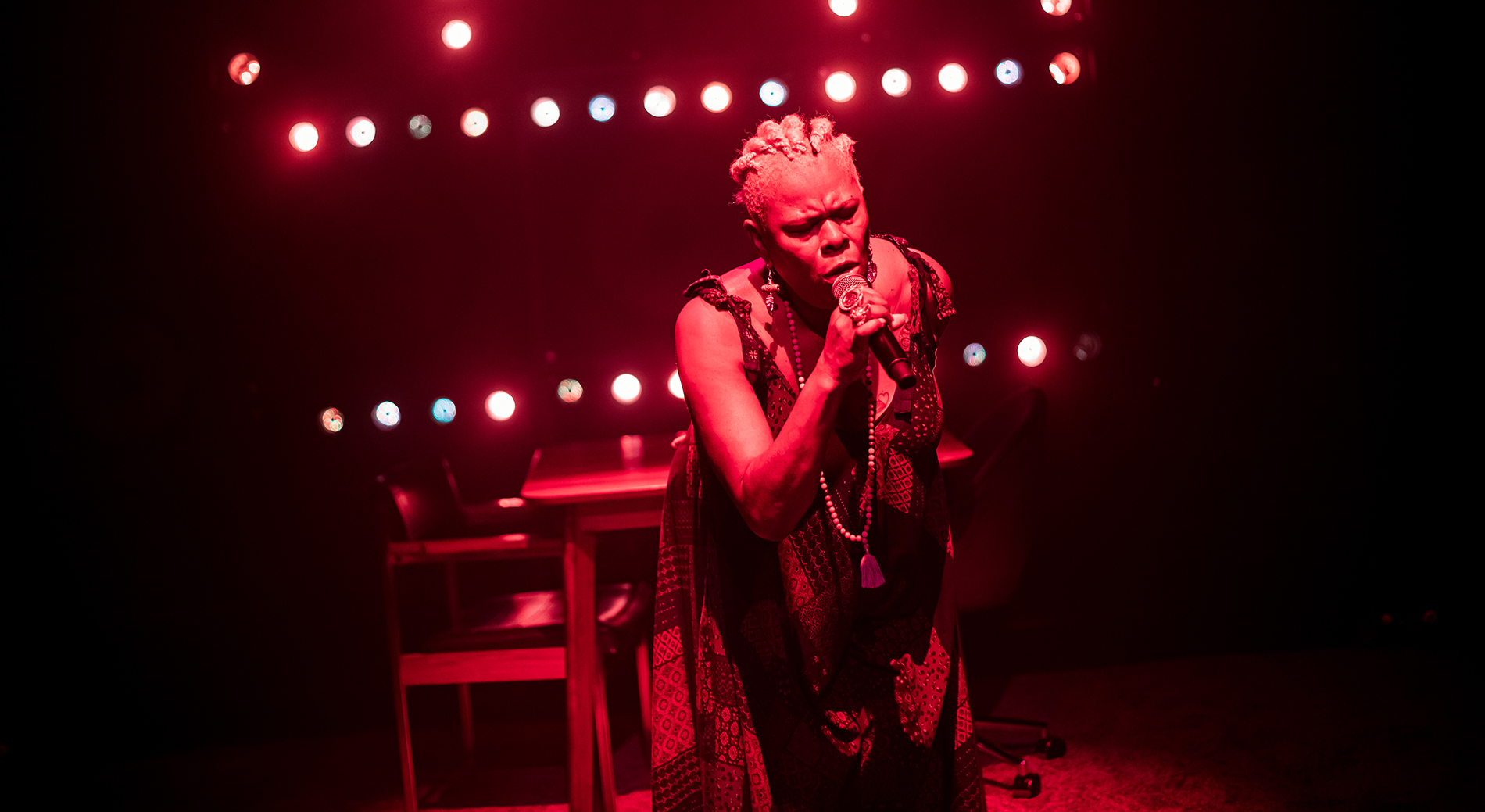 The stage is sparse.
A table – which houses a flask and a cordless microphone – and two chairs.

Behind the furniture (at midpoint) are what appear to be stage-dresser lights, and a 2D illustration depicting sound system speakers.
On either side of the speakers – about 10 feet off the ground – are two huge video screens, for projections.
Through the darkness – as if manifesting a guardian angel or ancient ancestor – appears Sutara Gayle (AKA Lorna Gee).
What follows is ostensibly a selection of the most vital narratives that make up her life story.
With The Legends of Them, Sutara Gayle's one-woman show, we don't just bear witness to one woman's life story; rather, we experience snapshots of the countless journeys necessary for her present existence: from the enslaved migration of her forebears to the Windrush era travels – and race-based travails – of her mother; from her own tales of growing up in a '70's school system, to pop and reggae stardom with the likes of Beenie Man and Buju Banton; from her troubles with 'the law' and subsequent incarceration to her soul-defining shift to lesbianism; from her harrowing tales of sexual abuse to the very personal horror which led to the 1980's Brixton riots.
Its fabulously non-linear structure eschews the familiar 'rags-to-riches' and 'triumph from adversity' tropes. By so doing, each emotional shift, comedic beat or 'groovy transition feels freshly observed and experienced.
It's almost as if we – the audience – are experiencing the spiritual reawakening with the performer, in 'real time'.
Yes, there are sung narrative sections; but they feel earned… vital, even.
Perhaps it's because composer and musical director Christella Litras' musical choices – using reggae-dub grooves and calypso formats for song and musical interludes – are absolutely in keeping – both culturally and artistically.
Seamlessly blending sound, music, lighting, projection and voiceover with a tremendous solo performance, this piece feels like an almost dreamlike evocation of the countless perspectives of one person's journey (e.g. anthropological; cultural; societal; psychological; spiritual; sexual; philosophical).
Sutara Gayle effortlessly manipulates the rules of theatrical staging; smoothly combining different techniques –  allowing the audience to zoom in and out of various aspects of her life.
All the while, director Jo McInnes – alongside associate director Martina Laird – seems to be adjusting the focus and wide-angle of the 'lens'; the speed and sharpness of the edits; the volume and intensity of the soundtrack.
But there will be (ancestral) 'blood' – as it fuels and energises the body, soul, spirit… and mind.
Sutara Gayle's performance – or rather her uncanny evocations of the many people, places and things – is brimming with effortless charisma, craft, power… and touching vulnerability.  The transitions – many of which are swift and unexpected – make it appear (rather than having adapted her life's story to 'the theatre') as if she'd invited a theatre audience into her experience.
By the end – as we get to see filmed evidence of her 'transformation' projected on high – it feels like we've been on a magical mystery tour with a most wonderful guide.
What makes the experience even more memorable is that I remember speaking to Sutara Gayle over 10 years ago, about this project.
She was unwavering in her focus and ambition to not only make this piece but to have it represent the most vital aspects of her amazing story.
By the end, I – alongside the other members of the packed audience giving a prolonged, unanimous standing ovation – had no doubt that she had achieved her goal.
Indeed – not only did I feel honoured to have witnessed and shared a small part of her journey – I was also inspired to continue on my own creative path. Isn't that what great theatre is for?
This play deserves a huge stage and an even larger audience.
NEED TO KNOW:
The Legends of Them plays at Brixton House until 30 Sep 2023 |
See listing