It's quite affirming to think that Breakin' Convention's continued success – its ubiquity, even – is now not even a surprise. Even in the midst of a pandemic – the continued success of this annual celebration of an art-form that was once seen as little more than a barely-acceptable activity, only undertaken by 'thugs' with 'ghetto blasters' on America's 'mean inner-city sidewalks'- is quite extraordinary.
It's clear that the event's reputation as an instrument for positive cultural engagement across class, gender, racial – as well as the geographical – lines is well earned; not just in relation to those on stage, but in regard to those who make-up the audience.
Looking around, it appears to be a 'family affair'. It seemed, in many instances, that both parents were present and seemingly pre-disposed to having fun. Similarly, those children present – aged 8-ish upwards, and seemingly equally represented by both boys and girls – seemed well-versed in 'the language of Hip-Hop'.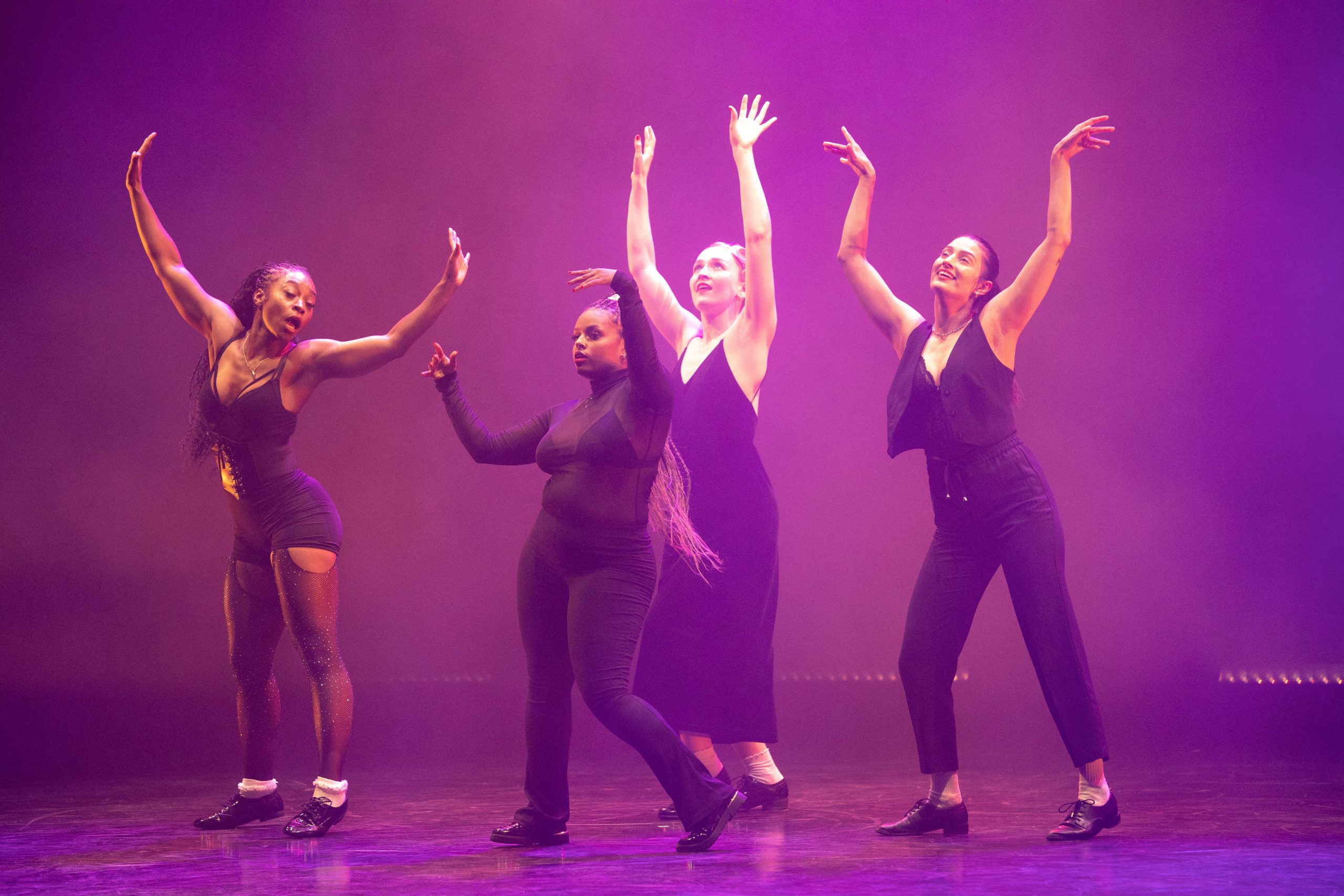 At the same time, as one looks around, one feels compelled into making 'theatre observation 101', regarding the disproportionate number of – what appear to be – white, middle-class families. Then I realise that, rather than a negative – at this stage of the game – one must view it as a positive.
Much of UK dance Hip-Hop's continued cross-cultural – and pan-generational – relevance, stems from regular host-venue Sadler's Wells' global standing, and host Jonzi D's consistently effective public relations drive for-all-things Hip-Hop. 
BirdGang Ltd's wonderfully witty, and technically audacious meld of classical music with B-Boy styling is funny, goofy and – aided by a brilliant Prokofiev piece – wildly entertaining on many levels.  Another stunning standout.
The last point is certainly no 'shade'. On the contrary, anybody able to remain universally effective as a black advocate for an art-form whose original provenance and sustained cultural relevance is  still to be found 'among the black', deserves our respect and gratitude. Most of us are aware of the harsh realities of a world in which, historically, a great many black artists from around the globe  – oftentimes originators, instigators, innovators and pioneers of some of the most vibrant and (economically) important music and dance-based art-forms of the last 100 years – had 'passed on' in sad circumstances, having been under-appreciated, over-looked or side-stepped during their artistic careers. Indeed, there are many examples of these 'artistic' – and economic – displacements occurring, so as to facilitate arguably less-talented, though presumably more marketable caucasian acts.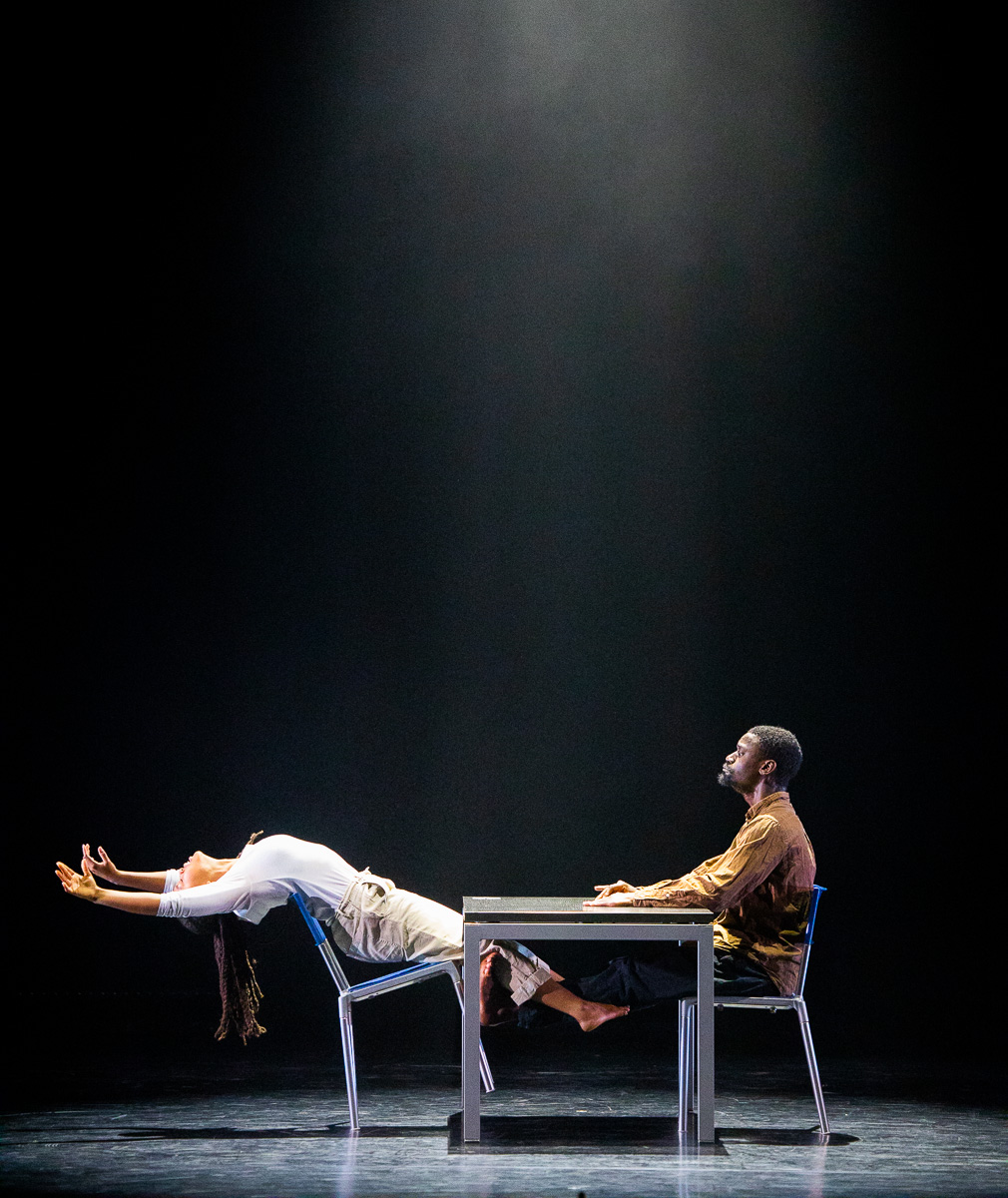 Jonzi D, a British Hip-Hop pioneer, has navigated the genre's 'choppy waters' for decades by working tirelessly, engaging consistently, communicating good-humouredly, curating the work of others tastefully, conceptualising, producing and delivering fresh market-content professionally, and hosting impeccably – whether for these live events, or when being the conduit for any number of stars, by 'spitting bars', or 'lifting vibes' for TV or filmed documentaries — all in the name of Hip-Hop dance. By most measures, the medium is as lucky to have him, as he is to have found himself through it.
To kick off proceedings, Jonzi D – aided by signer, greeted the audience with his usual bonhomie, as well as a timely, well-crafted rhyme (for this season's reason): 'Everything is peak right now'.
The rap/poem was, of course, up to his usual inclusive, zeitgeist-bothering standard, and just right weight of content for the mixed-aged audience.
And off we go.
As always, the lighting rig and sound in this venue was superb. As part of a fabulous introduction, they seemed to be heralded by a light-show that resembled a cross between the ET-welcoming scene in Close encounters of the 3rd kind, and the on-stage helicopter set-piece in stage-show Miss Saigon. A definite highlight.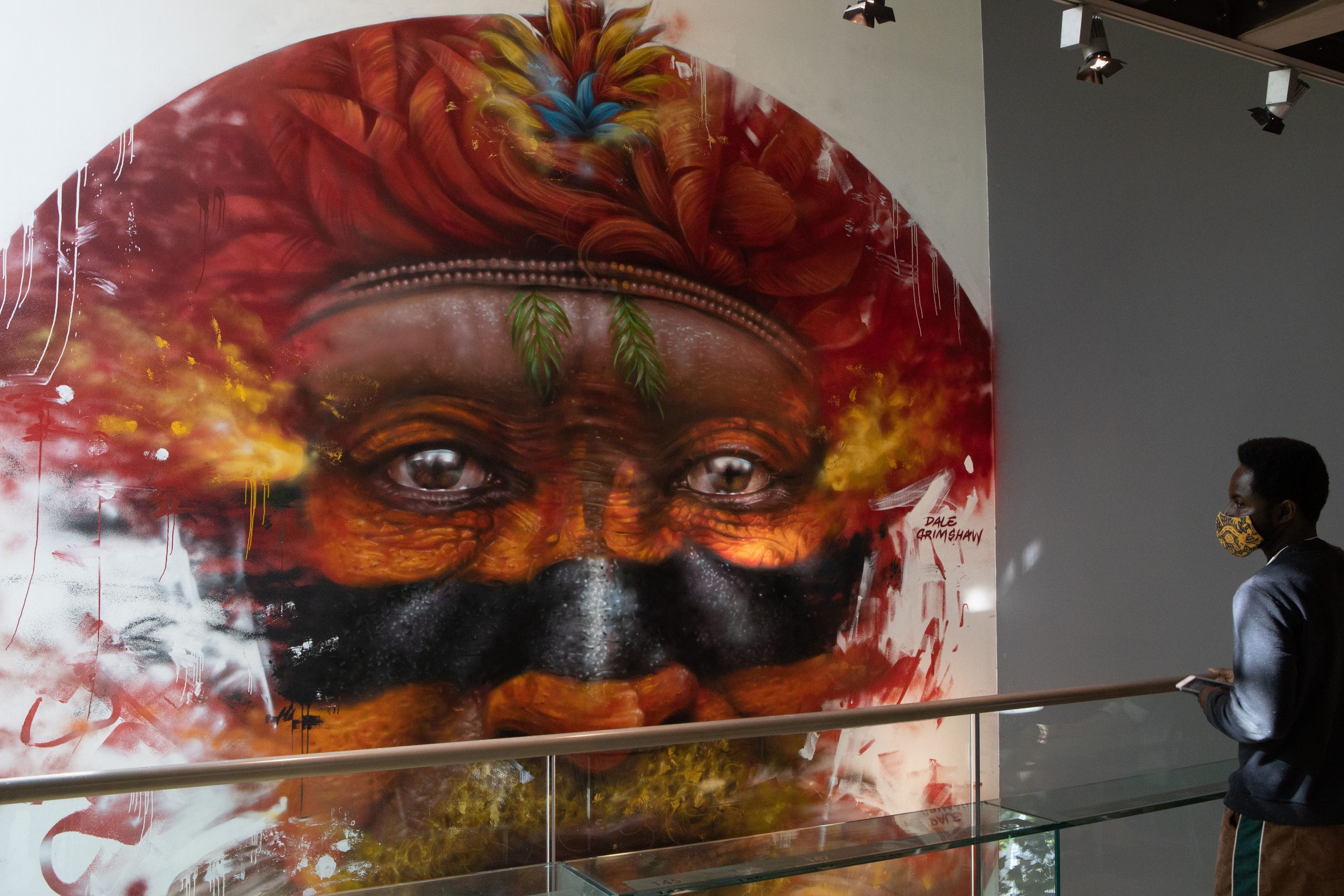 Appropriately called W.A.R., this UK-based troupe were built for krumping and – while they showed some clean ensemble work and spirited 'solos' – the aggression felt a little… contrived.
As well as the live performances, there is a great emphasis on digital film submissions – and quite right too. Like almost all of the performance-art sector, the dance industry – and specifically dancers – had to  find different ways to create, remain relevant, and to communicate. As a result of this unfortunate set of circumstances, new ways of working were forged, and fresh modes of expression employed. Certainly, judging by some of the fabulous work here, many people made good use of their lockdown time.
The 1st film was 'Next-day delivery' – by Berkavitch and Si Rawlinson; a quirky piece that owed more to comedy than dance.
The standouts in both areas on the night were: Antonio Bukhar, from Uganda, performed some lovely 'tutting', and an awesome 'freeze' in his piece, entitled Snilie Snikaz.
Patience J. rounded off the evening. Their homage to various African dance-forms and both the music and the dance were a really uplifting way to round off the evening. Great stuff.
UK's Gemma Hoddy presents… uh, presented 'Betty's Blues'; a fun piece, utilising different tempos and flavours of Blues music (courtesy of Mikey J. Asante), and danced by four talented and committed young women. Invigorating stuff.
UK's Bagsy's piece came after the break. Entitled 'Surrender', it used – ostensibly, at least – a huge expanse of shiny cloth material and a (non-speaking) 'talking drummer', Bagsy delivered a spirited mixture of static tutting and voga – only to be admonished by the aforementioned 'spirit', who didn't seem overly pleased by this first offering. For his 'second' attempt, then, he showed us that the material had far more going for it than mere 'shine', and delivered it dance with a zest and confidence to justify the spontaneous applause the audience rightly conferred upon him.
Patience J. rounded off the evening. A mostly all-female UK and Nigerian act (the 2 guys fit right), they performed 'Colours', their homage to various African dance-forms was a joy that was positively inspiring. Both the music and the dance seemed to be in perfect harmony. It was a really uplifting way to round off the evening. Great stuff.
Therew were several other dance films presented; the best of which were The Rugged's brilliantly evocative (and provocative) 'We want our bodies back'. Produced in conjunction with Jonzi, this is a wonderful exploration of the just some of the many ways that women's bodies are routinely ill-guarded, discarded, and retarded at – and for – the behest of men. The poem is amazingly evocative, the delivery is spot-on, the dancing by four beautiful, black women – one more 'real' than the next – are all wonderful examples of true, artistic expression. Oh, and the cinematography – by  Jonzi, I believe – is gorgeous.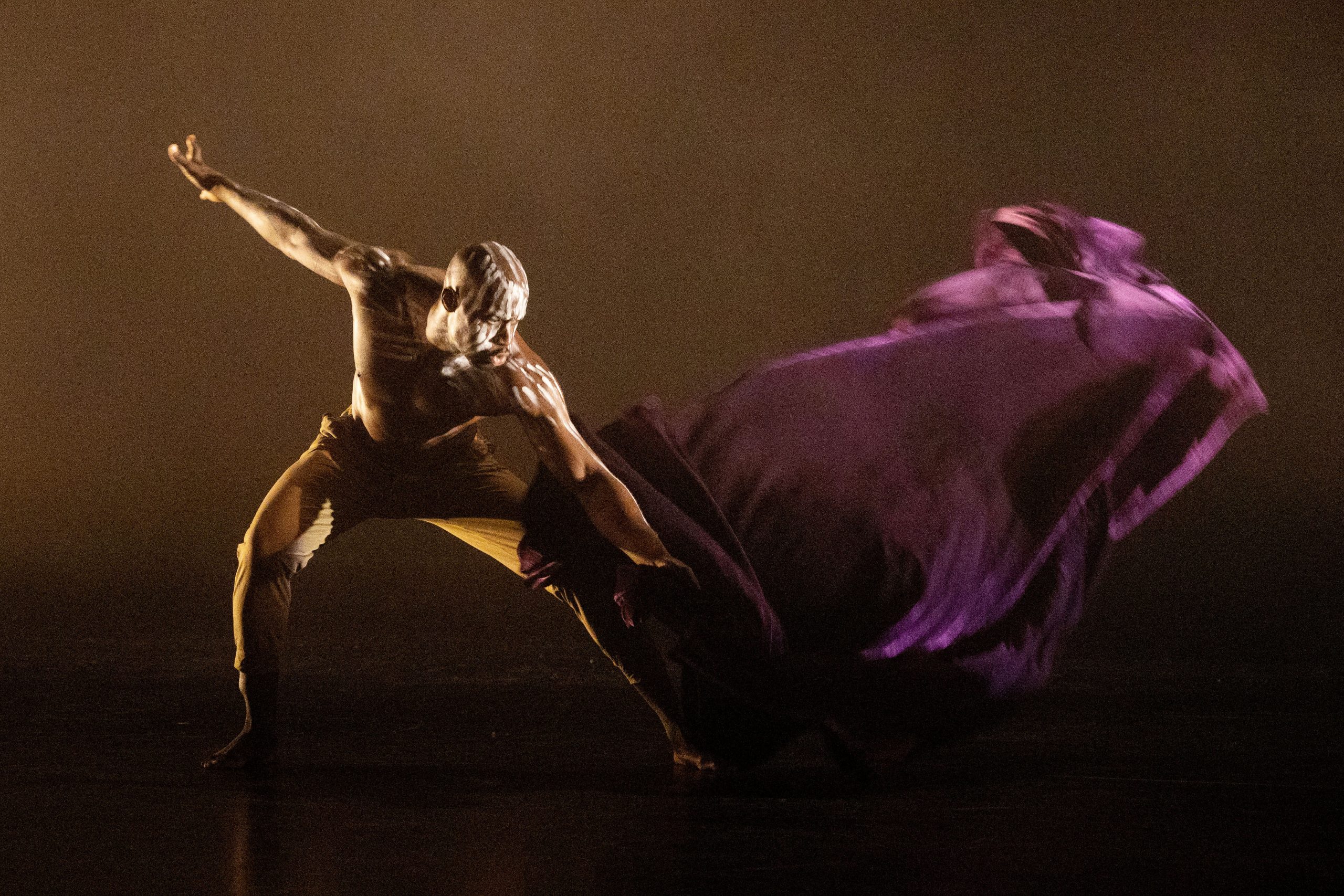 My last special 'shout out' has to go to BirdGang Ltd's 'Impressions:Ensign 2'. It's a wonderfully witty, and technically audacious attempt (quite successful, I might add) to meld classical music with B-Boy styling. It's funny, goofy and – aided by a brilliant Prokoviev piece – wildly entertaining on many levels.  Another stunning standout.
A FINAL ONE FROM REVIEWER MIKE SCOTT-HARDING
So easy… to have one's point-of-view
hi-jacked by 'outside news'.
The bad intentions of those who choose
project that which they, themselves…lack
A vital piece – missing… missed… 
and so… attack.
On a night like this – seemingly each and every member
of both audience, and performer,
sharing equal sacrament; whereby each artist
wills on their team-mates' fundaments:
'lock that freeze', 'nail that back-flip;
'kiss that… firmament'. –
A grateful sigh for each cypher raised high
to keep  the spirit-level –
for each sub-group to hold it down –
then lift back up, beyond reach of The Devil.
Each audience-member feels each step their own –
For parents, reminders: 'Don't forget, how you've grown'. 
As the kids live through-  every beat – every song;
I look closely – see truly – what's been clear… all along
'Ain't nothing wrong – ain't nothing wrong'.