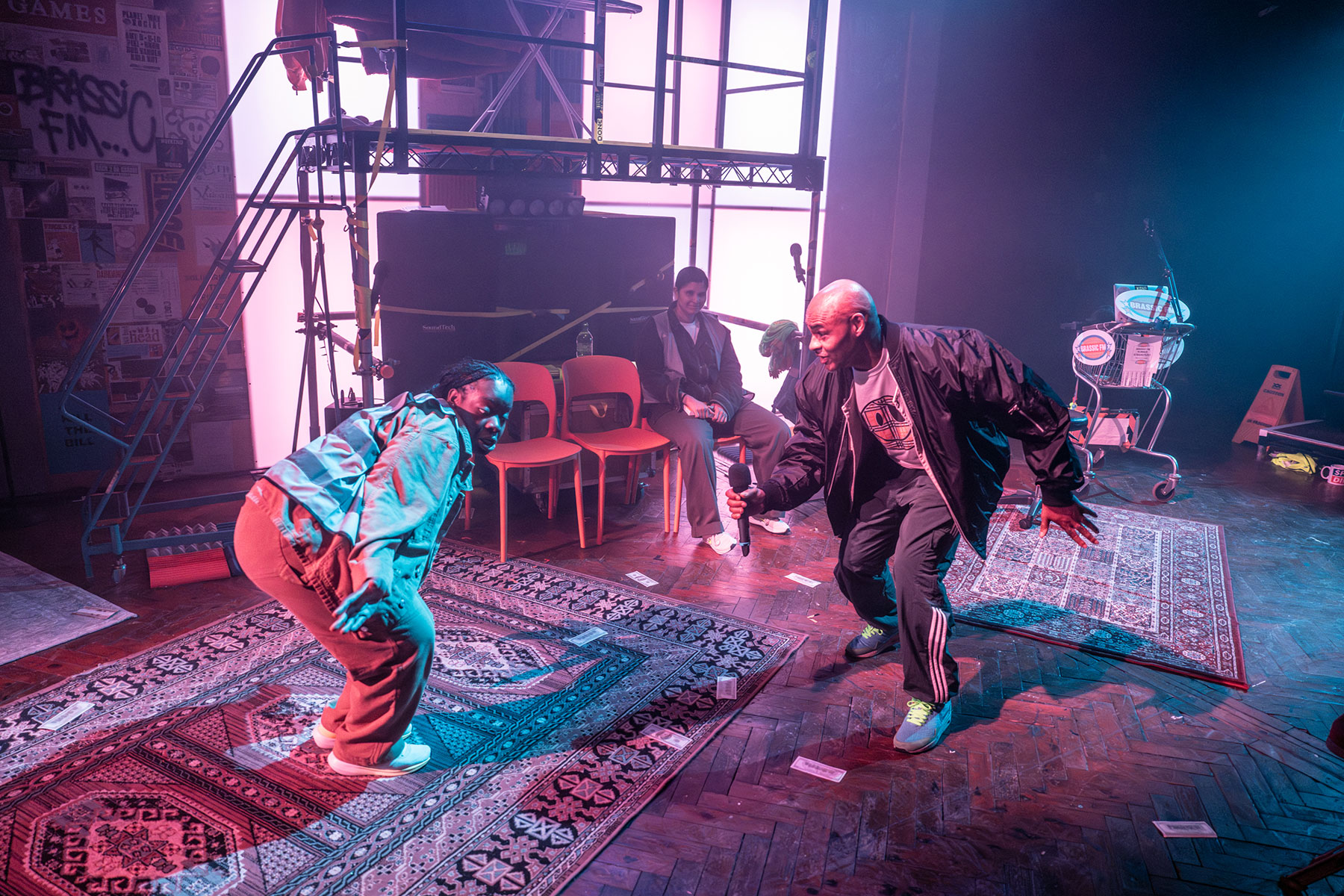 Set on a stage that feels like it's from a multitude of cultures, writer Zia Ahmed (I Wanna Be Yours) and theatre director Stef O'Driscoll's (With a Little Bit of Luck) Brassic FM tells the story of immigrants and the working class who have had to (at times) fight to be respected through the lens of 'gig-theatre'. In short, it gives a middle finger to privilege.
We first learn this through a number of scenes such as our introduction to actor Jonny Britcher (Revenge is Sweet) who plays the gift-of-the-gab MC at illegal pirate radio station Brassic FM. With a uniform that isn't complete without an Adidas tracksuit and acid-raver T-shirt, Britcher's character reminds us that music has and always will be policed and packaged up for the privileged through spoken word monologues.
This mindset continues when Zainab Hassan (Writing Wrongs — Equal Measure) and Zakiyyah Dean (Small Axe) portray a range of working-class UK personas who call into the Brassic FM. Both Dean and Hassan brilliantly execute the identities of people reminiscing about the raving scene as if they're still at the rave, to those giving shoutouts to Pat Butcher. While the pace of some of these scenes can feel disjointed, they help to cement the idea that working-class immigrant culture is the culture.
And what steals the show isn't the impressive accents, the catchy punk-rock number about how we just want to own a garden or the stand-out soundtrack thanks to musical director Kwake Bass, (think Buju Banton, Little Simz, DLR). It's the play's ability to tell an immigrant's story. Our introduction to Amina and her Pakistani mother (both played by Hassan) feels like the glue that brings this play together. Her mother's story teaches Amina and the audience about life as an immigrant in the UK through love, race, loss, belonging and music.
Hassan and Dean's characters bounce off of each other in these scenes with a sensitivity that feels as tender as the mother's story being exchanged. It's that wonderful a-ha moment. Where we see the past connecting to the present and the vessel is the pirate radio station. What is important to remember about Brassic FM is that it is a minimal yet vibrant stage filled with sound systems, make-shift pirate radio sets and other props. It allows us to believe what we're being shown and told.
Perhaps this is why the last pieces of poetry from Dean and Britcher leave the audience feeling conflicted. By the end of the play, the audience has become it, bouncing to familiar beats and inspiring quick-witted improv performed by Britcher. While the play celebrates working-class immigrant culture, it is also a painful reminder that when we walk out the theatre doors, the cost of living crisis is rife, some of the pain Amina's mother felt hasn't disappeared and people are still protesting their right to belong. As the rich continue to flirt between where they would like to call home, asylums are forced onto hazardous floating containers they must call home.
Brassic FM teaches us many things, most importantly that "if we're policing music like we police people, how can there be freedom?"
NEED TO KNOW: Brassic FM plays at Gate Theatre until 30 Sep 2023 | Relaxed performance: Monday 18 September, 7.30pm | BSL performance: Tuesday 19 September, 7.30pm