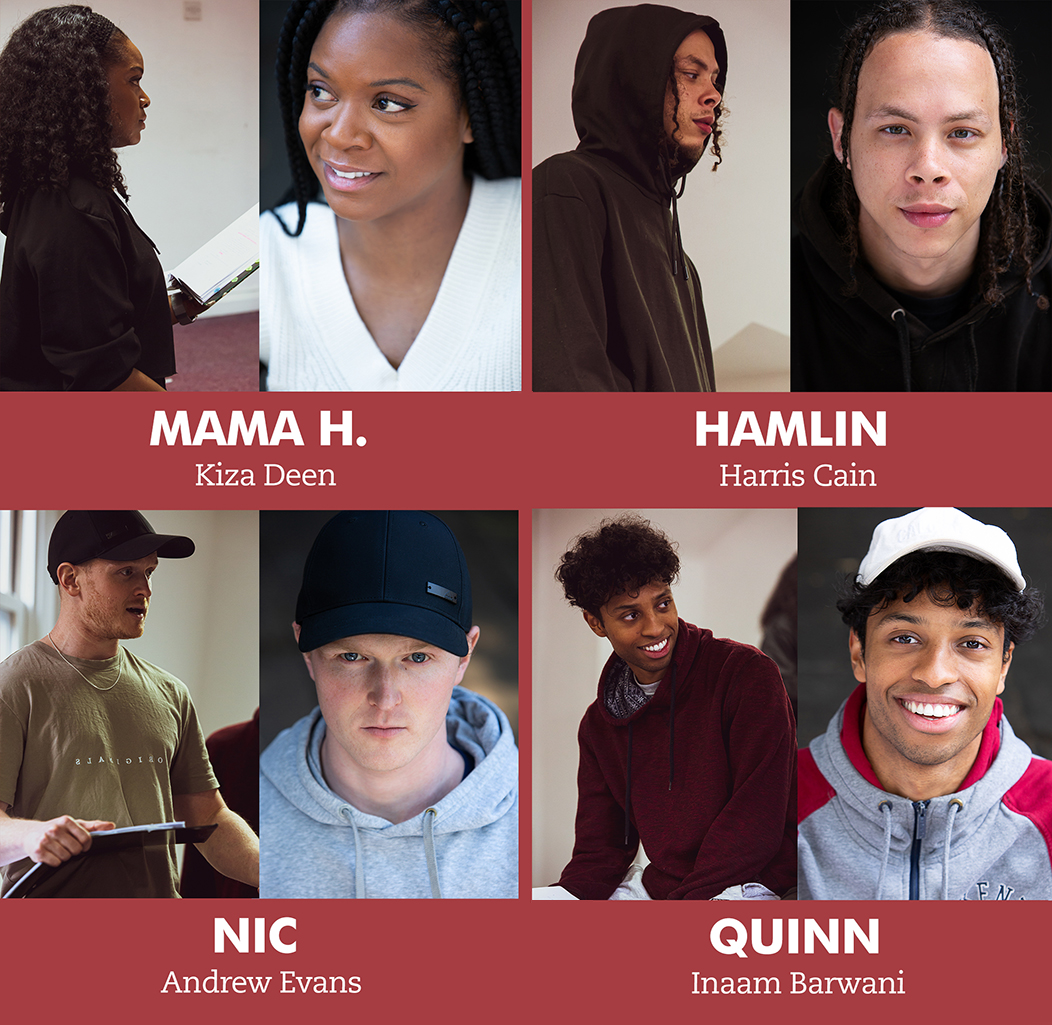 King Hamlin follows a young mixed-race boy and his friends Quinn and Nic as they navigate the pressures of masculinity and postcode wars, gentrification and the poverty trap in London in 2022.
Hamlin takes the stage as a modern-day tragic hero, rewriting the media's dehumanising narratives about these young men as estranged from 'civil society'. Instead, we share in the boys' dreams and disappointments, highs and lows, and the choices that will see them fall onto the right, or wrong, side of the tracks.
Playwright Gloria Williams said, "With social indicators like poverty, masculinity and exposure to violence seen as indicators to knife crime, I wanted the play to show a young man of a mixed-race background taking personal responsibility for his choices. Knife crime is something that's very controlled by the media and makes young boys seem inhumane.
I want to tell stories where we control our narrative and portray a young man from a particular demographic, and a particular stage in his life, who may hold a certain degree of self-hate and project it onto others. We are living in a time where the public has become desensitised to knife crime, and the media have a divisive culture that we can't emphasise because it's assumed to be connected to gang culture. The power of story-telling can offer a space for everyone to identify with these issues regardless of background."
Gloria is an award-winning playwright who is a graduate of the Royal Court Theatre Young Writers' Group and the Screen Institute. Earlier this year, King Hamlin was awarded the winner of a best full-length stage play as part of the Scriptwriters & Co International Festival. Gloria also wrote Bullet Hole, which ran at Park Theatre in 2018 and has since been optioned for a screenplay having been shortlisted for the Alfred Fagon Choice award, won Best Actress at the Black British awards, and was shortlisted at The Off West End Awards for "Most Promising New Playwright".
Previous credits include Monday, which also garnered widespread acclaim and was performed at the Samuel French Off Broadway festival at The Manhattan Repertory Theatre in Times Square. It also premiered in the UK at The Lost One Act Play Festival, winning "Best Overall Production". Gloria was shortlisted for the 'Women of the Future" awards in the Arts and Culture category and has co-written the screen adaptation of Bullet Hole.
King Hamlin is Directed by Lara Genovese
Lara is a Director, Writer, Photographer, and Set Designer with a degree in Architecture. She works in set decorating teams for studio feature films, directs, produces, and set designs her own theatre shows, was a former Walt Disney Imagineer theme park designer in Hong Kong for five years, and an Architect working for Foster+Partners for two years. Her credits in London include Bullet Hole at Park Theatre 2018 and several shows in Hong Kong.
She is the director of the shorts Kicking the Sky, Frog, Nene and Wow-er Woman. As a writer, she has written and pitched a TV series pilot, a Children's book series, an Animation series, several shorts, and the screenplay adaptation of Bullet Hole which has now been optioned.
The cast features Kiza Deen, Harris Cain, Andrew Evans and Inaam Barwani.
Kiza Deen | Mama H.
Kiza trained at RADA.  Theatre credits include: Rockets and Blue Lights (National Theatre); All's Well That Ends Well, As You Like It, Hamlet (RSC); The Phlebotomist (Hampstead); Random (Leeds Playhouse); Br'er Cotton (Theatre503); Expensive Shit (Soho); Trouble In Mind (Ustinov Studio); The Selfish Act of Community (The Island); Crave (Young Vic); Touch (Arcola); My Life (Warehouse).  TV credits include: Hollyoaks, Young Wallander, and Silent Witness.
Harris Cain | Hamlin
Harris graduated from East15 Acting School in 2018 and has now gone on to work on in TV, film and theatre work. Credits include: Headliners (SBTV), Enterprise (BBC 3), Charlie and Stan (Told by an Idiot);  Nothello (Belgrade Theatre); Simon Boccanegra (Royal Opera House); Butterflies (Tangled Feet).
Andrew Evans  | Nic
Andrew trained at the Manchester School of Theatre. Since graduating he has worked as a puppeteer for Wild Rumpus. King Hamlin is his London stage debut.  Theatre credits include Cyrano De Bergerac (Theatre Clwyd); Winona (Aberystwyth Arts Centre); A Journey Through War (Blue Orange Theatre); Incognito (Manchester School of Theatre).
Inaam Barwani   | Quinn
Inaam trained at Theatre Royal Stratford East on their Acting Course.  Some of his notable roles include: Hidden (Forest Forge Theatre); The Boy Who Speaks in Numbers (RADA); Time Out (Hooked Theatre); Listen (BFI).