Afridiziak had a chance to catch up with Gogglebox star Sandra Martin ahead of her new panto role, as the Spirit of the Ring in Aladdin at Maidenhead's Pearce Suite Theatre, in Kent.
Sandra is a busy, funny, chatty lady always on the go and we had a chance to catch up with her on what's been going in her life during her busy rehearsals for the new pantomime of Aladdin.
"I'm living life to the full these days, taking every opportunity that comes my way", Sandra told me when I asked what she had planned after the success of her time on Gogglebox. Since joining Gogglebox in 2013, Sandra has built up a wide following on social media and is known for her big personality, colourful clothes to match and her contagious laugh.
Sandra is leaving Gogglebox next year as she is ready to do other things and admits that finding fame late in life has pushed her to go for new adventures and not hold back. She is so glad for the chance that Gogglebox gave her to meet so many celebrities that she always watched on TV growing up, but also the chance to meet normal everyday people has had a huge impact on her life. The show has given her a chance to do charity work and has changed her life in ways she previously did not imagine. "I have a new full time permanent job now, taking selfies", she joked with me when I asked her how fame has changed her life.
I've had people hugging me, crying, completely going mad when they see me, I still can't believe it but I know it's a blessing. I cannot complain, Gogglebox changed my life."
Everyday Sandra wakes up to update her Instagram, Facebook and other social media pages to keep her fans updated with what's happening. "I wake up and film an update on what's going on today and what I'm doing, what's coming up for me. It's unreal how much the fans care and want to know, but I stay grounded. I just love to chat to my people." The biggest surprise for her has been the fans and their reactions when they meet her in real life. "I've had people hugging me, crying, completely going mad when they see me, I still can't believe it but I know it's a blessing. I cannot complain, that show (sic Gogglebox) changed my life."
When I asked her how she was finding being in a Christmas panto she admitted that she was not used to the rehearsals and theatre life, it is a new experience for her and one that she is not sure she'll repeat as it has taken a lot out of her. Before starting rehearsals for Aladdin, Sandra had been out in Italy for 3 weeks filming a new TV programme, something for us all to look out for.
The panto experience has been a new one for Sandra and she told me "Every day is so full and a bit mad if I'm honest and I'm not used to it." Sandra fell into pantomime after meeting someone from the industry at a charity event earlier in the summer, they thought she would be a natural as she is a funny, lively character. So she gave it a go. Her character is the Spirit of the Ring and she is enjoying getting into the role as it is a funny role so suits her personality perfectly. Sandra is going with the flow of the rehearsals even though she admits she doesn't do scripts as she would rather be spontaneous and chat with her audience, but she is rising to the challenge and enjoying doing something completely out of her comfort zone.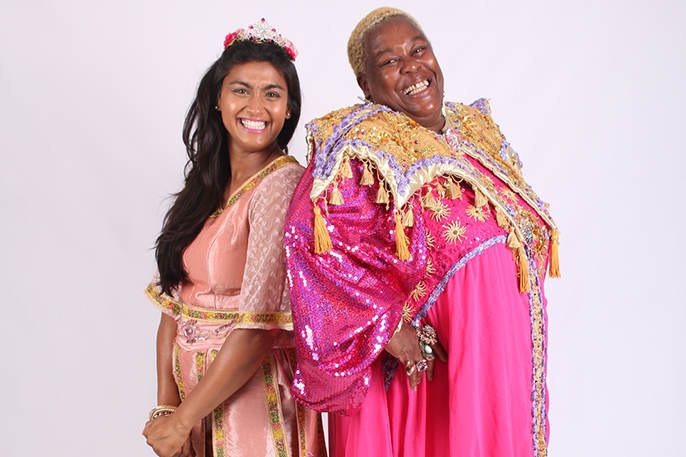 She is looking forward to ending this year on the high of a Christmas Pantomime and move onto some exciting projects in the New Year. For the fans she is hoping they will enjoy the panto and wants everyone and their families to come out and enjoy for Christmas. "Too many bad things going on in this world and we need to enjoy with our kids and just come out and live life together. I was a normal girl in Brixton and now my life has changed, I'm a people's person and just want to keep making people laugh and engaging with my audience."
Talking to Sandra I could feel her excitement about life and her future, as she told me she is H A P P Y!
Q Productions regrets to announce that due to health issues, Sandra Martin will no longer play the Spirit of the Ring in ALADDIN at Maidenhead's Pearce Suite Theatre, Magnet Leisure Centre. Sandra's replacement is to be announced.
Director of Q Productions, Eddie Dredge, said: "We are sorry to share the news that Sandra will no longer be able to play her role in ALADDIN, and we wish her all the best. We apologise to panto-goers for any disappointment this may cause but can offer assurance they will still have a magical and wonderfully entertaining time and that the running of the production will not be affected."
NEED TO KNOW:
ALADDIN runs until 31 December 2017 at the Maidenhead Theatre
|
Book Tickets