Gloria Onitiri – interview
The Stripper, St James Theatre
Gloria Onitiri's boundless list of creative talents makes me rue the day I gave up my piano lessons. A skilled vocalist, Onitiri has starred in Hair, Been So Long and headlined as Rachel Marron in The Bodyguard. Her acting prowess has also seen Onitiri star in Egusi Soup, The Tempest and tour nationally in Bruce Norris' Clybourne Park. Having worked in Avenue Q, Onitiri happens to be a trained puppeteer and has utilised her dance skills as Nala in The Lion King. Luckily for us, the artists' prolific talents will be put to great use in her current role in The Stripper. Described by Onitiri as "a musical extravaganza" the piece is a classic whodunit based on a Carter Brown novel.
The Stripper is a different experience to what you usually get at the theatre. It's a much closer, more intimate and immersive event. It's funny, it's punchy and you'll go away feeling light."
Onitiri explains, the play is set in 1961 and offers audiences a foray in the seedy California underworld: "It's a detective, pulp fiction piece and it's really quirky. It's got that LA Confidential feel to it. The premise is that a woman called Patty Keller has died and a detective Al Wheeler needs to find out how she died. There are lots of characters that you come across, and it's very stylised, quite a pastiche of that whodunit genre."
Originally a country girl from Aspley Guise in Bedfordshire, Onitiri has worked extensively in musical productions.
However, she reveals that this cabaret style show is slightly more risqué than most west end spectacles: "The music and lyrics were put together by Richard Hartley and Richard O'Brien who wrote The Rocky Horror Show. It has an element of Rocky Horror to it, but it's a bit less out there and brash grotesque with its humour. It's great fun with some wry comedy thrown in. The music is very of the era, it's mostly Jazz based. There's also a bit of an Elvis feel, a bit of Johnny Cash and a bit of Ella Fitzgerald. They're very catchy numbers."
Onitiri shares that the rehearsals have been "very intense" partly because of the show's staging: "The studio is being converted into a cabaret/strip bar so it's been difficult to rehearse fully until we got into the actual theatre space. It's really exciting and it gives the show something of an immersive feel. The audience will be getting something of a nightclub vibe and so it becomes the club extravaganza."
Adding to the show's ingenuity is the fact that many of the cast members play several characters. This is a familiar technique to Onitiri as her last role in Clybourne Park required her to play two characters set 50 years apart.
Onitiri describes the expository drama as: "Fantastic. Just brilliant writing. When I got the script, it jumped at me off the page, which is rare as an actor. I immediately fell in love with both women, both Francine and Lena. I knew who both of those women were immediately and I knew I had them in me as well. Also, Lena did have some of the best lines." (Laughs.)
In The Stripper, Onitiri will be doubling up again, but reveals that her role as apparent suicide, Patty Keller will be short lived.
Her primary role is that of burlesque dancer Deadpan Dolores. Onitiri shares: "Dolores is a renowned dancer and on the surface it seems like she has this really glamorous life. She's this fabulous entertainer who people come to see. But the reality is she works in this really bad dive called The Boom Boom Joint on the waterfront and she's not earning very much money doing it. So she's quite covert in a way and there's a sadness to her story."
Onitiri is no stranger to the stage, in fact she has previously performed at St James Theatre in her solo concert Reverie. In this cabaret style act, the singer performed a medley of December Songs by Maury Yeston.
But there is one aspect of her Deadpan Dolores role which has Onitiri slightly apprehensive: "I do have a four minute burlesque routine, which is a first for me. It hasn't been too hard to train for as many of these dancers tend to make up their routines themselves. They can be as complex or as simple as you want them to be, just so long as it's not prosaic and not pedestrian. There needs to be a glamour about (Laughs sheepishly) taking your clothes off. It's about the control and the power that you have with that, that's the alluring side of it. I am nervous though, I'm not gonna lie. It'll be good. It'll be fun. Liberating!"(Laughs.)
I find Onitiri straightforward and unaffected during our interview. She admits that whilst Clybourne Park was "amazing" she's relieved to have a break from discussing race and real estate in her current role.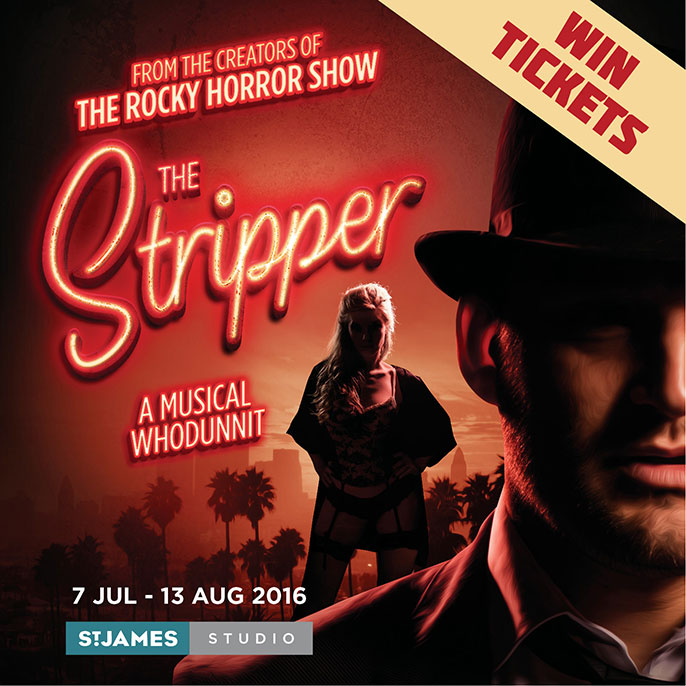 She also shares that her role as Rachel Marron in The Bodyguard came with a great deal of challenges: "It was such an experience, absolutely incredible. But from start to finish there were a lot of pressures to contend with. The pressure of singing such a well-known and well-loved songbook, probably one of the hardest songbooks a woman can sing. Then obviously there was creating this woman who had so much going on inside of her. It's such a familiar character too, so you want to avoid making your performance too stylised."
When I got the script, it jumped at me off the page, which is rare as an actor."
When asked how she interpreted her role as Marron, the actress explains: "I think when you read a script, you either know somebody or you don't. With someone like Rachel, it's always about what the audience doesn't see that make you really excited about them. So I would always talk about her abandonment complexes. Also her fear of not being in charge around men, because they never talk about her father or the father of her child, Fletcher. It's those kinds of things that keep me interested in a character and keep me living and breathing in a character. That was what was glorious about that role, that she said so little about her personal life so you could develop your own. So much was left unknown, it was a bittersweet ending and a bittersweet story, a bit like Whitney's own life."
Music has always been a huge part of Onitiri's life, in fact she is a classically trained musician, playing both the piano and the guitar. As a lover of drama and literature, the artist decided to combine her talents and joined the National Youth Music Theatre at 14. It was during her NYMT performance as Sylvia in The Dreaming that Onitiri was spotted by The Lion King's casting director Pippa Ailion. Having successfully auditioned, Onitiri combined nightly performances in The Lion King with her A Levels at just 17.
Onitiri laughs as she describes her unconventional career trajectory, stating: "I was so lucky to get that part, and I basically have not stopped working since. I never spent three years studying acting as such, I've learnt on the job and have had acting coaches and done classes and so on. So, it was a different route for me, but exciting and I'm glad I've done it that way."
When it comes to the future, it seems the sky is the limit for this multi-skilled performer. Whilst Onitiri says she isn't pursuing her singing career at present, she is mindful of any opportunities that come her way. She said: "I enjoy musical productions hugely, but for me ultimately it is always about the character and who I'm playing more than anything else. So whatever comes next, I'm happy to give a go and not close any doors."
As an actor, singer and dancer, Onitiri has something of the vaudeville golden age about her. In her current role, the artist will be showcasing her trinity of skills, which is bound to delight theatregoers.
As a closing note, Onitiri explains exactly why people should come and see The Stripper: "It's a different experience to what you usually get at the theatre. It's a much closer, more intimate and immersive event. It's funny, it's punchy and I think you'll go away feeling light. It's also got a nostalgic, 'Once upon a time' storytelling quality to it. If you like a bit of Cluedo and a bit of whodunit, you'll love it."
---
Info: The Stripper is at St James Theatre until 13 August 2016 / Book tickets