Gary Beadle, Les Blancs by Lorraine Hansberry – interview
National Theatre
Having been performing professionally since the age of nine, Gary Beadle has clocked up a pretty extensive acting CV. Best known for playing lovable rogue Paul Trueman on EastEnders, Beadle has appeared in countless films, television and theatre productions. His credits include, feature film The Imitators, BBC's spy drama The Interceptors and Roy Williams' Sucker Punch (read review) to name but a few.
Despite his wealth of experience, Beadle describes his current role in Les Blancs (see listing) as"Unlike anything I've ever done before."
Because it's a stunningly written, acted and directed piece which explores the true reality and every aspect of colonialism. It's also informative because it gives us an insight into radicalisation, which is something prominent in the world and in Britain today. In equal measure it's educational, heart breaking and beautiful
Beadle speaks to me in soft South London tones during a quick break from the intense rehearsals. Friendly and armed with a throaty laugh, the actor reveals that the rehearsals are "Bloody exhausting, but completely worth it as we're producing such an important piece of work."
Written by Lorraine Hansbury, the play is set in an unnamed African colony on the brink of a civil uprising. Beadle is playing Abioseh, an ex-tribesman who has converted to Catholicism much to the chagrin of his brother Tshembe, played by Danny Sapani. "Abisoeh converting to Catholicism is controversial, it's seen as a rejection of his community and an atrocious disloyalty. Divided loyalty is at the core of the play, as well as identity. A major effect of colonialism is that it robbed people of their identity, their background, which made people feel worthless."
The destructive influence of imperialism remains ubiquitous throughout former British colonies. From religious conflict to crushing poverty, the enforcement of a foreign culture has invariably left devastating chaos in its wake. With the gift of hindsight, it is difficult to consider that colonialists had any truly charitable intentions. However, Beadle explains that Les Blancs delves into the ideology of the settlers, and strives to tell both sides of the colonial story:
"I think the play is important because it avoids blaming one side. It explains the circumstances of colonial rule and why people move from one side to the other. Colonial rule was often brutal, which the play explores truthfully. But it also looks at how people are exploited without knowing they're being exploited, and how people exploit without knowing they're exploiting. It's such a complex issue, but it's dealt with fairly, insightfully and powerfully."
The Bermondsey native shares that whilst he does not consider himself a spiritual man, he was baptised as a Catholic "They get you young!" (Laughs). When asked why he thinks his character converted to Catholicism, Beadle answers intuitively:
"I think for him, it's the one route that doesn't involve violence and there's a huge element of forgiveness, which is the only way forward. For Abioseh, Catholicism seems to offer the bigger chance of there being some hope, some reconciliation. I liken Abioseh's outlook to that of Martin Luther King, whereas his brother Tshembe is more militant and radicalised. So there you have it. You have these two ideas that come up against each together in a sibling atmosphere. My character is spiritual and has this whole foundation of faith and forgiveness which is a beautiful thing."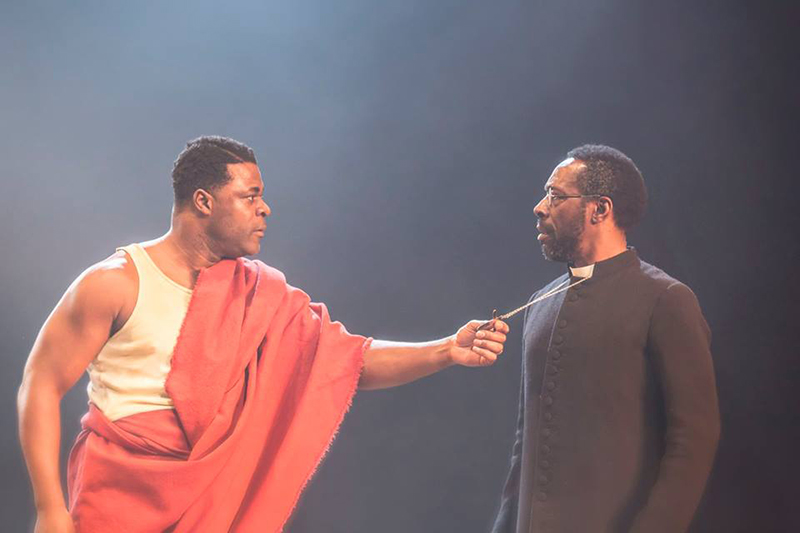 Yaël Farber is the Quentin Tarantino of theatre
Directed by multi award winner Yaël Farber, Beadle divulges that the rehearsal process has been incredibly challenging. Describing Farber as "the Quentin Tarantino of theatre" the director's approach is highly interpretive and physical. "I don't want to give away too many of her secrets. But for example, we don't do read-throughs, you read the play in your own time. Yaël works with a movement director called Imogen Knight and when rehearsing a scene, we all turn up in our tracky bottoms and before performing the script, we do all sorts of voice exercises and physical movements together. It gets really deep, going from shouting, to laughing and tapping into these underlying emotions. Then we get up and do the scene with all these emotions in our bodies. (Laughs.) Pursuing those emotions physically is something I've never done before and it means the cast is all on the same vibe. It's like we're one organism, all breathing and moving together."
Beadle's newly discovered acting method prompts me to ask about his original training as an actor. Incredibly open, he answers "Here's the thing, I never studied acting. I never attended a standard drama school, I went to a place called Anna Scher Theatre in Islington. She's responsible for the likes of Pauline Quirke, Kathy Burke, Ross Kemp, they all came through Anna Scher's. She was like a mentor for feral street kids, mixed with middle class kids. I went there after school twice a week and it was such escapism for me."
Beadle laughs that he was a bit of an oddball as a child, but says he "learnt to curtail my ways." The former MC from the City Limits Crew credits drama with keeping him from following a more destructive path. "It saved me, acting saved me 'cos I came from a rough neighbourhood, I could have gone the other way, I know lots of friends that did so I'm fortunate."
Beadle sings the praises of Anna Scher and is full of gratitude for the direction he has been steered in. Unusual for someone in the public eye, he goes on to speak about the influence of a family member: "Really, me being an actor is all down to my brother, Rikki Beadle Blair (read interview). He's a playwright and he's the real genius of the family." (Also the first person I ever interviewed for Afridiziak Theatre News, a fact which Beadle greets rather joyfully.)
Acting saved me 'cos I came from a rough neighbourhood, I could have gone the other way, I know lots of friends that did so I'm fortunate
"Oh, great stuff! Yeah, my brother's amazing. I got into acting because of a production of which he directed." It transpires that Beadle played the janitor Fizzy and his brother played Talula. "This is a true story, he went through the phone book and rang up every listed Alan Parker (writer and director of the 1976 feature film) and invited him to come and see these feral kids on a council estate doing a production of Bugsy Malone in a youth centre. "He managed to find him and his assistant came and she loved it. From there, we got fast tracked to Anna Scher's because the assistant thought 'We've got to get these kids in now before we lose them.' So, that was that – my brother made it all happen."
I am eager to hear more of Beadle's wonderful anecdotes and I haven't even had a chance to ask if there will ever be a prodigal EastEnders return of Paul Trueman. But, a true professional, Beadle has to run back to the emotionally fuelled rehearsal.
A quick final question before Beadle runs off. Why should people come and see Les Blancs?
"Because it's a stunningly written, acted and directed piece which explores the true reality and every aspect of colonialism. It's also informative because it gives us an insight into radicalisation, which is something prominent in the world and in Britain today. In equal measure it's educational, heartbreaking and beautiful."
Related Links
Get £10 tickets to see Les Blancs at the National Theatre
Rikki Beadle-Blair, Shalom Baby – interview