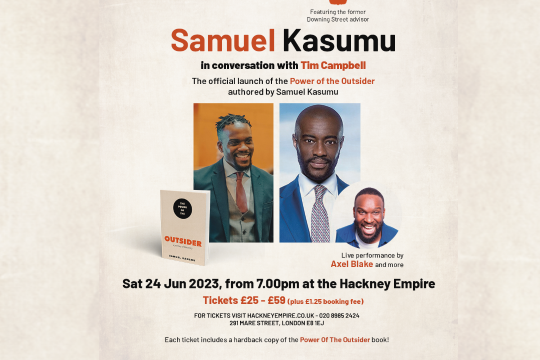 Award-winning social entrepreneur, commentator and strategist Samuel Kasumu will be live in conversation with Apprentice winner and now Lord Sugar's right-hand man Tim Campbell to discuss Samuel's new book, The Power of the Outsider.
Samuel Kasumu served as a Special Advisor to Prime Minister Boris Johnson where he held the Civil Society and Communities brief. He was the most senior Black Advisor in government until he left in Apr 2021.
On the night you can always expect a special performance from opera singer Nadine Benjamin. Check out the video below to be blown away by Nadine and English National Opera, as they perform Summertime from Gershwin's Porgy and Bess.
You can also catch last year's winner of Britain's Got Talent Axel Blake with a special live performance. Watch the video below to see what he's got in store for you and why he got Simon Cowell's golden buzzer.
This event promises to be a special night, full of laughter, honesty and unique insights.
Everyone who attends will receive a hard copy of Samuel's new book, The Power of the Outsider.
NEED TO KNOW:
Samuel Kasumu will be in conversation with Tim Campbell on Saturday 24 June 2023, at 7pm
Use code SK30 for a 30% discount