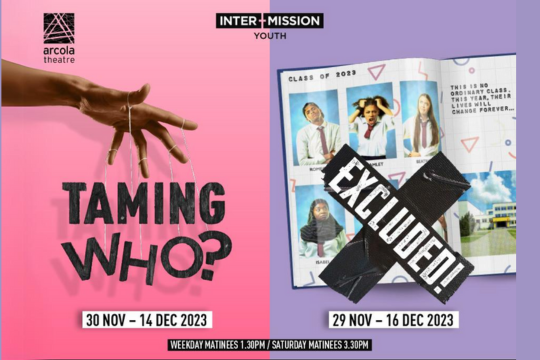 To celebrate 15 years working in theatre and with young people, Intermission Youth (IY) one of the UK's most exciting theatre companies presents two thrilling Shakespeare adaptations at the Arcola Theatre.
Excluded is a powerful new play, which will take audiences on a journey to re-imagine the world of Shakespeare whilst raising current issues facing young people in Education, presented by the Youth Training programme (IYT), and Taming Who?, is a special anniversary production inspired by Shakespeare's Taming of the Shrew, performed by former graduates now working professionally across stage and screen.
Both of these fast-paced Shakespeare remixes interweave 400-year-old verse with new dialogue to give fresh relevance through the lens of youth culture in London today. 
More about Excluded
Meet Miss Portia.
A secondary school teacher who's trying to get her Year 11 students to focus on their upcoming. GCSEs but how can she when Hamlet's grieving her father, Othello has been accused of something he hasn't done and Isabel is forced to confront her own fate! This is no ordinary class. The students are iconic characters from the plays of William Shakespeare and as tensions rise, can Miss Portia steer them away from rash decisions which could change their lives forever?
More about Taming Who?
Petruchio is studying at university and loving London life. An unexpected call from Mum, beckoning him back home to Nigeria, requires him to think on his feet and fast. What could he say to make her change her mind? "Mum I'm married!". Overjoyed by this news, Mum agrees to let him stay and announces her arrival in London – in 3 days – to meet her….. Mortified, Petruchio needs to find a wife and fast!
NEED TO KNOW:
Excluded runs at the Arcola Theatre from (29 Nov – 16 Dec) |
Book tickets
Taming Who? runs from the Arcola Theatre from (30 Nov – 14 Dec |
Book tickets