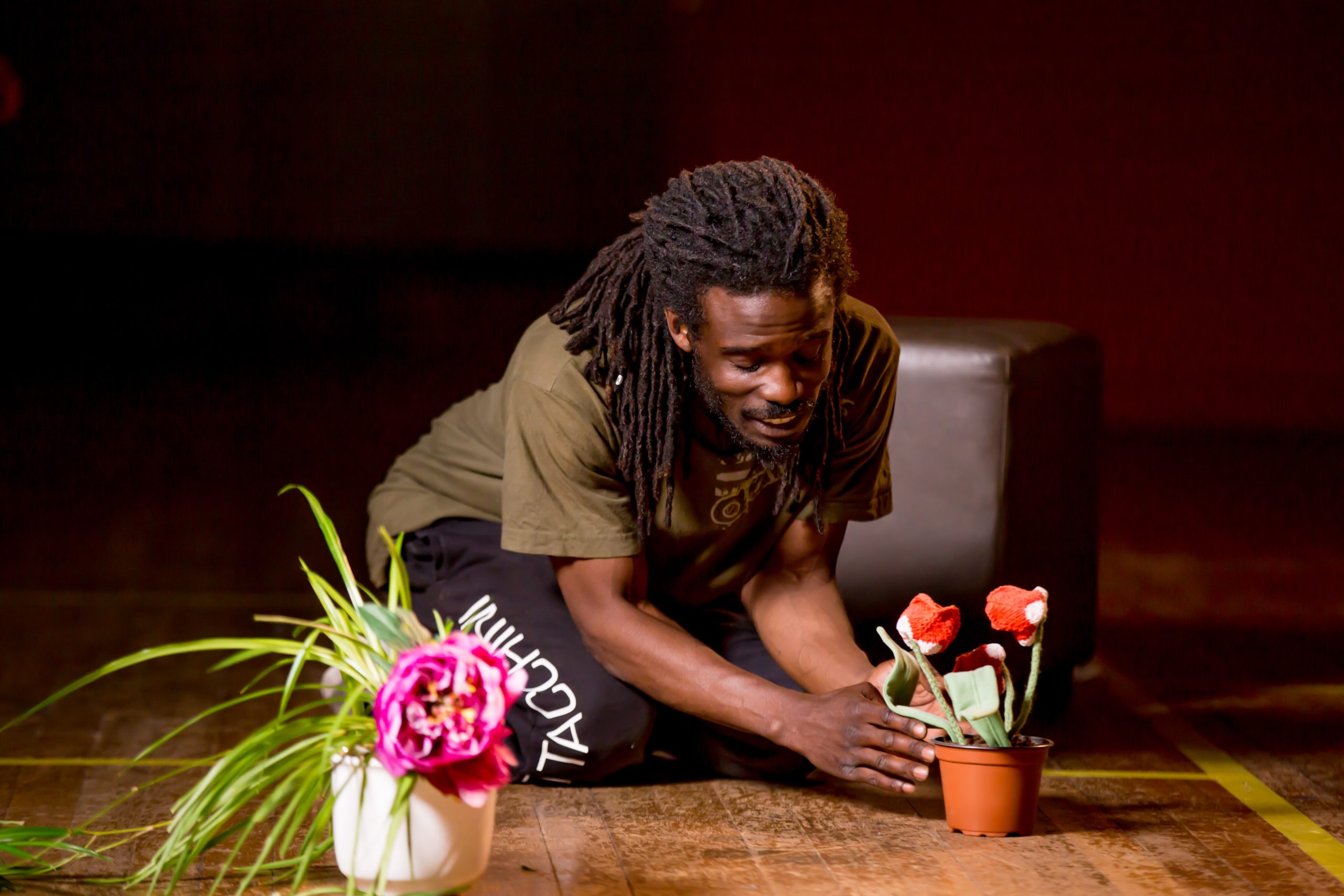 A Half Moon and Z-arts co-production for ages 4-9
Touring from 29 September 2022, with its premiere at Z-arts in Manchester, is a brand new children's show for Black History Month. Grandad Anansi is a playful celebration of the love between generations and the joy of storytelling. Written for children aged 4-9, it shines a light on Jamaican culture and the Windrush generation.
Abi and her beloved Grandad tell each other stories as they enjoy half term together on his allotment. They play games and sing songs as they work among the beautiful flowers and tasty vegetables.
As they plant seeds – and memories -they share secrets and develop a bond that nothing can break.
Ten-year-old Abi thinks Grandad is as smart and mischievous as wily Anansi; part human, part spider and the subject of many West African and Caribbean folk stories. She gives him the nickname Grandad Anansi.
But as they romp amongst the rhubarb, okra and cauliflowers, Abi suspects crafty Grandad is hiding something from her.
Can Grandad find a way to tell Abi about his plans to return to his Jamaican homeland
Grandad Anansi is the latest co-production from Half Moon and Z-arts, the team behind Dust, winner of a 2022 Off West End Theatre Award. It is an uplifting tale of love, courage and letting go.
Featuring live music, singing and dancing, it is touring throughout October 2022 for Black History Month.
Grandad Anansi is a contemporary re-telling of traditional folktales, which has particular resonance after the Windrush scandal and conversations brought about by the Black Lives Matters debate. The 40-minute show makes use of a mix of English and Jamaican Patois.
Grandad is played by stage and TV actor Marcus Hercules (Coronation Street, Brookside, Holby City, Casualty, Shameless) who shares his character's Jamaican heritage. Whilst Jazmine Wilkinson takes on the role of his preteen grandchild Abi. Grandad Anansi is directed by Chris Yarnell (The Outbound Project, Haste Theatre Company) and musical director is Tayo Akinbode, who has created work for The National Theatre, The Royal Shakespeare Company and New York Public Theater.
Grandad Anansi is the first piece of children's theatre by Elayne Ogbeta, a Greater Manchester writer of Jamaican heritage. Elayne, a former ESOL tutor, lives in Salford with her high-achieving family. Daughter Naomi Metzger is triple jump 10 times British champion and Commonwealth bronze medallist and son Nathanael Ogbeta was signed by Manchester City aged 10 and is currently a defender for Swansea City.
The character of 'Grandad' is partly based on Elayne's own father, 89-year-old Ashley Malcolm, who moved from Jamaica to settle in Preston in the 1960s as part of the Windrush generation.
Elayne Ogbeta said: "I grew up listening to lots of wonderful stories about the roguish spider Anansi told by my dad. He is still a great storyteller to this day and has continued to delight all nine of his grandchildren with gripping versions of the classic Jamaican tales.
"Grandad Anansi takes these oral stories, which have been passed down through generations, and places them on the stage, in front of new audiences. The stories are framed within a wider, universal narrative about intergenerational love, growing up, growing older and the meaning of home."
Liz O'Neill, principle producer, Z-arts, said: "Grandad Anansi is a story that will resonate with everyone who prizes their family ties.
"It is a show full of fun, laughter, silliness, music and movement, whilst still managing to touch on more serious issues, including the hopes and dreams of the Windrush generation and their families.
"Grandad Anansi is a must watch for children aged 4-9 and their parents and carers this Black History Month."
Writer: Elayne Ogbeta
Grandad: Marcus Hercules
Abi: Jazmine Wilkinson
Director: Chris Yarnell|
Producer (Z-arts): Liz O'Neill
Producer (Half Moon): Chris Elwell
Musical director: Tayo Akinbode
30 Sep – 1 Oct – Z-Arts, Manchester M15 5ZA
4 Oct – Montgomery Theatre, Sheffield S1 2LG
7-8 Oct – Half Moon Theatre, London E1 0ND
9 Oct – Hat Factory, Luton LU1 2EH
11 Oct – The Met, Bury BL9 0BW
12 Oct – Oldham Library, OL1 1AL (presented by Oldham Library Service)
13 Oct – Eccleston Library, St Helens WA10 5PJ (presented by Wonderarts and St Helens Library Service)
14 -15 Oct – Chester Lane Library, St Helens WA9 4DE (presented by Wonderarts and St Helens Library Service)
16 Oct – Astley Cheetham Gallery, Stalybridge SK15 2BN (presented by Tameside Libraries)
17 Oct – Worksop Library, Nottinghamshire S80 2BP & Mansfield Central Library, Nottinghamshire NG18 1NH (presented by Spark as part of Libraries across Nottinghamshire with Inspire: Culture, Learning, Libraries)
18 Oct – The Grand, Clitheroe BB7 2DL
19 Oct – Sutton in Ashfield Library, Nottinghamshire NG17 1BP (presented by Spark as part of Libraries across Nottinghamshire with Inspire: Culture, Learning, Libraries)
20 & 22 Oct – Theatre Hullabaloo, Darlington DL1 1SG
23 Oct – Beeston Library, Nottinghamshire NG17 1AE & West Bridgford Library, Nottinghamshire NG2 6AT (presented by Spark as part of Libraries across Nottinghamshire with Inspire: Culture, Learning, Libraries)
25 – 29 Oct – Lyric Hammersmith, London W6 0QL
30 Oct – Cambridge Junction, CB1 7GX