ILuvLive March special with Sway Mpho Skeef / Crazy Cousinz / Ava Leigh and Guests tbc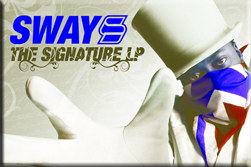 ILuvLive returns to Cargo for a one off special. These events offer the opportunity to put on more established acts and thus our headliner needs little introduction. Upping his speed and taking over the East London stage will be Sway, delivering the witticisms and lyrical role-play that has seen him garner a loyal army of fans.  Currently riding high on the back of the release of his sophomore album The Signature, the North Londoner has seen recent chart success with singles featuring the likes of Lemar and latest offering Silver & Gold, a collaboration with US superstar Akon.
On support duty, and repping for south of the river, will be Brixton's soul queen, none other than musical thoroughbred Mpho Skeef. The daughter of one of South Africa's biggest artists, Mpho has honed her own pedigree working with a range of artists including singing backing vocals for Natasha Bedingfield & Ms Dynamite, vocal coaching Adele and collaborating and touring with the likes of Sam Sparro, IG Culture, Mongrel and Coldcut.  These varying influences have led her to create 'Pop Art', her debut solo album of "tropical pop" which she will be showcasing on the night.
Fresh from the release of single 'La, La, La' fellow songstress Ava Leigh takes time out from working with the likes of Sly & Robbie to bring her shimmering brand of reggae to the stage, while ILUVLIVE funky favourites Crazy Cousinz are back, after the success of their debut back in October.  With new single Do You Mind set to surpass 2008 anthem 'Bongo Jam' expect more twisted shenanigans from DJ Paleface and co.
Regular host Ras Kwame will also be in attendance, but this time with something extra to celebrate as he launches his Urban Goodies compilation.  With forty tracks across two CDs, Ras has selected the cream of the UK scene featuring tracks from Chipmunk, Wiley, Skepta and Crazy Cousinz alongside exclusive re-rubs of the likes of Jordin Sparks and Jennifer Hudson.  The Sony team will be in the house with goodies so arrive early!
London in June 2004, ILUVLIVE is a live event success story. With few live showcases open to urban music, ILUVLIVE has helped numerous performers present their artistry to music industry virtuosos, journos and fans alike and has provided many artists with a leg up in the notoriously fickle music industry. www.myspace.com/iluvliveuk
Cargo, 83 Rivington Street, London, EC2A 3AY Tickets: £8 in advance, £12 on the door. www.ticketweb.co.uk and Cargo ticket shop
9 March, 7.30pm - late