Gig: Yolanda Brown
Live in concert - in the mood for love Valentines Special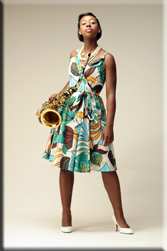 Following last April's sold out event, saxophonist YolanDa Brown returns to the Jazz Cafe with her unique live concert featuring full Live Band and Special Guests covering a range of musical genres, including original compositions as featured on her "Finding My Voice" and "A Step Closer" EP's and much, much more.
A 2008 Winner in the "Best Jazz" category of the MOBO Awards (October 2008) and a UMA award nominee for Best Jazz, YolanDa Brown is widely regarded as the emerging "voice" of mainstream Jazz in the UK.
YolanDa Brown has worked with artists ranging from MOBO Awards Best Album Singer Terri Walker to Mercury Music Prize Saxophonist Soweto Kinch, Chicago Star Brenda Edwards, Jazz Calypso Legend Russ Henderson MBE, Queen of Lovers Rock Janet Kay and US Soul Legend Alexandra O Neal, MOBO Award Best Hip Hop Artist Sway, as well as UK Soul Singer Omar to name a few...
Cost: £18 adv Jazz Café, 5, Parkway, Camden, London, NW1 7PG
www.jazzcafelive.co.uk
See Tickets: 0870 060 3777
14/15 Feb