Haiti and Zimbabwe Fundraising Appeal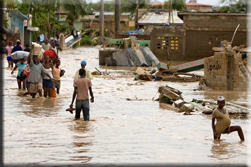 Recent hurricane devastation in Haiti and the cholera outbreak in Zimbabwe have empowered the wider African community to organise events to support the tragedy torn people in their hour of need. British based African Appeal Relief Committee feel a grass roots world wide support organisation is required to promote independence within the global African community. The organisations focus is to support the African community in health crisis, social, economical and political issues they face in modern times. In the past 6 months Haiti has been hit by Hurricanes Fay, Gustav, Hanna and Ike, leaving the country in crisis with hundreds dead, thousands displaced and ongoing nourishment and medical problems.
Zimbabwe also faces a major health scare and requires the support of humanitarian's world wide. With the problems of administering medication through out the health service urgent help is evident with 20,000 people now infected with cholera. The growing ambiguous nature of political reports on Zimbabwe highlights some of the issues surrounding the international identity of the black community globally and the ability to govern itself and provide for its people. The African Appeal Relief Committee are resolute in inspiring independence to all its sisters and brothers the world over.
The events are designed to raise awareness and funds for clothing, blankets, medical and food supplies to be sent to the respective countries as a show of solidarity and support. The day consists of educational workshops, poets, dancers, music, cultural food, stalls and fun for the family. 
Those interested in joining the team and or supporting the work ethic, plus further information on tickets (£5/adults, £2.50/children but under 5's free) and the programme for the day.
For enquiries: 07961 916 276
mrtknight@hotmail.com.
44 - 46 Offley Road, Brixton, London SW9
4 Apr, 12.00 noon – 8pm