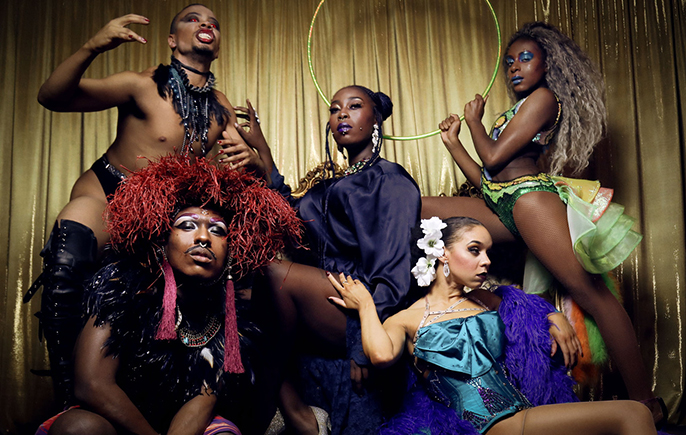 Cabaret collective The Cocoa Butter Club are bringing their ultimate performers of colour showcase to Underbelly Festival.
Featuring La Soiree hula hooper Symone, British ballroom legend Jay Jay Revlon, and internationally respected neo-burlesque star Lilly Snatchdragon, this one-night extraordinaire is BURSTING with creatives of colour, both rising and critically acclaimed.
Dedicated to normalising queer bodies of colour within performance, The Cocoa Butter Club was founded by Sadie Sinner The Songbird, in protest to the tokenism, cultural appropriation, and other challenges faced by BAME performers in the industry.
Founder Sadie Sinner says "Performers of colour are underbooked and underrepresented, but through no fault of their own; The people who write the stage and screenplays didn't grow up knowing bodies like ours in the positive or multifaceted light, so they don't write positive or multifaceted roles."
"This is our agency, our autonomy in presenting to the world our bodies and stories on our terms. It is our own narrative of what black and brown bodies can do, and especially in the arts."
Described by The Fire School's Red Sarah as "Amazing, educating, humbling, powerful, unapologetic, clever and just beautiful", The Cocoa Butter Club promises to moisturise the dryness of cabaret, putting QTIPOC (Queer, Trans, Intersex, People Of Colour) artists at the forefront.
Further Underbelly cast highlights include the politically charged drag of Lasana Shabazz, live loop magic from XANA, beatbox beats from Marv Radio, dazzling dance from Miss Demi Noire, and killer award-winning lipsyncs from Lipsync 100 winner Rhys' Pieces'.
Taking place on Thursday 13th September, this a perfect evening for decolonising the theatre scene, witnessing the heritage of "The Other", and presenting a chance to appreciate the culture and capabilities of black and brown bodies alike.
Info: The Cocoa Butter Club is at the Underbelly Festival on 13 Sept 2018 | Southbank Centre Underbelly Festival, Belvedere Rd SE1 8XX | book tickets