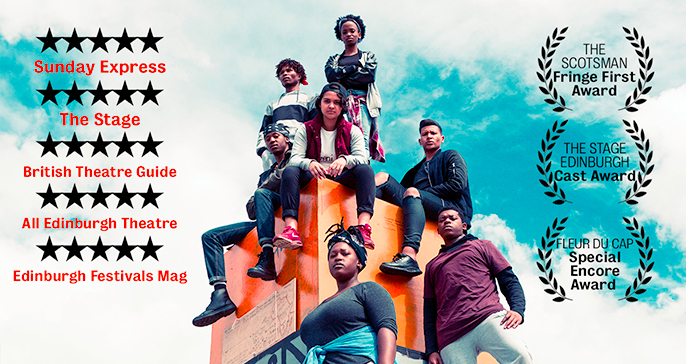 The multi award-winning South African production transfers to London for just 3 weeks
Fresh from its resounding success at the Edinburgh Festival Fringe, having received two top awards, five-star reviews and standing ovations throughout, The Fall transfers to the Royal Court.
"That day we taught ourselves as the movement what we as the movement meant when we spoke about white supremacy, institutional racism and black pain at UCT."
As the statue of colonialist Cecil Rhodes came down at the University of Cape Town, seven students wrote THE FALL. It took South Africa and Edinburgh by storm and comes to the Royal Court for an exclusive limited London run.
As colonialist and patriarchal icons are dismantled across the world, THE FALL goes to the heart of how race, class, gender, power and history's voices intersect.
The production was a response by seven drama students and activists of the movements at the time. It does not offer solutions – it merely documents their experiences.
"The atmosphere among my fellow comrades is euphoric. We have brought this change"
★★★★★ 'An excellent production...Highly recommended.' Sunday Express
★★★★★ 'Powerfully driven…A truly ensemble production which has both teeth and heart.' The Stage
★★★★★ 'The Fall fights for the power of all the oppressed in an impressive, heartfelt performance that won't soon be forgotten.' Edinburgh Festivals Magazine
★★★★★ 'Constantly upbeat and engaging.' British Theatre Guide
★★★★★ 'The show pulses with life…Remarkable.' The Scotsman
Info: The Fall is at the Royal Court Theatre , Sloane Square, London SW1W 8AS from 26 Sept to 14 Oct 2017 / BOOK NOW