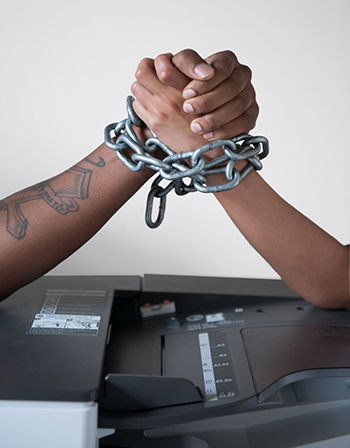 "My first supervisor was a African girl named Ann, and she had the nerve to tell me that I don't have a right to call myself African American. I had to tell that heffa just because your people sold my people doesn't mean I don't got African roots."
Yusuf needs a break – his philosophy degree from NYU isn't opening any doors, but his new job would help him pay his overdue rent; Xiomara doesn't want to settle for the marriage scenario her Dominican mother keeps pushing on her; and Isabel needs her job to put three kids through school, but still manages to keep her sense of humour.
All three are employees of Harlem Office, New York, a neighbourhood copy shop where promotions are rare, raises are even rarer, and racism is often on display.
But when one staff member is given the chance to move up to manager, friendships are tested and loyalty turns out to be less valuable than cold hard cash. Soon cutbacks and office politics have everyone fighting to keep their jobs and their sanity…
A searing new comedy about clocking in, clocking out and rising up.
Dolphins and Sharks receives its European premiere following its reading as a part of Vibrant 2016 – A Festival of Finborough Playwrights It won the 2015 Fire This Time Festival in New York City, was developed through staged readings and workshop performances as part of Labyrinth's 2015 Up Next and 2016 Barn Reading Series and recently enjoyed a successful run at Labyrinth Theater, New York City. It was also a finalist for the 2016 O'Neill Playwrights Conference.
Playwright James Anthony Tyler is an award-winning playwright who holds a MFA in Film from Howard University and a MFA in Dramatic Writing from New York University. 
The European premiere from new African-American playwright James Anthony Tyler, Dolphins and Sharks opens at the Finborough Theatre for a three week limited season on Tuesday, 12 September 2017. 
Directed by Lydia Parker. Designed by Anna Driftmier.
Presented by Over Here Theatre Company in association with Neil McPherson for the Finborough Theatre    
Info: Dolphins and Sharks is at the Finborough Theatre 118 Finborough Road, London SW10 9ED from 12-30 Sept 2017 / book tickets