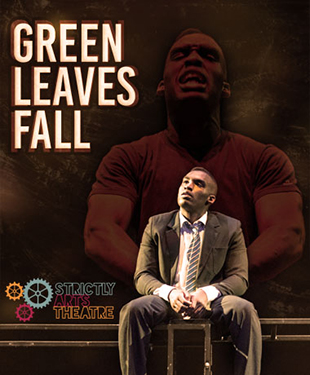 Following a breakout success in 2015, Strictly Arts Theatre returns with two shows: Freeman, the brand-new collaboration with award-winning writer Camilla Whitehill and a revival of Green Leaves Fall, a visceral portrayal of life after the 1981 Brixton riots.
Green Leaves Fall
'From despair to hope, then straight back to where we start. Disillusion only comes when there is hope found in our heart.'
Brixton,1981. In the aftermath of the riots, 14 year old Kieran Benjamin Zephiniah Salassi Tyrone Brown finds himself in unfamiliar surroundings as he is adopted by an upper class family in Oxford.
His new family send him to St Edwards, a prestigious boys school, with his new brother George. We follow his journey as he strives to fit into this new environment, as his classmates struggle to accept this new face and as he tries to find his identity.
George is also desperate to make his mark. Dreaming of becoming a journalist he has to overcome the nepotism that effects even the school paper. As Kieran starts to believe he has found his place and dreams of making something of himself he leaves school and discovers it's not as easy as he thinks. This play explores some of the most pressing social issues of our time – Inequality, Unemployment and radicalisation.
Green Leaves Fall Promo
- In Rehearsals
Green Leaves Fall Promo - Courtesy of Youtube.com
William Freeman
A young man of Native American and African American descent who claims he was wrongly imprisoned for stealing a horse is released and he takes it upon himself to viciously murder four members of the Van Nest family. Freeman was then tried, convicted and sentenced to hang for the horrific murders but was eventually acquitted for the crimes due to his defence of 'black rage'.
Our idea is based upon current issues relating to the first man acquitted from a murder due to 'black rage'. Story's like this are very common but are rarely spoken or debated upon, and we want to start that conversation.
Info: Strictly Arts Theatre presents Green Leaves Fall and William Freeman at the Belgrade Theatre, Belgrade Square, Coventry CV1 1GS | 29 Sept to 8 Oct 2016 | Book tickets | Watch trailer | Freeman: 29 Sept – 1 Oct, 7.30pm | Matinees: 1 Oct, 2.15pm & 6 Oct, 4pm | Green Leaves Fall | 6 – 8 Oct, 7.30pm | Matinees: 8 Oct, 2.15pm | Post-show discussion: 7 Oct, 7.30pm