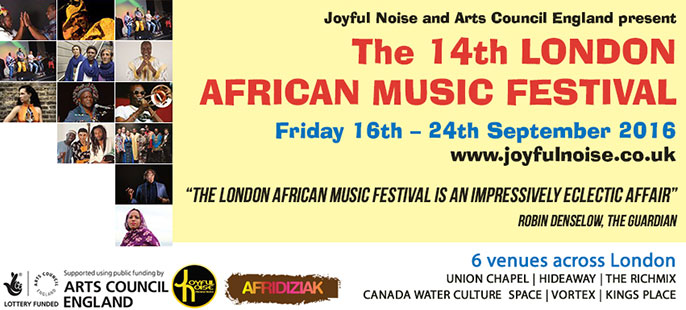 Welcome to the 14th edition of this unique festival. We open this year's festival with a masterful performance by keyboard player DELE SOSIMI leading his 15-piece Afrobeat Orchestra. Homegrown UK performances are from SALLY NYOLO and DJELI MOUSSA DIAWARA in a unique collaboration playing two ancient African harps, one of Africa's greatest singers SEKOUBA BAMBINO from Guinea, the first London show by the explosive AFRICAN SALSA ORCHESTRA with musicians from Africa and Cuba and the brilliant AZIZA BRAHIM shows why her Saharawi blues is capturing the heart of music lovers all over the world
2016 London African Music Festival #LAMF2016
Produced by Joyful Noise
London African Music Festival - Courtesy of Youtube.com
There are performances by NAMVULA who creates a multi-facetted music, SEKOU KEITA joins forces with guitarist ANTONIO FORCIONE and percussionist ADRIANO ADEWALE, new band LOKITO YA CONGO makes their debut with dance music of the highest order.
The incredible EZZA brings their Touareg groove to the Vortex Jazz Club and guitarist FEMI TEMOWO and his 10-piece orchestra close the festival performing music from his brand new CD.
"The London African Music Festival is an impressively eclectic affair"
Robin Denselow, the Guardian
This year's festival venues:
Union Chapel | Hideway | Richmix | Canada Water Culture Space | Vortex | Kings Place
---
Listings information
The 14th London African Music Festival
Dates: 16 – 24 September 2016
Website: Various London venues – check www.joyfulnoise.co.uk and www.afridiziak.com for full listings
Twitter: @the_lamf #LAMF2016 | Facebook: www.facebook.com/LondonAfricanMusicFestival
Download front of flyer | Download back of flyer
FULL LISTINGS
DELE SOSIMI AFROBEAT ORCHESTRA (Nigeria/UK)
FRIDAY 16TH SEPTEMBER, 8.00pm, Rich Mix
Afrobeat superstar Dele Sosimi started with Fela Anikulapo-Kuti's Egypt 80 in 1979. He was Fela's pianist for seven years, recording and touring with the great man. Fela Anikulapo-Kuti was the founder of the style of music known as Afrobeat. Today Dele Sosimi flies the Afrobeat flag with brilliant CDs. Tonight he leads his AFROBEAT ORCHESTRA as they play from his new cd "You No Fit Touch Am" an incredible recording that shows why John Stevenson, EjazzNews says `Sosimi creates some of the most bewitching grooves in modern African music".
Info: RICHMIX, 35-47 Bethnal Green Road, London, E1 6LA | Book tickets | £15.00/£12.50 | YouTube
SALLY NYOLO AND DJELI MOUSSA DIAWARA (Cameroon and Guinea)
SATURDAY 17TH SEPTEMBER, 7.30pm, Canada Water Culture Space

The divine vocalist SALLY NYOLO and kora superstar DJELI MOUSSA DIAWARA present for the first time in the UK their magical collaboration "MVETKORA" playing two ancient string instruments - mvet and kora. This is an unique and enchanting journey, from Fang country to Mandingo empire, from Sahel and Rainforest, from Cameroon and Guinea, from Mandingo and Beti traditions.
Info: CANADA WATER CULTURE SPACE, 21 Surrey Quays Road, London, SE16 7AR | Book tickets | £17.50/£15.00 (cons) | YouTube

LOKITO YA CONGA (Congo)
SUNDAY 18TH SEPTEMBER, 8.00pm, Vortex Jazz Club
Lokito Ya Congo, led by Renato Mondele, brings a new style to Soukous. Whilst keeping their roots firmly in Kinshasa, they fuse the styles of modern Africa and their sound is joyous with vibrant melodies that are sweet while rocking the dance floor. With four albums released Lokito Ya Congo are the sound of the young Africans.
Info: VORTEX JAZZ CLUB, 11 Gillett Square, London, N16 8AZ | Book tickets: | £10.00/£8.00 (cons) | YouTube
EZZA (Niger)
MONDAY 19TH SEPTEMBER, 8.00pm, Vortex Jazz Club
Niger's EZZA are guitarist Goumour 'Omar' Adam, bassist Menad Moussaoui and drummer Stéphane Gratteau. They create Tuareg grooves where African rhythms meet modern rock sounds resulting in rhythmic trances and relentless groove. Ezza creates trance groove that is impressive for a three-piece.
Info: VORTEX JAZZ CLUB, 11 Gillett Square, London, N16 8AZ | Book tickets | £17.50/£15.00 (cons) | YouTube

SEKOUBA BAMBINO (Guinea)
TUESDAY 20TH SEPTEMBER, 7.30pm, Kings Place
Guinea's superstar Sekouba Bambino is one of the great voices of African music. He became a star at 19 when he joined Bembeya Jazz. Since then he has released numerous albums as a leader and recorded and toured the world as a great band leader and as a soloist with Africando. His vocal prowess make his show a must.
Info: KINGS PLACE, 90 York Way, London, N1 9AG | Book tickets | £19.50/£17.50 (cons) | YOUTUBE

NAMVULA (Zambia/UK)
WEDNESDAY 21ST SEPTEMBER, 7.30pm, Canada Water Culture Space
Zambia folk songstress Namvula wows critics with her debut CD Shiwezwa. Namvula means "mother of rain" in Zambia where she was born of mixed Zambian-Scottish heritage. The music references Zambian folk music, urban music and elements of Scottish folk, jazz and Latin rhythms. Totally unique music.
Info: CANADA WATER CULTURE SPACE, 21 Surrey Quays Road, London, SE16 7AR | Book tickets: £12.50 / £10.00 (cons) | YOUTUBE

THE BRICE WASSY QUARTET (Cameroon/France)
WEDNESDAY 21ST SEPTEMBER, 7.30pm, Vortex Jazz Club
First UK show in 7 years by Brice Wassy for one of the world's greatest drummers. Renowned for his peerless work with Manu Dibango, Salif Keita, Miriam Makeba, Jean Luc Ponty, Airto Moreira and many others. Tonight he leads his French-African Quartet featuring bassist BERTRAND BERUARD, vibraphonist GASPARD JOSE and saxophonist MACIEK LASSERE. Expect intricate drum grooves and rhythms.
Info: VORTEX JAZZ CLUB, 11 Gillett Square, London, N16 8AZ | Book tickets: £15.00/£12.50 | YOUTUBE

ABDUL RAHEEM (Ghana/UK) AND THE ELECTRIC HI-LIFE ORCHESTRA
THURSDAY 22ND SEPTEMBER, 8.00pm, Vortex Jazz Orchestra
Trombonist Abdul Raheem returns to his Afro-Funk roots with his "ELECTRIC HI-LIFE ORCHESTRA". They play authentic Ghanaian Hi-life which is driven by infectious African rhythms and to make it unique Abdul Raheem added the musical techniques of jazz funk. THE ELECTRIC HI-LIFE ORCHESTRA are ABDUL RAHEEM (lead vocals and trombone), BISHOP SAMSON (tenor sax), KOFI ADU (drums), ISAAC TAGOE (congas), JAKE ELKAN (guitar), ZOZO SHUAIB (bass) and JULIUS UCHE (keyboards).
Info: VORTEX JAZZ CLUB, 11 Gillett Square, London, N16 8AZ | Book tickets | £12.50/£10.00 (cons)

AZIZA BRAHIM (Western Sahara)
THURSDAY 22ND SEPTEMBER, 7.00pm, Union Chapel
Western Saharan singer Aziza Brahim's new album 'Abbar el Hamada' (Across the Hamada) is a commanding and compassionate musical statement about, and for, the tumultuous age in which we live. Raised in a Saharawi refugee camp in the Algerian desert, and living in exile for more than two decades (first in Cuba and currently in Barcelona), Brahim's life and music embodies both the tragedies and hopes of the present-day migrant and refugee experience. Aziza Brahim makes a welcome return to the festival which kick starts her international journey in 2009. Tonight hear one of the world's greatest singers in London.
Info: UNION CHAPEL, 27 Compton Avenue, London N1 2XD | Book tickets | £22.50/£20.00 (cons) | YOUTUBE

THE TRIO AKA featuring SECKOU KEITA, ANTONIO FORCIONE, ADRIANO ADEWALE
FRIDAY 23RD SEPTEMBER, 7.00pm, Union Chapel
Trio AKA are kora master SECKOU KEITA from Senegal, guitar virtuoso ANTONIO FORCIONE is from Italy and percussion visionary ADRIANO ADEWALE from Brazil. Together they create mesmerising music that takes your breath away. Adriano Adewale's percussion sounds evoke the spirit of the forest one minute and the next his infectious grooves lay the foundation for Seckou Keita's magical rhythms and the acoustic guitar lines of Antonio Forcione . Together three masters sounding as one. A rich chemistry of cultural influences that makes their group one of the best in the world.
Info: UNION CHAPEL, 27 Compton Avenue, London N1 2XD | Book tickets | £20.00/£17.50 (cons) | YOUTUBE

THE AFRICAN SALSA ORCHESTRA (Benin/Cuba)
FRIDAY 23RD SEPTEMBER, 7.30pm, Hideway
The African Salsa Orchestra led by Michel Pinheiro is a dancing machine that makes you dance from Cotonou to Cuba. A journey in which the Manding rhythms, gospel, rhythm and blues and reggae associate with Cuban salsa. Salsa is a mixture of voodoo cults and Western music. Cubans have added piano and brass while the drum came from the Yoruba of Nigeria.

Michel Pinheiro sings in French, English, Spanish, Yoruba, Fon, Dioula. All on the devilishly danceable rhythms. He creates the explosive 10-piece African Salsa Orchestra in 2014 and tonight they make their UK debut with their infectious rhythms and blazing horns. THE AFRICAN SALSA ORCHESTRA are MICHEL PINHEIRO (Benin), lead vocal/trombone; PATRICK BEBEY (Cameroon), piano; JEAN-RICHARD CODJIA (Benin), Congas; JOHN PAUL MELINDJI (Ivory Coast), drums; KELLY KOTO (Congo), trombone; FLORENT BRICK (France), trumpet ; ALEXIS BOURGUIGNON (France), trumpet
Info: HIDEAWAY, 2 Empire Mews, Stanthorpe Road, SW16 2BF | Book tickets | £17.50/£15.00 (cons) | YOUTUBE

FEMI TEMOWO
SATURDAY 24TH SEPTEMBER, 7.30pm, Canada Water Culture Space
Femi Temowo Nigerian-born British jazz guitarist, musical director, producer and broadcaster is described by Time Out magazine as "one of Europe's finest and most sought after guitarists." He was nominated for the Best Jazz Act MOBO Award (2012). Over the years he has played with the likes of George Benson, Courtney Pine, Amy Winehouse, The Roots to name a few. After studying at Leeds College of Music and Middlesex University he has developed personal musical style that mixes jazz solos with African grooves that makes his music special. Tonight he plays from his new CD "The Music Is The Feeling". An incredible CD that showcases his writing skills and ability to create grooves that take your breath away.
Info: CANADA WATER CULTURE SPACE, 21 Surrey Quays Road, London, SE16 7AR | Book tickets | £12.50/£10.00 (cons) | YOUTUBE



---
Related links
13th London African Music Festival
12th London African Music Festival
11th London African Music Festival
Listen to the Spotify 13th London African Music Festival playlist
Check out the YouTube 13th London African Music Festival playlist