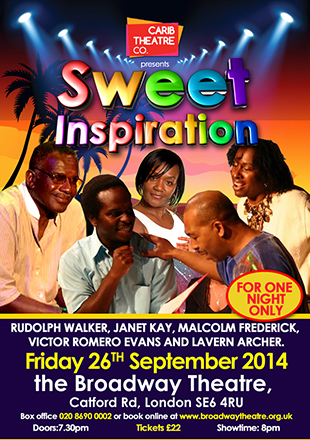 Carib Theatre Company presents Sweet Inspiration - a celebration of words and music from the Caribbean.
Sweet Inspiration is a totally entertaining production set in the period when people moved from the Caribbean to the UK in the late 1950's and early 1960's. Through some of our greatest writers, e.g. Derek Walcott, Louise Bennett, and Paul Keens Douglas, we meet characters who came here - the farmer, the market women, the carpenter - leaving life in the sun for the utterly unknown life in England. Sweet Inspiration throws a light on the life they left, and the culture which sustained them here.
The readings will be performed by some of our finest actors led by Rudolph Walker, Janet Kay, Victor Romero Evans, Malcolm Frederick and Lavern Archer. The words will reflect the work, loves, journeys, places, and above all, the good humour our early pioneers needed to get by in this strange land.
The music of the production is drawn from traditional folk, mento, calypso and ska, which all led to the development of reggae. It will be performed by The Inspiration Singers, under the musical direction of Andrea Encinas, co-founder of the London Community Gospel Choir and British Gospel Arts. Singers include, Sharon Clark, Ennis L, Remy Frederick and John Warren.
Sweet Inspiration will present a time when strangeness and hardship were overcome by a cultural heritage which was always joyous and optimistic
Info: Sweet Inspiration will be at the Broadway Theatre, Catford on Friday 26th September 2014 / book tickets
Related links
Smile Orange directed by Anton Phillips
Sweet Talk directed by Anton Phillips