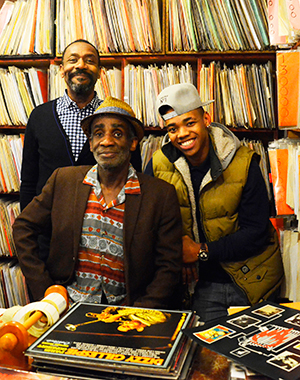 Based on the successful Radio 4 series, this funny and touching comedy is set in an old reggae record shop in Birmingham.
Owned by the irrepressible Rudy Sharpe (Larrington Walker), reluctantly helped out by his long-suffering son Adam (Lenny Henry), the shop is stacked with vinyl. With Rudy's chaotic approach of "if it ain't on the shelf, it's on the floor" clashing with Adam's need for calm and order, the record shop becomes a battleground of bickering, snickering, breaking-up and making-up played out to the shop's foot-tapping soundtrack. However, when the threat of developers looms, father and son must put their differences aside as they battle to keep the music alive.
Featuring music by Jimmy Cliff, Desmond Dekker, Bob Marley and the Sugarhill Gang – all played live by an onstage band.
Lenny Henry is of the country's best-loved personalities and foremost talents and has established himself as a formidable actor. He won the Evening Standard Best Newcomer Award for his portrayal of Othello for Northern Broadsides and completed an acclaimed tour and West End season in August Wilson's award-winning Fences. Lenny will be joined by other members of the radio cast.
Info: Rudy's Rare Records is at the Birmingham Rep from 4 - 20 September 2014 | book tickets