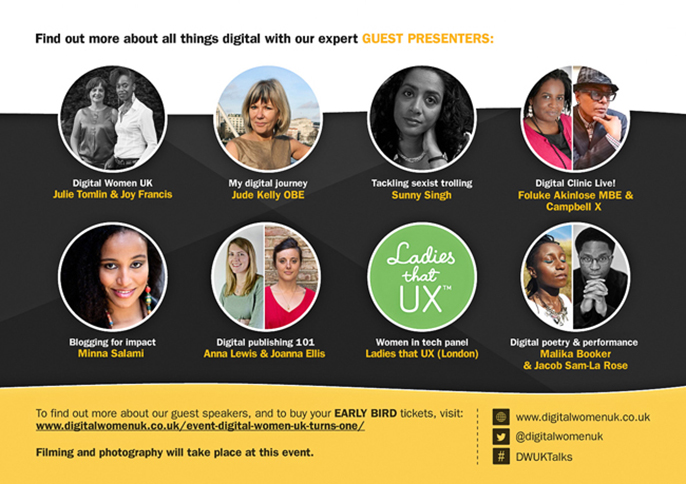 Black women creatives are being given the chance to get social media savvy and hear from, and network with, digital experts at 'Get Connected', a one day event on Tuesday 30 September to celebrate Digital Women UK's first anniversary.
Get Connected will host a dynamic mix of social media, technology and arts experts, such as the award-winning blogger, MsAfropolitan founder and The Guardian Africa Network contributor Minna Salami, digital pioneer and founder of PRECIOUS Foluke Akinlose MBE, digital strategist and award-winning filmmaker Campbell X, novelist and social media campaigner Sunny Singh with special digital poetry performances by acclaimed spoken word artists Malika Booker and Jacob Sam-La Rose.
Jude Kelly OBE, artistic director at the Southbank Centre, will make an exclusive film presentation for the event with contributions from event contributors Ladies that UX (London), The Literary Platform, CompletelyNovel, Valobox and The Body Narratives.
Digital Women UK co-founder Joy Francis said: "We have been encouraged by the support Digital Women UK has attracted since its launch last year, including children's laureate Malorie Blackman OBE. Aspiring and established women creatives colour who filled in our online Digital Confidence Survey 2013 said they wanted to network with likeminded women, learn from social media experts to improve their skills and be part of an online community. Our event on 30 September aims to do just that"
Foluke Akinlose MBE said: "In October 1999 I founded PRECIOUS, the first digital magazine for British women of colour. My aim was to profile their achievements in all areas of life and to increase their presence in the digital space by showcasing the opportunities to be entrepreneurial, innovative and build communities. Digital Women UK's Get Connected event is a valuable indicator of how far we have come as women of colour are adopting digital more readily. It's going to be an exciting day."
Award-winning poet and playwright Malika Booker added: "I support the work that Digital Women UK is doing to raise awareness and provide online access, information and training on the various ways digital technology can be used by women artists in their practice. No artist can grow without the support of a community, online or offline. I have found a natural affinity with certain types of social media as an artist, like Twitter, some aspects of Facebook and more recently Pinterest. These platforms provide me with an opportunity to share my poetry with other writers and artists."
Digital Women UK was founded in 2013 by Joy Francis and Julie Tomlin, Digital Women UK to facilitate female creative practitioners to fully engage with social media to raise their profile, showcase their work and reach their target audiences, and provides training and develops campaigns for more inclusion online.
Info: Get Connected: Digital Women UK Turns One is at Lift Islington, 45 White Lion Street London, N1 9PW on Tuesday 30 September 2014 from 9.30am to 6pm. Tickets are still available with concessions and group discounts / book tickets / Tel: 020 3176 5646 / Email: info@digitalwomenuk.co.uk / Website: digitalwomenuk.co.uk