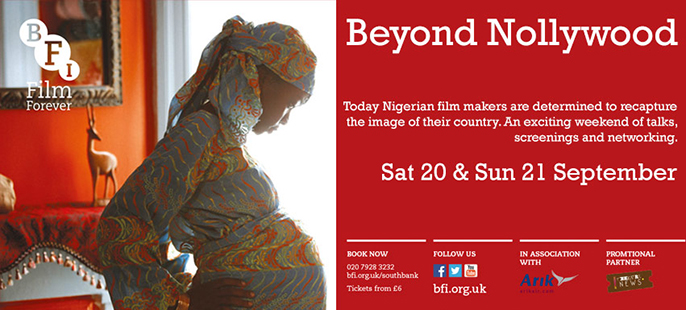 Afridiziak is proud to be a cultural partner for the Beyond Nollywood weekend at the BFI.
Contemporary Nigerian filmmakers are determined to recapture the image of their country for international audiences, and as a result have created a vibrant film culture of their own. Screening at many festivals worldwide, their work has wowed audiences with its style, storytelling and ideas. This September, African Odysseys will take you Beyond Nollywood, and will showcase the work of new Nigerian filmmakers and confront the issues of the past via world-class, 21st-century cinema. This exciting weekend of talks, screenings and networking begins with an official launch of Nadia Denton's new book 'The Nigerian Filmmaker's Guide to Success: Beyond Nollywood'. The weekend line up includes:
B for Boy+ Nadia Denton in conversation
A pregnant, 40 year-old wife and mother desperately wants a son.
Nigeria through a lens
A selection of documentaries about extraordinary Nigerian artists.
Mother of George
An enlightened look at immigrant life, capturing the vibrant Yoruba community in New York.
Info: The African Odysseys Beyond Nollywood weekend takes place at the BFI Southbank from 20 - 21 September 2014 / book tickets
Related links
Win a copy of 'The Nigerian Filmmaker's Guide to Success: Beyond Nollywood' by Nadia Denton - competition
Nadia Denton - interview