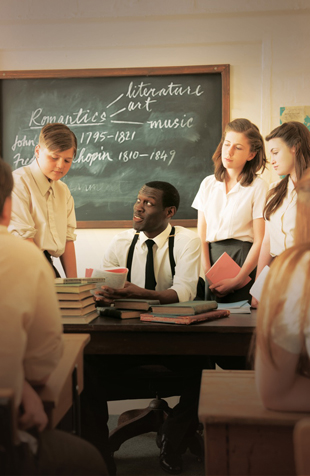 Co produced by the Touring Consortium Theatre Company and Royal & Derngate Northampton
The full cast for To Sir With Love, joining the previously announced Olivier Award winning actor Matthew Kelly (Florian), is Mykola Allen (Denham), Harriet Ballard (Monica), Peta Cornish (Gillian), Kerron Darby (Seales), Ansu Kabia (Ricky), Paul Kemp (Weston), Heather Nicol (Pamela) and Nicola Reynolds (Clinty).
Based on E R Braithwaite's autobiography and adapted by Ayub Khan Din, To Sir With Love is the story of Ricky Braithwaite, an ex-RAF fighter pilot and Cambridge graduate who arrives in London in 1948. Despite his first class degree in electronic engineering, he is turned down for job after job in his chosen profession and discovers the reality of life as a black man in post-war England. Taking the only job he can get, Ricky begins his first teaching post, in a tough but progressive East End school run by the enlightened headmaster 'Florian'. Supported by Florian the determined teacher turns teenage rebelliousness into self respect, contempt into consideration and hate into love, and on the way, Ricky himself learns that he has more in common with his students than he had realised.
Made into a major film in 1967 starring Sidney Poitier and featuring the song To Sir With Love, made famous by Lulu, this new stage adaptation is peppered with the songs and dance of the late 40's, a time of austerity like our own, where love, inspiration and hope win through against all the odds.
To Sir With Love was E R Braithwaite's first book and was written in 1959. Later publications include Paid Servant, A Kind of Homecoming, Collected Short Stories, Choice of Straws, Reluctant Neighbours, Honourary White and Billinglsy, The Bear with the Crinkled Ear.
ROYAL & DERNGATE NORTHAMPTON
6-28 SEPTEMBER

PRESS NIGHT 10 SEPTEMBER
Performances:
Monday - Saturday at 7.45pm (excl 10 September at 7pm)
Thursday & Saturday matinees at 2.30pm (excl 7 September)
Box Office: 01604 624811
Website: www.royalandderngate.co.uk

CARDIFF NEW THEATRE
1-5 OCTOBER
Performances:
Monday - Saturday at 7.30pm
Thursday matinees at 2.30pm
Box Office: 029 2087 8889
Website: www.newtheatrecardiff.co.uk


CHELTENHAM EVERYMAN THEATRE
8 - 12 OCTOBER
Performances:
Monday - Saturday at 7.45pm
Thursday & Saturday matinees at 2.00pm
Box office: 01242 572573
Website: www.everyman.org.uk

NOTTINGHAM THEATRE ROYAL
15-19 OCTOBER
Performances:
Tuesday - Saturday at 7.30pm
Wednesday - Thursday at 2.00pm
Saturday at 2.30pm
Box office: 0115 989 5555
Website: www.trch.co.uk

WOLVERHAMPTON GRAND THEATRE
22-26 OCTOBER
Performances:
Tuesday - Saturday at 7.30pm
Wednesday & Saturday matinees at 2.30pm
Box office: 01902 429212
Website: www.grandtheatre.co.uk

EDINBURGH KINGS THEATRE
29 OCTOBER - 2 NOVEMBER
Performances:
Monday - Saturday at 7.30pm
Wednesday & Saturday matinees at 2.30pm
Box office: 0131 529 6000
Website: www.edtheatres.com

BRADFORD ALHAMBRA THEATRE
5-9 NOVEMBER
Performances:
Tuesday - Saturday at 7.30pm
Wednesday matinee at 2.00pm
Saturday matinee at 2.30pm
Box Office: 01274 432000
Website: www.bradford-theatres.co.uk

DARLINGTON CIVIC THEATRE
12-16 NOVEMBER
Performances:
Tuesday - Saturday at 7.30pm
Thursday matinee at 2.00pm
Saturday matinee at 2.30pm
Box office: 01325 486555
Website: www.darlingtoncivic.co.uk

OXFORD PLAYHOUSE
19-23 NOVEMBER
Performances:
Tuesday - Saturday at 7.30pm
Friday at 8.00pm
Thursday & Saturday matinees at 2.30pm
Box office: 01865 305305
Website: www.oxfordplayhouse.co.uk

DARTFORD ORCHARD THEATRE
26-30 NOVEMBER
Performances:
Tuesday - Saturday at 7.30pm
Wednesday at 1.30pm and 7.00pm
Saturday matinee at 2.30pm
Box office: 01322 220000
Website: www.orchardtheatre.co.uk