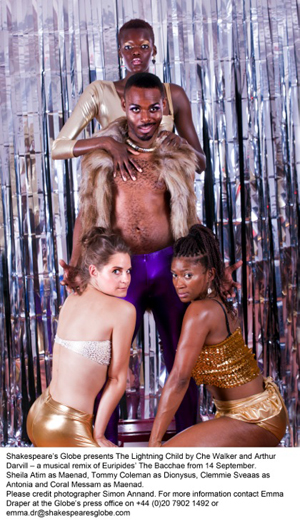 The final new write of the Globe's 2013 Season of Plenty, The Lightning Child hurtles from the ecstatic, primal, musical roots of Ancient Greek tragedy to the squats and shooting galleries of contemporary London. A diverse cast of real and imagined characters – including Billie Holiday, Neil Armstrong, Caster Semenya, heroin addicts Drax and Shug, virtuoso viola-player Louisa and a pitbull terrier named Cleopatra – explore universal themes of sex, power, envy and retribution.

Meanwhile, intoxicated worshippers gather in pre-Christian Africa to honour the god Dionysus with orgiastic rites, much to the disgust of the prudish king Pentheus...
The Lightning Child is written by Ché Walker, composed by Arthur Darvill and directed by Matthew Dunster – the same team that brought The Frontline to the Globe in 2008, the first contemporary play ever to be staged within the wooden O. This anarchic and highly original production won widespread critical acclaim and was revived the following year with Zawe Ashton.
Info: The Lightning Child is at Shakespeare's Globe from 12 September - 12 October 2013. | 21 New Globe Walk London, Greater London SE1 9DT | Book tickets
Related links