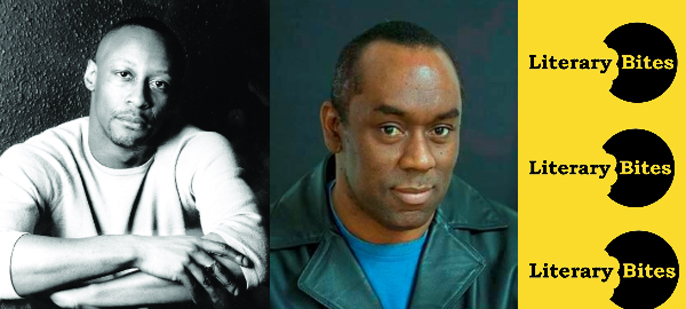 Literary Bites is a new initiative by Words of Colour Productions, connecting aspiring scribes with published writers over great food.
At each event, an established author will read from and discuss their work over a carefully sourced and quality menu that is affordably priced. Guests will also be able to network with other budding writers, win signed copies of books, as well as be part of a memorable literary experience.
After our successful launch in December with the award-winning crime writer Dreda Say Mitchell we are thrilled to present a double-hander with Courttia Newland (The Scholar, A Book of Blues, The Gospel According to Cane) and Alex Wheatle MBE (Brixton Rock, East of Acre Lane, Brenton Brown). The event will take place in the lovely Orchid Lounge at Yum Yum, an award-winning Thai restaurant in Stoke Newington, London.
Courttia Newland is the author of seven novels. Born and bred in west London, his first novel, The Scholar, was published in 1997 and was an instant success. Newland was shortlisted for the CWA Dagger in the Library Award 2007, the Alfred Fagon Award 2010 and was longlisted for the Frank O'Connor Award 2011 for A Book of Blues. His latest well received book, The Gospel According to Cane, was published in February 2013.
Alex Wheatle MBE published his first novel, Brixton Rock, to critical acclaim in 1999. Six more novels followed. His second book, East of Acre Lane, won the London Arts Board New Writers Award. In 2008, he was awarded an MBE in the Queen's Birthday Honours list for services to literature. Wheatle's debut novel, Brixton Rock, was adapted for the stage and performed at the Young Vic in 2010. His latest novel, Brenton Brown, was published in 2011.
Info: Literary Bites with Courttia Newland & Alex Wheatle takes place at Yum Yum Thai Restaurant, Stoke Newington, London, 7pm-9.30pm. To book your tickets (10 tickets Early Bird Offer until 14 August at £19.99 + booking fee or the regular price – £25 + booking fee) click here. Email your menu selection (which includes a starter, main course and drink), full name and contact details by 5pm on Tuesday 10 September 2013 at info@wordsofcolour.co.uk.