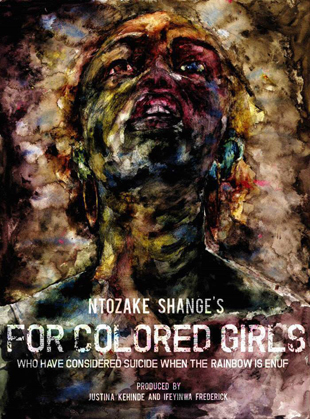 One night only: 13 September 2013, 7.30pm + Q&A hosted by Hannah Pool
After five star reviews and breaking history in Cambridge, Justina Kehinde and Ifeyinwa Frederick are bringing Ntozake Shange's For Colored Girls [Who Have Considered Suicide When The Rainbow is Enuf] to London for one night only.
The play, a choreopoem originally written by Ntozake Shange, will be staged at the Canada Water Culture Space on Friday, September 13, 7.30pm - followed by a Q&A with the cast and crew hosted by Hannah Pool.
The original Cambridge run of the play directed and produced by Kehinde challenged the local theatrical norms by having the first all-black, all female cast ever on a Cambridge stage. The power and creativity of the performance resulted in standing ovations, a sell-out performance and five stars reviews. After such a successful run, Kehinde and Frederick are bringing the play to London.
Justina Kehinde, director and co-producer, said: "The first time I put on For Colored Girls […], the intention of making history was not on my radar; I simply wanted to have my voice heard. After directing, co-producing and acting in a play, which uses poetry and dance to stare the grotesque nature of rape, abortion, AIDS, domestic violence and infanticide squarely in the face, you realise the play is more than you. People kept asking me, will you do it again and I realised there was still a need tell the story of the marginalised, to challenge conceptions of theatre, race, women, love and art. I had the creative know-how but the Cambridge production taught me that that finance was not my strong point. Teaming up with Ifeyinwa who has the commercial acumen meant a weight was lifted from my shoulders."
Ifeyinwa Frederick, who was a member of the original cast and is now also co-producer for the London show, comments: "As a dancer, I am used to being on stage but the original Cambridge production of the play tested me. It was the first proper play I had been involved in outside of school and it was a challenging one for me to have started with. After the final night, I was emotionally exhausted. But when Justina mentioned doing the play again I couldn't say no. This time round though, I wanted to be more involved and saw coming on board as co-producer as a perfect opportunity. The content of the play will resound with a number of people and the uniqueness of the production will attract an atypical audience to the theatre."
The cast includes JUSTINA KEHINDE OGUNSEITAN (lady in blue), IFEYINWA FREDERICK (lady in orange), LOLIA ETOMI (lady in purple), NAOMI MAXWELL (lady in green), STEPHANIE GOULEI (lady in brown), TASILA BANDA (lady in red) and ISABEL ADOMAKOH YOUNG (lady in yellow).
Acknowledgements: Natalie Keeney - photography and documentaries/film | Jeaniq Amihyia – photography | Geoffrey Pasong - programme design
Listings information:
For Colored Girls London
Date: 13 September 2013 | 7.30pm
Venue: Canada Water Culture Space, 21 Surrey Quays Road, London, SE16 7AR (nearest tube Canada Water)
Tickets: £15 [on sale from early August 2013] www.canadawaterculturespace.org.uk
Twitter: @FCGLondon | Facebook: www.facebook.com/FCGLondon