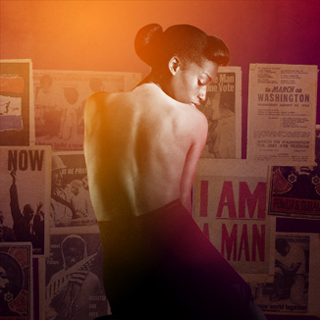 Olga Neuwirth, one of Europe's most thrilling and progressive composers, returns to the Young Vic following her South Bank Show Award-winning opera Lost Highway, to tackle Alban Berg's unfinished masterpiece Lulu.

John Fulljames (Street Scene) will direct this radically re-imagined new version set in the smoky jazz clubs of the Deep South against the backdrop of the civil rights movement. The London Sinfonietta will be conducted by Gerry Cornelius in a limited run of 8 performances.
In 1950s New Orleans, a young dancer's world is slowly torn apart by the jealous and controlling men and women desperate to be her lover. As the seductive and scarred Lulu looks back at her life, she faces a sordid history of sex, murder and suicide.
Olga Neuwirth came to prominence in the UK with her operatic adaptation of David Lynch's cult film Lost Highway at the Young Vic in 2008. This inaugural Young Vic/ENO co-production received a prestigious South Bank Show Award. American Lulu is Olga's first British opera commission. Setting her own libretto she re-works the first two acts of Berg's original opera incorporating a Las Vegas jazz-infused sound world, and composes an entirely original third act.
John Fulljames' past work at the Young Vic includes The Human Comedy, The Enchanted Pig, Tobias and the Angel and Street Scene, which received an Evening Standard Award for Best Musical in 2008 and will play at the Théâtre du Châtelet in January 2013. Associate Director of Opera for the Royal Opera since 2011, John had previously worked extensively as an assistant at Glyndebourne and Grand Théâtre de Génève. In 1997 he co-founded The Opera Group, of which he was Artistic Director until he took up his post at Covent Garden. As a stage director, John's productions for the 2012-13 season include Rossini's La donna del lago and La clemenza di Titofor Opera North.
Gerry Cornelius made his UK debut at the Almeida Opera Festival and has gone on to conduct for many of the country's leading orchestras, ensembles, opera and ballet companies including Welsh National Opera, English National Ballet, BBC Concert Orchestra, Spitalfields Festival and The Opera Group. He also regularly conducts in Europe and Asia and has recently revisited the Hong Kong Sinfonietta, Bochumer Symphoniker, RuhrTriennale Opera Festival and Klavierfestival Ruhr. He has conducted world premieres for a number of leading contemporary composers including George Benjamin, Colin Matthews, Olga Neuwirth, Edward Rushton and Julian Philips.
Magda Willi is one of the leading designers of her generation. Past work includes productions with Thomas Ostermeier, Sebastian Nübling, Benedict Andrews, Egill Palsson and Yael Ronen, and she was in-house set and costume designer at the Schaubühne from 2005–2008. American Lulu is herUK debut.
American Lulu​​​​ is composed by Olga Neuwirth, directed by John Fulljames with design by Magda Willi, video by Finn Ross and light by Guy Hoare. The London Sinfonietta will be conducted by Gerry Cornelius.
Info: American Lulu is at the Young Vic from 13-24 September. Book tickets, here