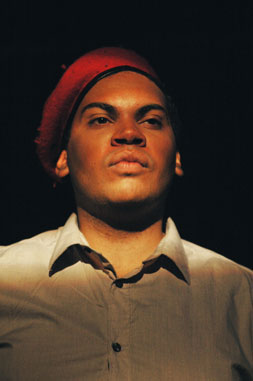 Chickenshed employee Christopher Maphosa's true story of growing up in Zimbabwe

Written by Dave Carey from interviews with Christopher Maphosa

Directed by Kieran Fay | Performed by Ashley Maynard

Chickenshed's Christopher Maphosa grew up to see Ian Smith's white supremacist Rhodesia become the brutal regime of Robert Mugabe's Zimbabwe, depriving Zimbabweans of all they had fought for. This one man play, evolved over a series of interviews with writer Dave Carey, tells the traumatic story of an ordinary Zimbabwean amidst an extraordinary time in the country's history. From refugee camps in Botswana to air strikes in Zambia via an escape to learn the principles of Marxism in Bulgaria, he returns to Zimbabwe, only to witness the greatest betrayal of all.

Christopher grew up in an apartheid-controlled South Africa and became part of the revolutionary force trying to overthrow the regime of Ian Smith in collapsing colonial Rhodesia. As the struggle becomes more political and the response more repressive, Maphosa is sent to Bulgaria to be educated, and returns to quite a different country to the one he left behind. By turns humorous and intensely shocking, performer Ashley Maynard enacts Christopher's extraordinary story and the characters of the allies that accompanied him.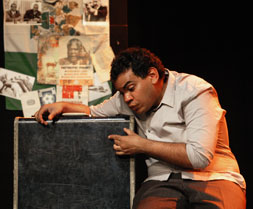 The title, The Rain That Washes, refers to the "Gukuranhundi" the Shona word for "the early rain which washes away the chaff before the spring rains", describing the suppression of Joshua Nkomo's supporters by Zimbabwe's 5th Brigade, now considered taboo in Zimbabwe.

Writer Dave Carey wanted the play to speak to the generation which has no understanding of what was happening in former colonial countries. "It's fantastic for the audience to see part of the mess we left behind as well as an understanding and sympathy of what has happened subsequently. The issue of Gukuraundi is, according to Zimbabweans I have spoken to, such a raw and open wound for so many people, but with Chris' help I hope we have brought this out in a sensitive and respectful manner."

Dave Carey is Creative Development Director of Chickenshed.

Info: The Rain that Washes is at Leicester Square Theatre (lounge), 6 Leicester Place, London WC2H 7BX from 17 Sept to 6 Oct, 7pm.