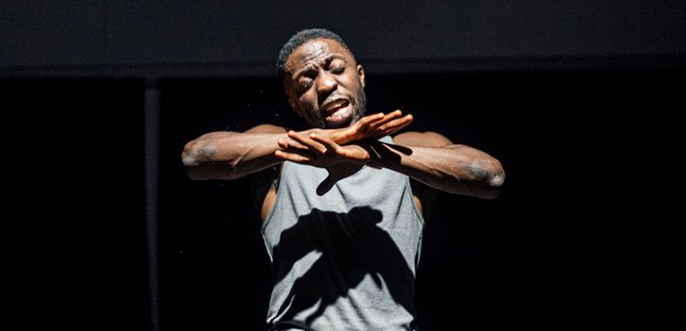 Michael, a young working-class black man from Hackney, seems to have a good life. A decent job, good friends and even volunteers as a football coach at his local youth football club on weekends. But as the days go by, it gets a little harder for Michael to get out of bed in the morning, a little harder for Michael to connect with his friends, to do his volunteering to the best of his ability. There's something else going on inside, something he needs to address but doesn't know how to, and something everyone and everything keeps telling him he doesn't really need to.
As the pressure mounts and the challenges of Michael's mental health grow and grow, we see how he grapples to keep control and the effects within his life when he doesn't. Fusing physical theatre, hip-hop dance and spoken word, this semi-autobiographical work by Lanre Malaolu, is a bold and unapologetic piece of dance-theatre exploring the mental health crisis.
Supported by The Place, Talawa Theatre and The Michael Grandage Company.
Lanre Malaolu is a director, "choreographer and performer. Earlier this year he was chosen as the overall winner of the ZEALOUS EMERGE PERFORMANCE PRIZE - a nationwide search championing the UK's best emerging performance artists. In 2016 he was the chosen choreographer on the inaugural OLD VIC 12.
He was the choreographer and movement artist on The British Council film 'DEAR MR. SHAKESPEARE' Drama Centre London, which was selected for the SUNDANCE FILM FESTIVAL in 2017. Lanre is also a trained actor and has worked extensively in theatre (including COUNTING STARS at TRSE) and television.
Info: Elephant in the Room is at the Camden People's Theatre from | Book tickets