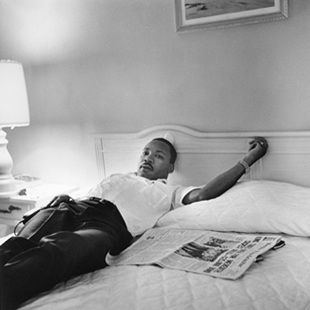 Roy Alexander Weise directs Katori Hall's The Mountaintop as the JMK Award-winning production for 2016
April 3, 1968. Room 306, the Lorraine Motel, Memphis. The smell of cigarettes and coffee hangs thick in the air as Dr. Martin Luther King Jr. winds down from a day of preaching and marching.
Winner of the 2010 Olivier Award for Best New Play, Katori Hall's fictional account of the quieter moments of King's life chips away at the myth of the great man and exposes fears about his family, his country and the ever-looming threat of a violent death. Set during the height of America's Civil Rights Movement, this sharp and powerful play confronts the legend and his legacy in a new production directed by Roy Alexander Weise.
The Mountaintop is designed by Rajha Shakiry with light by Lizzie Powell, sound by George Dennis, video by Nina Dunn, movement by Jenni Jackson, voice by Hazel Holder and casting by Arthur Carrington.
Casting: Gbolahan Obisesan as Dr. Martin Luther King Jr. and RonkẹAdékoluẹjo as Camae