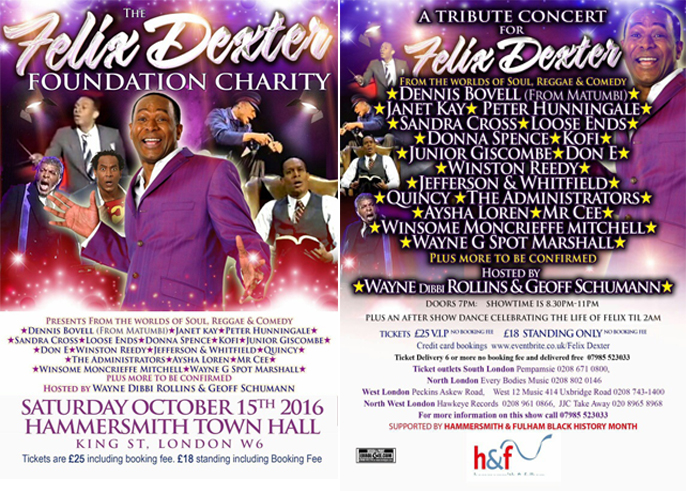 LET'S BUILD A THEATRE FOR FELIX DEXTER
On Saturday 15th October the Felix Dexter foundation/ charity pays homage to one of its very finest.
Artists from the world of television, music and comedy come together to celebrate the life of the late great Felix Dexter who sadly died in October 2013.
Felix was a much loved and respected performer who was taken away from us at such an early stage.
A tribute concert has been organised in conjunction with the Felix Dexter charity and memorial foundation.
A number of well established performers from within the African Caribbean community from the worlds of radio, television, music and comedy have come together and all agreeing to donate their time for this very special cause.
All monies raised from this event will go towards the cost of building a theatre/ training centre on the Island of St Kitts where he was born
The artists performing are as follows:-

Janet Kay
Dennis Bovell from Matumbi
Peter Hunningale
Don E
Winston Reedy
Loose Ends
Winston Reedy
Wayne G spot Marshall
The Administrators
Junior Giscombe
Hill St Soul
Quincy
Donna Spence
Sandra Cross
Kofi
Aysha Loren
Jefferson & Whitfield
Mr Cee
Winsome Moncrieffe
Hosted by Wayne 'Dibbi' Rollins & Geoff Schumann
All of this will be in the presence of the St Kitts high commissioner.
All Monies raised on the night will go to Felix Dexter's foundation
Info: A Tribute Concert for Felix Dexter takes place on Sat 15 Oct, Hammersmith Town Hall, King St, London W6 9JT | Tickets are £25 NO BOOKING FEE, £18 standing only with booking fee | Book here | Show time is 8.30-11:30pm plus an after show dance celebrating the life of Felix from 1130-2am | Further information