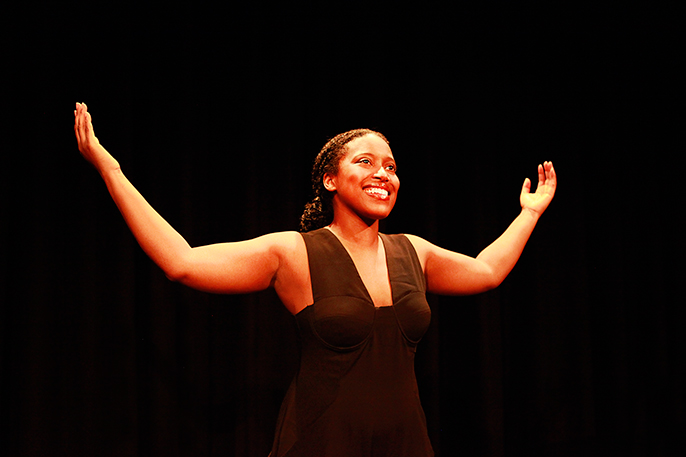 I was raped. I was abused. I survived. Today I celebrate life.
Holy & Horny is an 80-minute-one-woman-show written and acted by incredibly talented Tonya Joy Bolton. The play blends successfully different art forms such as comedy, poetry, drama, and song.
Gifted with exuberant energy, Bolton plays 20 characters gliding effortlessly from one to another (one forgets it's just her on stage!) She's in turn disarmingly naïve Sheila, a good Christian striving for holiness; her alter-ego, sensual exhibitionist Eve; an old motherly woman who looks like a tramp and turns out to be Wisdom; Sheila's hilarious cousin Marcia; her good-for-nothing boyfriend Gary; the Church's gossipy community; and fiery Preacher Prophet (Profit) Webster ('for a mere 400 Dollars I'll pray for your soul')...
The action's background is a bigoted, fanatically puritanical Black Church humorously called 'Cavalry Way'. Many themes emerge – travelling far beyond the play's initial setting – such as 'if God has given us a body able to experience deep pleasure, why should it be repressed?'; 'what does it take for a woman to be truly emancipated?' and 'the importance of self-confidence and self-reliance'; the elderly tramp warns Sheila, 'Girl don't ever compare yourself to others…'
In response to Cavalry Way's steely morals, Sheila's liberated alter-ego Eve and her cousin Marcia exalt the wonders of the body, the first with poetic grace, the second with often hilarious humour. They also encourage Sheila to get to know her body and be proud of it; only then will she be able to respect it and get others to respect it in turn. So Eve,
"many women can't even say the word 'Vagina' out loud but I'm not ashamed, I'm proud … my vagina is now encrusted with precious diamonds, protected by a fleece of solid gold, what an awesome sight to behold… Valuable and holy it's the door to my soul, not some cheap free-for-all 'hole!'"
After a few adventures – some of them harrowing such as a rape scene where Tonya plays both Sheila and her attacker – Sheila finds herself isolated and in despair. Despite this (or perhaps because of it) she summons up the strength to give a full new turn to her life. The tramp's earlier words come to mind, 'Stop trying to find the right person and spend time becoming the right person…'
In order to bury her past deep, Sheila decides to forgive those who have hurt her, 'revenge is killing me faster than cancer, forgiveness is the only answer', she leaves Wisdom to take care of them. And with towering strength she bravely resolves to seize the helm of her life,
"I can't change the past/ But I'm moving on at long last/ I refuse to be a victim/ From now on I challenge the system./ I'm letting go of the hurt and shame./ The perpetrators are the ones to blame…/The past has no power over me/ From now on I choose my own destiny."
Tonya has just won a prestigious award from children's charity Bernardo's for her work with ICU supporting youngsters who are victims of abuse (or who have emotional problems), 'The Marsh Trust Award for Outstanding Achievement in Work with Children and Families'.
In 2010 Tonya spoke about sexual violence at the first ever TEDxTalk in Birmingham | watch
Info: The Holy & Horny Farewell tour is on October 2 to November 14, 2015.
02.10.2015 | Drama Studio, Sheffield

03.10.2015 | Nottingham Arts Theatre, Nottingham

08.10.2015 | Ashcroft theatre, Croydon

09.10.2015 | UK Centre for Carnival Arts, Luton

10.10.2015| The Drum, Birmingham

15.10.2015 | Dugdale Centre, Enfield

16.10.2015 | Dugdale Centre, Enfield

24.10.2015 | Guildhall theatre, Derby

29.10.2015 | The Y, Leicester

30.10.2015 | New Theatre Royal, Portsmouth

31.10.2015 | The place, Bedford

06.11.2015 | Z-Arts, Manchester

07.11.2015 | Library Theatre, Sheffield

14.11.2015 | Newhampton Arts Centre, Wolverhampton