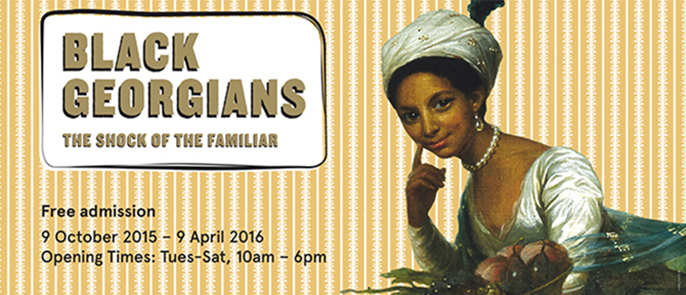 This new exhibition is curated and researched by historian and writer S. I. Martin and will be on display from 9 October 2015 until 9 April 2016.
This third major exhibition at the south London based heritage centre will reveal the everyday lives of black people during the Georgian period (1714-1830). It will offer a rich array of historical evidence and archival materials that present a surprising, sometimes shocking, and inspiring picture of Georgian Britain.
Imagining the Georgian period awakens images from Jane Austen's parlour to Hogarth's Gin Lane. Black Georgians: The Shock of the Familiar takes you on a journey a long way from these quintessential English images. This new exhibition interrogates the seams between the all-too-often prettified costume period dramas and the very different existence of hardship, grime, disease, and violence that was the reality for many.
Although Britain had been a home to people of African origin for centuries, the Georgian period marked the beginning of a distinct society that in some ways was similar to our own. Throughout the British Isles Black people were working in a variety of roles and settling here in increasing numbers. Some were enslaved and worked in domestic service. Others, having worked as free seamen or soldiers, chose to settle here. A third group were British-born freemen, and an even smaller set, here for education, business or leisure, had private incomes which enabled them to become the first Black bourgeois.
The Black Georgian narrative not only challenges preconceptions of the black presence in Britain being restricted to post World War II, but it speaks to us of a growing population that forged a new identity with creativity, adaptability, and remarkable fortitude. It is a complex picture: while there was much oppression and restriction, there was also a degree of social mobility and integration. By presenting this picture Black Cultural Archives takes an opportunity to challenge and open up new perspectives on the past and how it shaped the Britain we live in today.
Taking visitors through the lifespan of Black Georgians, from birth through childhood, daily life until death, we encounter many personalities, from the likes of anti-slavery abolitionists, such as Robert Wedderburn, Olaudah Equiano and Ottobah Cugoano, to those who found themselves amongst the upper social classes, such as Dido Elizabeth Belle and Nathaniel Wells, whose wealth stemmed from their family inheritances. We learn about Ignatius Sancho, who was born on a slave ship and then brought to Greenwich, London, and who had the good fortune to gain an education that led to his becoming a composer, scholar and businessman; and Phillis Wheatley, the first published African-American female poet, one of the most famous poets of her time. Others became embedded into British society through the realm of sport, in particular the British boxing traditions, such as the Tom Molineaux and Bill Richmond whose lives echo the rise to success as many sporting heroes of today. Through their personal narratives we discover the common threads of resistance and agency that characterized Black Georgians.
Black Georgians: The Shock of the Familiar explores how African people in Britain challenged degraded notions of human diversity and initiated a set of dialogues that continue to this day.
Black Cultural Archives' new exhibition aims to inspire imaginations, promote critical enquiry, and challenge academic thinking to further question the gaps in the narrative of British history. The challenges faced during this time sowed the seeds of change and began to define modern Britain, and also informed the early ideologies of 'Black Britain'. These unfinished conversations encourage us to grapple with questions such as: What causes are important to fight for now? How can we mobilize our collective agency today? How much has actually changed in three centuries?
Info: Black Georgians - The Shock of the Familiar is at the Black Cultural Archives, Windrush Square, Brixton, London SW2 1EF from 9 October 2015 to 9 April 2016 | Visit the Black Cultural Archives website for further information | Twitter: @bcaheritage #BlackGeorgians