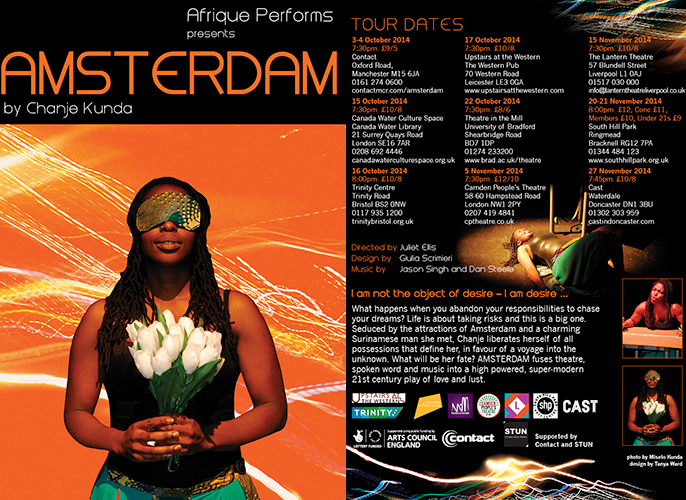 I am not the object of desire – I am desire...
Afrique Performs announce the national tour dates for their production of Amsterdam by internationally acclaimed poet, playwright and performer Chanje Kunda. The production will see its premiere at Contact Theatre in Manchester on Friday 3 October before embarking on a national tour.
Amsterdam is a theatre show that was adapted from Chanje Kunda's own collection of poetry of the same name, recently published by Crocus Books. Part autobiography, part travelogue, part lyrical drama - this solo performance explores what happens when you abandon your responsibilities to pursue your dreams.
Amsterdam by Chanje Kunda - Trailer
Amsterdam by Chanje Kunda courtesy of Youtube.com
Life is about taking risks. This is a big one. Seduced by the attractions of Amsterdam and a charming Surinamese man she met on holiday, Chanje liberates herself of all the possessions that define her, in favour of a voyage into the unknown. What will be her fate? Amsterdam is an ambitious project fusing theatre, spoken word, dance fusion and music into the high powered, super-modern 21st century play of love and lust.
Chanje Kunda is a poet, playwright and performance artist based in Manchester.
She performs nationally and internationally and has performed alongside some of the most influential modern poets including Benjamin Zephaniah and Linton Kwesi Johnson. Some of her prominent performances include features at The Royal Albert Hall London, Calabash Literature Festival Jamaica, Royal Exchange Theatre Manchester, Rise London Unite Music Festival. In 2012 she gained a year-long artist residency in the Netherlands and she performed in Amsterdam, Rotterdam, Eindhoven and Groningen. Her collection of poetry Amsterdam was published by Crocus in 2013 and was also dramatised and performed at Contact Theatre in Manchester and the Podium Mozaeik Theatre in Amsterdam. Alongside her professional career, Chanje provides workshops that use creativity, diversity and expression as tools for transforming lives.
Director: Juliet Ellis; Music and Sound Designer: Jason Singh and Dan Steele; Choreography: Darren Pritchard; Physical Theatre Consultant: Angela de Castro; Dramaturg Roger Robinson.
Listings info:
The tour will visit; Contact Theatre, Manchester (3 – 4 October), Canada Water Culture Space, London (15 October), Trinity Arts Bristol, Bristol (16 October), Upstairs @ The Western, Leicester (17 October), Theatre in the Mill, Bradford (22 October), Camdens People Theatre (5 November), The Lantern, Liverpool (15 November), South Hill Park, Berkshire (20-21 November), Cast in Doncaster (27 November).
15 October - Canada Water Culture Space, London, 7.30pm
Canada Water Library, 21 Surrey Quays Road, London SE16 7AR
Tickets: £10.00 - £8.00 (concs available)
Box Office: 020 8692 4446
www.canadawaterculturespace.org.uk
16 October - Trinity Centre Bristol, 8pm
Trinity Centre, Trinity Road, Bristol, BS2 0NW
Tickets: £10.00 - £8.00 (concs available)
Box Office: 0117 935 1200
www.3ca.org.uk
17 October – Upstairs @ The Western, Leicester, 7.30pm
The Western Pub, 70 Western Road, Leicester, LE3 0GA
Tickets: £10.00 - £8.00 (concs available)
upstairsatthewestern.com
22 October – Theatre in the Mill, Bradford, 7.30pm
Off Shearbridge Road, Bradford, West Yorkshire BD7 1DP
Tickets: £8.00 - £3.00 (concs available)
Box Office: 01274 233200
www.brad.ac.uk
5 November - Camden People's Theatre, London, 7.30pm
58-60 Hampstead Rd, London NW1 2PY
Tickets: 12.00 - £10.00 (concs available)
Box Office: 0207 4194841
www.cptheatre.co.uk
15 November – Lantern Theatre, Liverpool, 7.30pm
57 Blundell St, Liverpool L1 0AJ
Tickets: £10.50 - £8.50 (concs available)
Box Office: 0151 703 0000
www.lanterntheatreliverpool.co.uk
20 – 21 November - South Hill Park, Berkshire, 8pm
Ringmead, Bracknell RG12 7PA
Tickets: £12.00 - £9.00 (concs available)
Box Office: 01344 484858
www.southhillpark.org.uk
27 November – Cast, Doncaster, 7.45pm
Waterdale, Doncaster, DN1 3BU
Tickets: £12.50 - £10.50 (concs available)
Box Office: 01302 303 959
www.castindoncaster.com