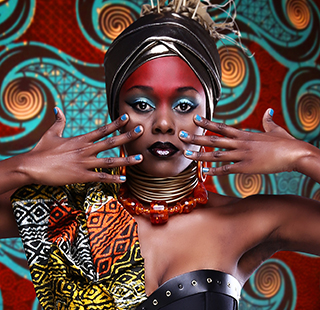 Afrovibes Festival, bringing some of the very best of South African arts to the UK and the Netherlands, makes a welcome return to the UK and the Albany this autumn.
In 2014, Afrovibes Festival marks 20 years of the New South Africa: 20 years since the ending of apartheid and the beginning of democracy. The creativity of award-winning artists brings us music, theatre, dance, photography and film, reflecting upon what it is to be part of 21st century South Africa. By turns it'll be thought-provoking, energetic, reflective, fascinating, exhilarating.
With free events, family workshops and themed food served in the atmospheric Township Cafe, drop by, hang out and belong - you'll believe that you really are thousands of miles from home!
Afrovibes UK Trailer 2014
Afrovibes UK Trailer 2014 - courtesy of YouTube.com
Full listings for this year's festival:
From Monday 13 October - Township Cafe: Table Mountains
Tuesday 14 – Saturday 18 October - Africa Inspired
Tuesday 14 – Saturday 18 October - Pop-Up South Africa
Tuesday 14 October, 7.30pm - Uncles & Angels / Dark Cell
Wednesday 15 October, 5.30pm - The African Cypher
Wednesday 15 - Friday 17 October, 6pm - Mojisola Adebayo with Afrovibes artists
Wednesday 15 & Thursday 16 October, 7.30pm - Biko's Quest
Wednesday 15 - Friday 17 October, 8.30pm - Chill Pill Plus...
Wednesday 15: Deanna Rodger & Simon Mole
Thursday 16: Raymond Antrobus & Adam Kammerling
Friday 17: Mr Gee
Thursday 16 October, 7.30pm (doors) - Chill Pill: Afrovibes
Thursday 16 & Friday 17 October, 7.45pm - Skierlik
Friday 17 October, 5.30pm - Tsotsi
Friday 17 October, 7.30pm - The Revivalists
Saturday 18 October, 11am-4pm - Afrovibes Growing Up Club
Saturday 18 October, 12pm - African Folktales
Saturday 18 October, 2pm - Khumba
Saturday 18 October, 2pm - Instant Rap Workshop
Saturday 18 October, 5.30pm - Sea Point Days
Saturday 18 October, 8pm - The Soil supported by Randolph Matthews

---
Related links
[Read] The Afrovibes at The Albany brochure
Global choir created to celebrate Afrovibes 2014 festival
Review - Sibikwa African Orchestra at The Albany, Afrovibes Festival 2012
The Albany and UK Arts International presents Afrovibes Festival 2012