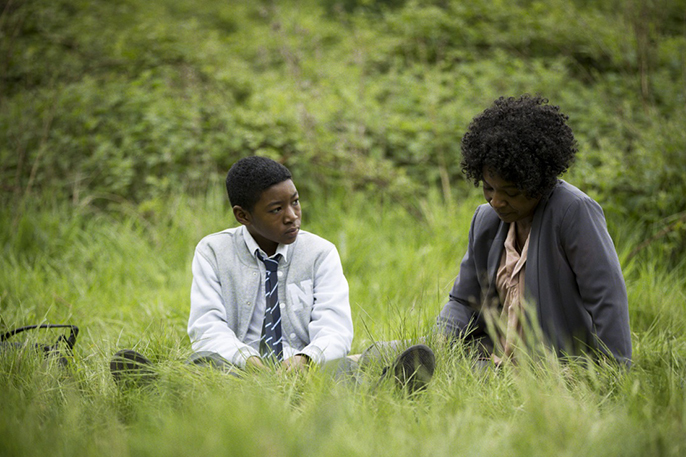 17, 18 & 19 October
Second Coming
Director-Screenwriter Debbie Tucker Green. Producers Polly Leys, Kate Norrish. With Nadine Marshall, Idris Elba, Kai Francis-Lewis
UK 2014.105 mins. Sales Protagonist Pictures
It's a bold move to make your debut theatrical feature a modern day take on such a big theological 'What If?', and Debbie Tucker Green astonishes with this London-set drama, where the newest family member is neither expected nor biologically possible. Jax (Marshall) works in the welfare office, lives with tube-worker husband (Elba), and their sensitive, nature-loving son JJ who, on the cusp of manhood is constantly looking around him for cues on how to make this transition.
It's rare to see a woman on-screen who remains so taciturn in the face of inner turmoil and as Jax's self-possession begins to frustrate her friends and family, the film ramps up the tension with Nadine Marshall's performance creating one of the most unshakable characters in recent memory. Taking the 'kitchen sink' tradition of social realism to a fresh new place, it's a film that lingers, and marks Green as an immediate new voice in British cinema. Kate Taylor Read More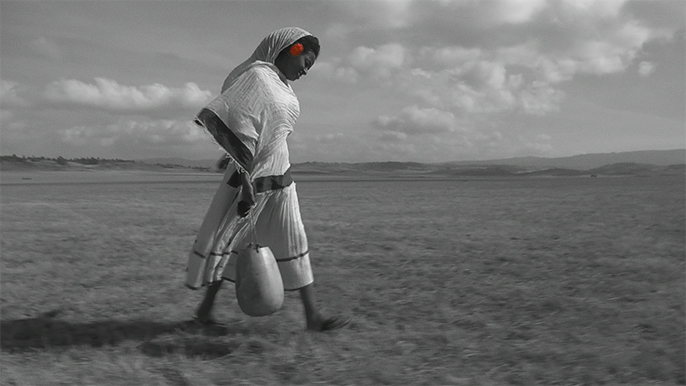 18 & 19 October
Beti and Amare
Director-Screenwriter Andy SiegeProducers Andy Siege, Pascal Dawson, Mahdere H Sisay
With Hiwot Asres, Pascal Dawson, Biniyam Kore
Ethiopia-Germany-Canada 2014. 94 mins. Production Kalulu Entertainment Ltd
Beti and Amare is an audacious, lower-than-micro-budget feature that blends romance, war, sci-fi and revenge film elements with a glorious level of invention. Set during the 1936 war between Italy and Ethiopia, the film sees Beti, a beautiful young woman, evade Mussolini's advancing troops by travelling to the home of her elderly uncle, who lives alone in a cabin in the midst of a vast, barren landscape.
The two settle down to a quiet existence together, but the menace of the war and local thugs are only just held at bay. When three men turn up at the property, hell bent on raping Beti, she is saved by an otherworldly presence, whom she names Amare. Reportedly delivered on a budget of under $7,000, Beti and Amare is a hugely impressive debut by Andy Siege and features a standout performance by Hiwot Asres as Beti. Quite simply, you won't have seen anything quite like this. Keith Shiri Read More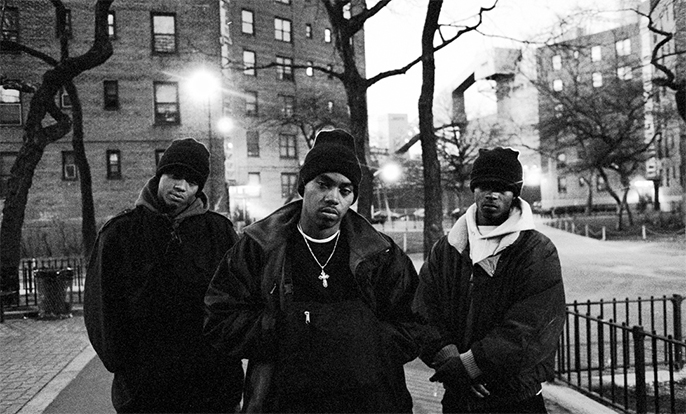 9 & 11 October
Nas: Time is Illmatic
Director One9. Producers Erik Parker, One9. With Nasir Jones
USA 2014. 73 mins. UK distribution Dogwoof
Widely regarded as one of the most influential and important records in hip hop, and undoubtedly one of the finest and most successful debut albums ever released, Nas' 1994 opus Illmatic set a new benchmark for both lyricism and musical craftsmanship for a genre that was fast becoming the most potent cultural form of the 20th century. The film opens by examining the inherent racism within US politics, policies and the social programmes that created the white middle classes and herded poor black families into housing projects.
Director One9 and screenwriter Erik Parker then explore the genesis of this musical milestone through the lens of Nas' family life and experience growing up in the hard knocks environment of the Queensbridge projects, New York. One9 synthesises archive material, stills, interviews with Illmatic's impressive musical collaborators and family, as well as access to Nas himself, to stylish effect, tracing his trajectory from young street poet to visionary MC. Stuart Brown Read More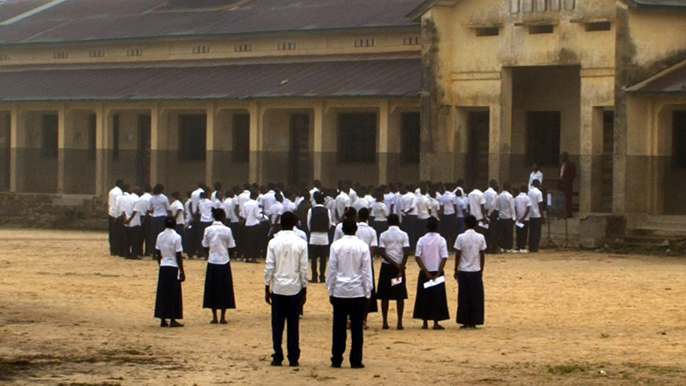 11 & 15 October
National Diploma
Examen d'état
Director and Screenwriter. Dieudo Hamadi. Producer Marie Balducchi
France-Democratic. Republic of Congo 2014. 92 mins. Production company AGAT Films & Cie
An accomplished fly on the wall documentary, Dieudo Hamadi's film follows a group of Congolese high school students as they prepare for their National Diploma exam (the equivalent of A-levels), in Kisangani, Democratic Republic of Congo. Returning to his place of birth to chronicle the plight of these students, Hamadi also exposes corruption in the education system: teachers demand to be paid 'bonuses' from their students as they prepare for their final year exams. Those who have not paid are excluded from classes. Realising their parents cannot help, a group of students finds a communal space where they can gather together to revise.
They also consult the church and local witchdoctors, encouraging each other to pray in the hope that this will help them pass their exams. With an eye for drawing out the smallest of details to add colour to his compassionate portrait of these people's lives, Hamadi has created a fascinating documentary and is very much a director to watch. Keith Shiri Read More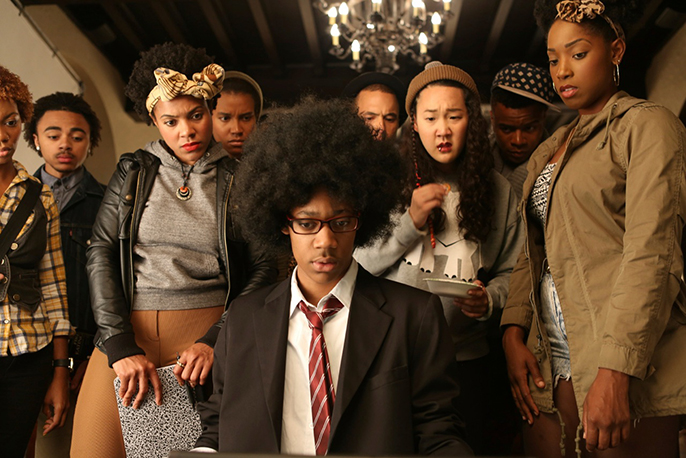 9 & 10 October
Dear White People
Director-Screenwriter. Justin Simien. Producers Effie T Brown, Julia Lebedev, Angel Lopez, Ann Le, Lena Waithe. With Tyler James Williams, Tessa Thompson, Teyonah Parris
USA 2013. 108 mins. Production company Code Red Productions
Trouble is brewing at prestigious Ivy League Winchester College. The sole black-only fraternity is to be diversified, to the disgust of firebrand campus DJ Sam White (caustic host of 'Dear White People'). So when Sam accidentally becomes hall president and word spreads of a rival white college's 'African-American-themed party', she and her fellow black students must reassess where they belong in an alleged 'post-racial' Obama nation. Whereas many films that tackle issues reduce their characters to mouthpieces, Justin Simien's razor-sharp satire makes all his protagonists thrillingly nuanced and conflicted.
Visually inventive (the fourth wall regularly takes a pummelling) yet controlled, it's in the idea stakes that Simien really lets fly, nailing cultural preconceptions of all colours. Early Spike Lee comparisons – notable School Daze and Do The Right Thing – are inevitable and somewhat courted, but Simien passionately makes his own case for provocative, relevant filmmaking: we've gotta have it. Leigh Singer Read More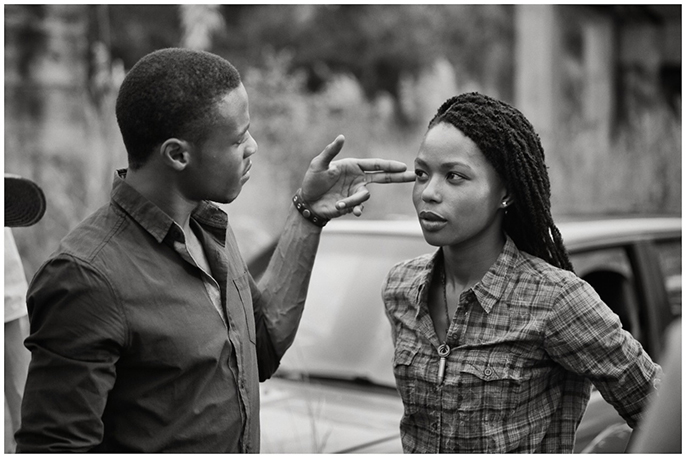 15 & 17 October
Hard to Get
Director Zee Ntuli. Producers Helena Spring, Junaid Ahmed. Screenwriters Zee Ntuli, TT Sibisi. With Pallance Dladla, Thishiwe Ziqubu, Israel Makoe
South Africa 2014. 94 mins. Production company Hard To Get (PTY) Ltd
This compact, highly enjoyable and kinetic action thriller unfurls at breakneck speed in downtown Johannesburg. It begins in a crowded bar where handsome gigolo TK (Pallance Dladla) works as a bartender. Skiets (Thishiwe Ziqubu), a strong, beautiful petty criminal walks into the bar and immediately catches TK's eye. After an altercation involving a local ruffian, TK wins Skiet's heart but he must undertake one mission that will lead him into the Johannesburg underworld and threaten all he has lived and fought for. With its elegant and atmospheric camerawork, Hard to Get draws us into the South Africa's nefarious criminal fraternity with aplomb.
Young director Zee Ntuli displays a solid mastery of the action genre, racing us from one fantastic set-piece to the next, while Thishiwe Ziqubu shines as Skiets and Pallance Dladla imbues TK with the cool of a classic noir anti-hero. Keith Shiri Read More
Info: The BFI International Film Festival in partnership with American Express runs from the 8-19 October 2014. See full programme
Related links
Beyond Nollywood weekend at the BFI
57th BFI London Film Festival 2013 – African film selection