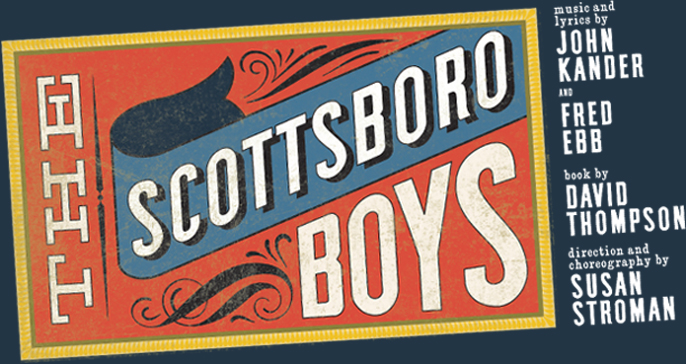 From Kander & Ebb, the legendary creators of Chicago and Cabaret...
Nominated for 12 Tony Awards...
Kander and Ebb's exhilarating, dazzling and provocative musical receives its UK premiere, once again directed by Susan Stroman, 5-time Tony Award-winning director and choreographer of The Producers.
The Scottsboro Boys tells the true story of nine young black men, aged between 12 and 19, travelling on a train through Scottsboro, Alabama in 1931 in search of a new life. By the end of their journey, their lives had been changed forever. Two white women falsely accused the nine of rape. Although one woman recanted, although the court treatment was a tragic miscarriage of justice, they were all convicted. Their subsequent trials and appeals, lasting seven years, deeply divided the nation.
The Scottsboro boys had a powerful effect on American history and on the American Civil Rights Movement. Their trial led to the passage of two pivotal Supreme Court rulings, including the right to proper legal representation and the right to trial by a jury of one's peers, specifically ensuring that black people could no longer be excluded from juries. But back in 1931, behind the screaming headlines, nine young men were desperate to prove to the world that they were human beings and that they mattered.
The cast of The Scottsboro Boys also includes: Adebayo Bolaji (Clarence Norris) who was in the original cast of Ghost in the West End, Buddy on tour and Little Shop of Horrors (Birmingham Rep); Rohan Pinnock-Hamilton (Olen Montgomery) whoperformed in the world tour of Riverdance; Hairspray in the West End; Joseph and the Amazing Technicolour Dreamcoat and Mary Poppins on UK tour; Carl Spencer (Andy Wright) who has most recently been performing with Rizzle Kicks on their UK tour; Martin Bishop, Susan Reynolds and Jordan Shaw.
The Scottsboro Boys continue to make history today. On 19 April 2013, the Scottsboro Boys Act was finally passed – a historic piece of legislation to posthumously exonerate the last eight of the nine boys, enacted an incredible 82 years later.
Tony Award nominees Colman Domingo and Forrest McClendon join Game of Thrones star Julian Glover and Dawn Hope in the UK premiere of Kander and Ebb's The Scottsboro Boys:
Colman Domingo and Forrest McClendon, stars of the original Broadway production, join the UK premiere of The Scottsboro Boys, directed by five-time Tony Award winner Susan Stroman. Colman played Private Harold Green in Steven Spielberg's multi-award winning epic Lincoln, and reprises his Tony Award nominated role of Mr. Bones, alongside fellow nominee Forrest McClendon who plays Mr. Tambo. Also joining the Young Vic cast fresh from Broadway are Christian Dante-White (Charles Weems) and Clinton Roane (Roy Wright). The original production scooped an incredible 12 Tony Award nominations including Best Musical and Best Director.


Colman Domingo played Billy Flynn in Chicago on Broadway, and scooped an OBIE for his appearance in the Off-Broadway production of the Tony Award-winning musical Passing Strange. He won a GLAAD and Lucille Lortel Award as well as a Drama Desk nomination for his self-penned autobiographical show, A Boy and His Soul that also played Off-Broadway. Later this year film audiences will see him in The Butler (dir. Lee Daniels) and Lucky Dog alongside Paul Giamatti and Paul Rudd.


Forrest McClendon's theatre credits include Faith Journey off-Broadway, James Baldwin: A Soul on Fire and Dreamgirls: The Musical. He won a Barrymore Award for his role in Avenue X at the 11th Hour Theatre Company.


Olivier Award-winning actor Julian Glover will play The Interlocutor. Julian's extensive work on stage includes the lead in The Voysey Inheritance at the NT and in King Lear (Shakespeare's Globe); Richard II (Old Vic); Galileo's Daughter (Bath/Peter Hall Company); Phedre and Britannicus (Almeida); The Dresser and Oliver! in the West End. Julian's myriad screen credits include some of the most iconic films of the 1980s including Star Wars: The Empire Strikes Back, Indiana Jones and the Last Crusade and the James Bond classic For Your Eyes Only. More recently TV audiences will have seen him playing Grand Maester Pycelle in HBO's international hit Game of Thrones.
Dawn Hope will play The Lady. Her work in the theatre includes Porgy and Bessand Piaf in the West End, as well as Rupert Gould's Rough Crossing (Headlong/Lyric Hammersmith and UK tour). On television she is well-known to Coronation Street viewers for playing the character Alison Soames.
The Scottsboro Boys has music and lyrics by John Kander and Fred Ebb, book by David Thompson, direction and choreography by Susan Stroman. The Scottsboro Boys is a Young Vic and Catherine Schreiber production.


Info: The Scottsboro Boys is at the Young Vic from 18 October - 21 December. Book tickets, here
Related links