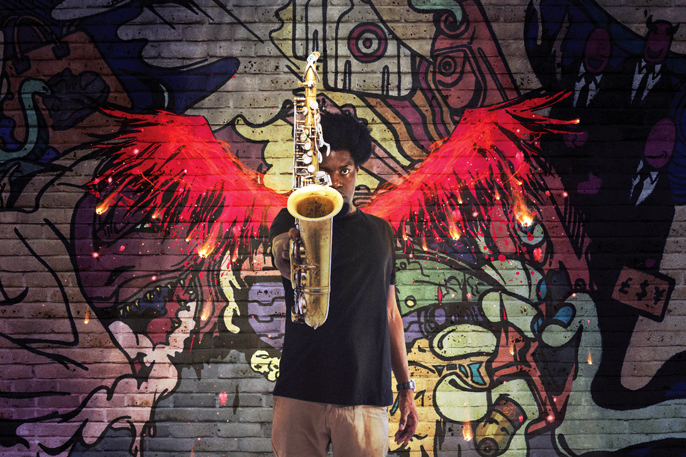 Award-winning jazz and hip hop artist Soweto Kinch returns to the Albany this October with a dynamic fully staged performance of his critically acclaimed album, The Legend of Mike Smith. The show follows an auspicious launch at Birmingham Repertory Theatre's newest auditorium, The STUDIO. As an Albany Associate Artist, South East London's favourite theatre is only too happy to welcome Soweto back once again.
Inspired by The Seven Deadly Sins and Dante's Inferno, Soweto and a company of musicians, actors and dancers present the story of Mike Smith, a young, aspiring MC caught in a world of temptation where the boundaries of reality and fantasy collide.
The modern fable follows a day in the life of Mike Smith, who gets a call from a record label talent scout telling him he could be the next big signing if he proves himself at an audition the following day. He falls asleep and dreams he's on a battleground with injured soldiers and demons before chancing upon a golden microphone given to him by a group of sages. When he wakes up he's ready to start work, but he's beset by each one of the seven deadly sins.
Smith is portrayed by a double narrator (a device, coincidently, also used in Kurt Weill's Seven Deadly Sins). Smith's inner thoughts are narrated by Soweto with the protagonist and other characters played by dancers and actors, Tyrone Issac Stuart and Ricardo Da Silva. The end result is an inventive narrative and absorbing combination of animation, dance and music that melds wide-ranging influences from jazz and Bach chorales to hip hop and freestyling.
An alto-saxophonist and MC, Soweto Kinch is one of the most exciting and versatile young musicians in both the British jazz and hip hop scenes. He has amassed an impressive list of accolades and awards on both sides of the Atlantic including a Mercury Music Prize nomination, two UMA Awards and a MOBO for Best Jazz Act in 2003 and 2007.
The Legend of Mike Smith will be directed and choreographed by the pioneer of British hip hop culture and one of Soweto's long-time collaborators, Jonzi D. Joining them will be musicians Shane Forbes (drums) and Nick Jurd (bass), visual artist Nat Jones and costume stylist Mimi Fresh.
Info: The Legend of Mike Smith by Soweto Kinch will be at The Albany, Douglas Way, Deptford, London SE8 4AG Tuesday 1 to Saturday 5 October, 7.30pm. Book tickets
Related links
The Legend of Mike Smith by Soweto Kinch, Birmingham Rep 12-28 Sept