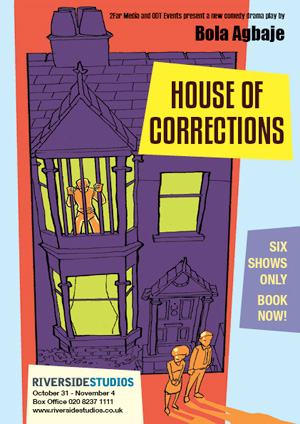 To coincide with Black History Month ODT Events in partnership with 2Far Media present a new comedy drama play, House of Corrections, by award-winning playwright Bola Agbaje exploring the impact a son's incarceration has on a family.

There's only a week left till Rasheed's 50th birthday and his son has just been sentenced to thirteen years in prison. Rasheed decides it's time to put his house in order. However, is he piecing his family together or pushing them further apart?

The challenges faced by Africans and, in particular, young black African men are critically relevant in today's society with the increasing number of black people being sent to prison. The Deputy Prime Minister has openly raised concerns that "Hundreds more young black men are in jail than at top universities" To put this into even wider context a major commission found that five times more black people than white people per head of population in England and Wales are imprisoned and this number is rapidly increasing.


Although the play has been written to provide an entertaining and engrossing story, it is also aimed at breaking the silence and secrecy of their families when young black men experience custody. As in her other plays, the route playwright Bola Agbaje takes to achieve her powerful and dramatic impact is by using an engaging plot revealing the warm humanity of her brilliantly-drawn characters. And then writes with her characteristically sharp ear for authentic dialogue to challenge prevailing attitudes, provoke discussions and break down stigma and discrimination.

So come along, celebrate Black History Month at Riverside Studios, located in Hammersmith, West London, have your own ideas and prejudices challenged while enjoying an hour and a half of top-class entertainment, and begin the discussion that will shape communities.
Info: House of Corrections is at Riverside Studios, Hammersmith from 31 October to 4 November 2012
Related Links
Afridiziak Theatre News interview with Bola Agbaje
Afridiziak Theatre News review: Belong, Bola Agbaje