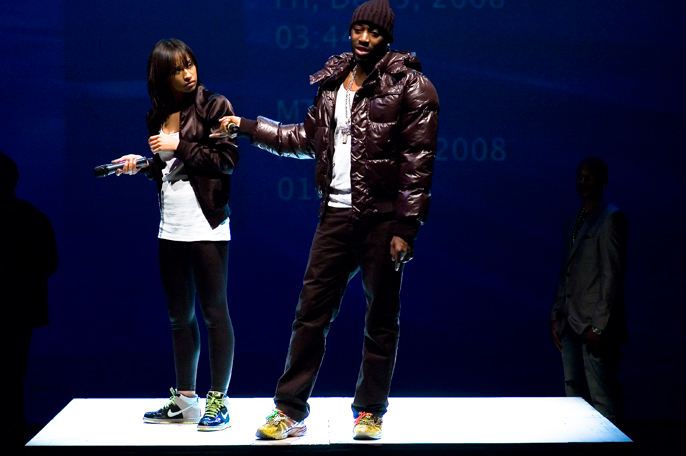 As hip hop culture evolves and continues to court controversy, Jonzi D Productions return with bold new theatre, taking a wry look at celebrity within the hip hop 'industry' and the manipulative players masterminding urban myths.

Markus the Sadist tells the story of a talented young emcee from humble UK origins, earning his accolades at local battle championships as he sweeps the board with his raw, precocious skills.

Attracting the attentions of record companies and unscrupulous management, Markus has to agree to certain conditions in order to capitalise on the offer of a lifetime - He must sound American, mention his sponsors and predictably have a gang affiliation. After signing and reaching the dizzy heights of rap superstardom, this story takes an unexpected turn as Markus decides to switch styles at the height of his popularity…..

Written and directed by Jonzi D who continues to set a precedent within hip hop theatre and dance, this modern rap fable includes brand new music from MOBO award winning jazz innovator Soweto Kinch. With a vibrant cast collectively portraying a diverse array of characters, the lead role of Markus comes courtesy of Bashy, a rising UK star and critically acclaimed musician/writer who won Most Inspiring Act at the Urban Music Awards in 2008.

With his career in the ascendant, Bashy takes time out of recordings and shows to debut his acting skills and work with Jonzi D Productions on this explosive new work.
Tour dates – October 2009
1st and 2nd NORTH FINCHLEY artsdepot, 8pm
6th STOCKTON-ON-TEES Arc, 7.30pm
8th NOTTINGHAM Playhouse, 8pm
10th MAIDENHEAD Norden Farm Centre for the Arts, 7.30pm
13th MALVERN Theatres, 7.30pm
16th - 17th MANCHESTER Contact Theatre, 8pm
19th LONDON Bloomsbury Theatre, 8pm
22nd - 24th BIRMINGHAM The Drum, 7.30pm
26th - 27th LEEDS West Yorkshire Playhouse, 7.45pm
30th - 31st IPSWICH New Wolsey Theatre, 7.45pm
---
Related links