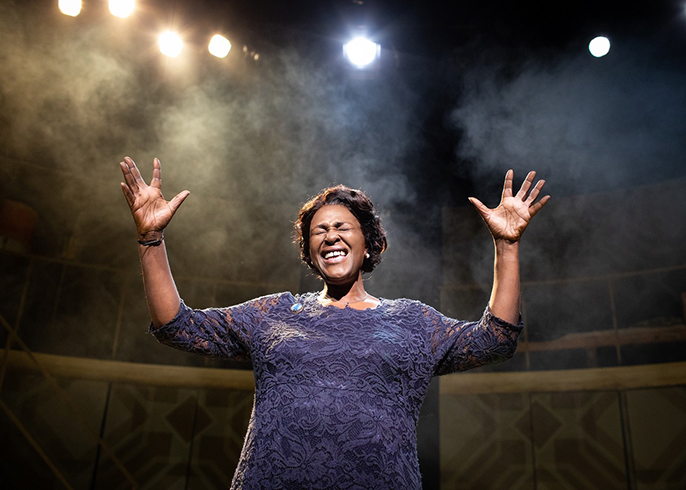 Louisiana, 1963. Revolution is in the air, though not so much for Caroline, the poorly paid maid toiling endlessly in the sweltering basement of the Gellman household. It's a fantastical, magical place amidst the piles of laundry and singing washing machines, especially for eight-year-old Noah Gellman who sneaks downstairs to see her whenever he can. Yet a simple gesture to leave more money in Caroline's pocket is about to test who and how far the winds of change can ever really reach...
Winner of the 2007 Olivier Award for Best New Musical, Caroline, Or Change is a playful, funny, and deeply moving portrait of America at a time of momentous social upheaval, set to an uplifting and profound score of soul, blues, classical and traditional Jewish folk music.
Chichester Festival Theatre's critically acclaimed production enjoyed a sell-out engagement at Hampstead Theatre.
The celebrated musical is written by Tony Kushner, author of Angels in America and recent recipient of the Arthur Miller Foundation Humanitarian Award. The soaring score is by Tony Award-winning Fun Home composer, Jeanine Tesori.
A truly welcoming and joyous musical, Caroline, Or Change opens its doors to new audiences with two unique ticketing initiatives:
Chichester Festival Theatre's highly successful Prologue scheme, which enables 16-25 year olds to purchase £5 tickets across all productions in the theatre's Festival season has now also been applied to Caroline, Or Change in the West End. The limited number of £5 Prologue tickets can be purchased by 16-25 year olds, on the day of performance and in person from the Playhouse Theatre Box Office, where proof of age ID will be required.
'Carolines Go Free' is an exclusive offer to anyone named Caroline. Carolines will receive a complimentary ticket when purchasing one or more accompanying tickets. The 2 for 1 initiative will be available in person at the box office or via the telephone on 0844 871 7631.
The full cast includes Naana Agyei-Ampadu, Keisha Amponsa Banson, Alastair Brookshaw, Me'sha Bryan, Angela Caesar, Dujonna Gift-Simms, Sue Kelvin, Teddy Kempner, Ako Mitchell, Abiona Omonua, Vincent Pirillo, Tanisha Spring and Lauren Ward with Cassiopeia Berkeley-Agyepong, Zalika Henry, Laura Medforth, Timothy Quinlan and Teddy Wills. Nine young performers have been cast in the roles of Noah, Jackie and Joe. Isaac Forward, Aaron Gelkoff and Jack Meredith will alternate the role of Noah, Mark Mwangi, Kenya Sandy and Jeremiah Waysome will alternate the role of Jackie and the role of Joe will be alternated by Josiah Choto, David Dube and Raphael Higgins-Hume.
Directed by Michael Longhurst, this five-star production received phenomenal critical praise when it opened with sold out engagements at Chichester Festival Theatre and again at the Hampstead Theatre.
NEED TO KNOW: Caroline, Or Change is at the Playhouse Theatre from 20 Nov 2018 to 6 April 2019 | read review | book tickets