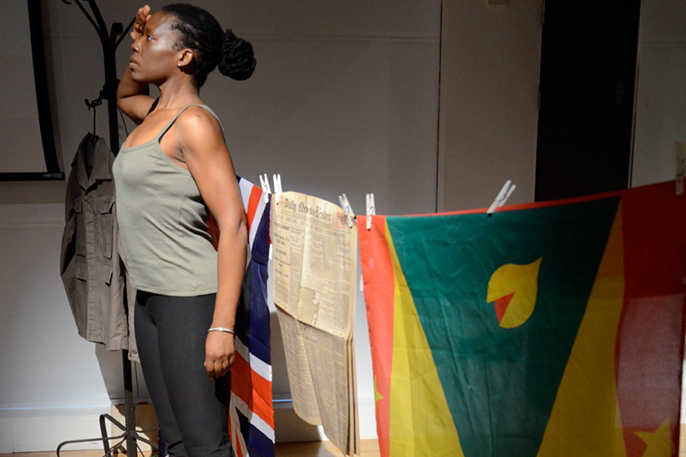 Raising Lazarus is a solo play charting the experiences of Caribbean soldiers in world war one. Written and performed by Kat Francois. Directed by Dawn Reid.
Lazarus Francois left Grenada in the West Indies to fight for Britain in WW1. A story of heart break, memorable characters, adversity and the ultimate sacrifice. Written and performed by Kat Francois, playwright, actress and World Poetry Slam Champion, who melds historical facts and family stories to create a dynamic and unforgettable play.
Kat Francois knew nothing about her long lost relative Lazarus Francois until she stumbled across a picture of a memorial in a book about Grenada. That picture set her on a journey that has so far taken her to Grenada and New Jersey, to seek out stories of the man known as Lazarus Francois. The play charts Lazarus' story as a solider and the journey that Kat faced in order to discover this previously unknown relative.
Raising Lazarus was developed in conjunction with the Theatre Royal Stratford East as part of their SPOKE LAB series, encourging poets to create plays. It was inspired by the untold story of Lazarus Francois; Kat Francois wanted to find out as much as she could about him and bring his story alive, shedding light on the contribution and sacrifices the West Indies made to the British war effort in WW1.
Info: Raising Lazarus by Kat Francois is at Rich Mix on 29 November 2014, 7.30pm | Book tickets
Related links
Raising Lazarus was performed at Camden People's Theatre 2-4 August 2012