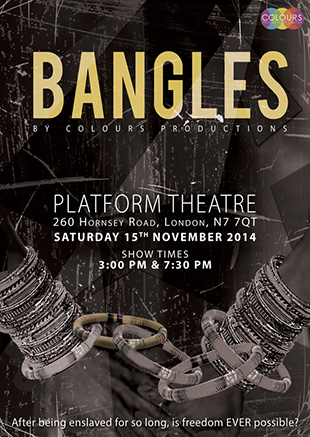 Bangles tells the story of Theresa, a young British born, Nigerian filmmaker, still haunted by memories of her abusive, now deceased father. Despite her best efforts, she is unable to convey the depth of her pain to her stern mother Gbemi and her cocky, confident brother, David. However, as her family attempts to approach her father's memorial with a veneer of normalcy, familial tensions arise, Theresa and her family are compelled to confront a devastating past in a way which changes their lives forever.
Exploring timeless themes of reality/perception, forgiveness and healing and combining powerful live theatre with searing, unusual film footage, Bangles is an innovative multimedia production. Theresa uses the mediums of film and poetry to cope with painful memories and express her inner turmoil, to poignant effect. The question we pose to our audience is: After being enslaved by the past for so long, is freedom EVER possible?
The Concept
Combining surreal, striking film footage with powerful live theatre, Bangles is an immersive multimedia experience which explores resonant themes of pain, forgiveness and hope. Despite the play's heavy themes, there will be moments of levity and humour to bring balance. The visual element in the production has major role. In order to cope with her emotional distress, Theresa creates short film clips. These clips emphasise Theresa's inner turmoil in a surreal way.
The audience will be able to watch these moving tableaux of domestic deformed objects, barren landscapes, empty spaces, black and white pictures and brightly coloured landscapes (throughout the show). Emma Hu Nan is a Chinese Filmmaker that will film and edit the short films which will be projected on a large projection screen and will follow in parallel the action on stage in depicting Theresa's story. The cinematic aspects of this project are pivotal as they mirror Theresa's character arc towards emotional wholeness. Her personal struggles are also expressed through spoken word/poetry. The production explores the taboo subject of domestic violence within families and the devastating impact upon its victims. The play will provoke discussion and hopefully spur people who have experienced or are experiencing trauma to seek healing.
Cast: Ama Addison (Theresa), Kemi Lofinmakin (Gbemi), Emmanuel Ogunjinmi (David)
Creative Team
Writer – Michael Ajose
Director – Fana Cioban
Producer – Abay Aromire
Filmmaker – Emma Nan Hu
Lighting Designer– Petr Vocka
Sound Designer – Philip Matejschuk
Info: Bangles takes place on 15 November 2014 at The Platform Theatre, 260 Hornsey Road London, N7 7QT | Book free tickets for 3pm performance | Book free tickets for 7.30pm performance