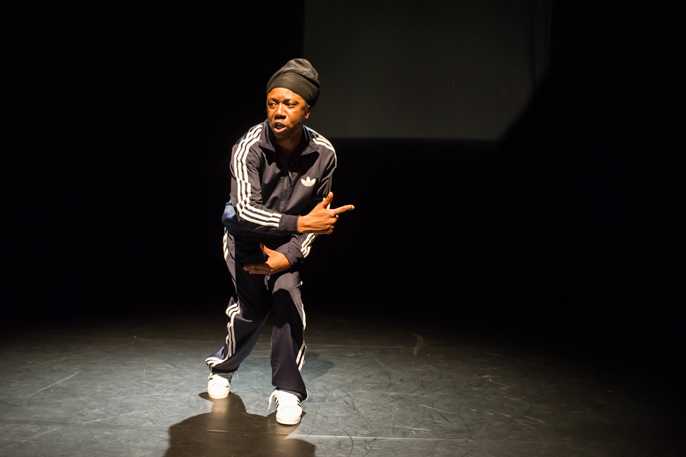 Hip hop theatre artist Jonzi D - a Sadler's Wells Associate and the Artistic Director of internationally acclaimed hip hop festival Breakin' Convention - presents a UK tour of Lyrikal Fearta: The Letter & Broken Lineage.
The Letter is a solo work which explores the responses to Jonzi being offered an MBE, and uses choreopoetry to look at this sensitive subject matter through the eyes of an animated cast of characters - all played by Jonzi.
The evening also features Broken Lineage, a newly commissioned collaboration with Ivan Blackstock of BirdGang Dance Company, about the relationship between the old skool and new skool hip hop generations. There will also be a top guest hip hop artist presenting a new work at each venue.
Bringing Jonzi's unique perspective to evolving social issues, Lyrikal Fearta promises to captivate audiences with Jonzi's wit, humour and style.
Eden Court, Inverness
Wed 20 November
www.eden-court.co.uk
Box office: 01463 234 234

Brewery Arts Centre, Kendal
Sat 23 November
www.breweryarts.co.uk
Box office: 01539 725 133

Lilian Baylis Studio, Sadler's Wells, London
Mon 9 - Wed 11December
www.sadlerswells.com
Box office: 0844 412 4000
Spring 2014 Tour dates
Richmix, London
Sat 18 January
www.richmix.org.uk
Box office: 020 7613 7498

Gulbenkian Theatre, Canterbury
Weds 22 January
www.kent.ac.uk
Box office: 01227 769075

Birmingham Rep
Fri 24 & Sat 25 Jan
www.birmingham-rep.co.uk
Box office: 0121 236 4455

Sherman Cymru, Cardiff
Tue 28 January
www.shermancymru.co.uk
Box office: 029 2064 6900

Courtyard, Hereford
Weds 29 Jan
www.courtyard.org.uk
Box office: 01432 340555

Contact Theatre, Manchester
Thur 30 January
www.contactmcr.com
Box office: 0161 274 0600

Black-e Liverpool
Fri 31 Jan & Sat 1 Feb
www.theblack-e.co.uk
Box office: 0151 709 5109

Edgehill, Lancaster
Mon 3 Feb
www.edgehill.ac.uk
Box office: 01695 575171

Circomedia, Bristol
Weds 5 Feb
www.circomedia.com
Box office: 0117 924 7615

Artsdepot, London
Thur 6 Feb
www.artsdepot.co.uk
Box office: 020 8369 5454

The Albany, London
Fri 7 & Sat 8 Feb
www.thealbany.org.uk
Box office: 020 8692 4446
---
Related links