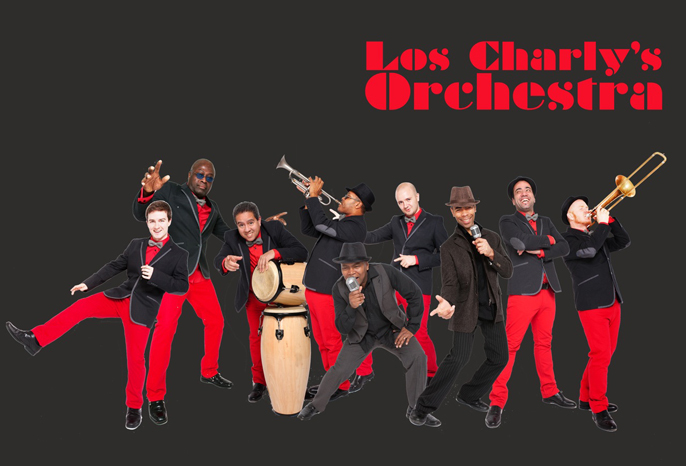 Rising from London's vibrant latino music scene and drawing inspiration from 70's New York City's revolutionary latin, disco and funk musical melting pot, Los Charly's Orchestra deliver one of this year's go to funk albums 'Rediscovering The Big Apple'.
Featuring the singles 'My Barrio' and 'Al Ritmo Del Latin Funk', which are on their way to becoming modern day classics, as hailed by Radio 6's Craig Charles (The Funk n' Soul show), Dimitri from Paris, Cafe del Mar's Jose Padilla (Ibiza) and Joey Negro, whose 'Disco Funk EP' re-edits is one of LCO's most collectable 12" vinyl releases, continually in demand for a re-press, LCO are definite Ones To Watch.
With an established Saturday night Live residency at Soho's Floridita club (formerly the legendary Marquee Club), LCO's second album 'Rediscovering The Big Apple' combines 10 retro and exhilarating modern tracks, opening with the Hammond powered low-slung funk of 'All I Wanna Do'. 'My Barrio's old skool Fania-flavoured stepping groove continues to impress alongside the percussive blow out jam, 'Al Ritmo del Latin Funk'.
Los Charly's Orchestra - Al Ritmo Del Latin Funk
Los Charly's Orchestra - Al Ritmo Del Latin Funk (Official Video) courtesy of Youtube.com
LCO are a London based collective created, produced and lead by Venezuelan producers Juan Laya & Jorge Montiel, whose inspiration is the spirit and the sounds of New York City in the late 60's and 70's from their own Charly's perspective. Fania, Salsoul, Joe Bataan, Cal Tjader, Willie Colon, Joe Cuba, Charlie Palmieri, Bobby Matos etc are all clear influences and inspiration in their musical journey travelling from the earliest Latin Funk, Soul & Boogaloo, to the genre that was to unify the whole Hispanic America under one groove: Salsa, and beyond.
LCO have collaborated with some of the most prolific contemporary producers such as Faze Action, Pete Herbert, Jose Luis Pardo (from Los Amigos Invisibles) and Joey Negro producing a series of releases to the delight of the global Latin-Funk/Soul/Disco scene.
Los Charly's Orchestra awesome team of hand-picked musicians in alphabetical order are: Elpidio Alegria (Lead Vox), Paul Batik (Trumpet), Jon Desbruslais (Drums), Andre Espeut (Lead Vox), George Malamas (Bass), Milt Mavrakakis (Keys & Vibes), Alejandro Martinez (Percussion), Mike Mckenzie (Drums), Matheus Nova (Bass), Wilmer Sifontes (Percussion), Joe Thomas (Keys) and Tony Trombony (Trombone)
Special Guests: Amar Kabouche (Flute), Ben Trigg (Strings), Eikel Venegas Hernández (Trumpet) and Landy Díaz Casanueva (Trombone).
Info: 'Rediscovering The Big Apple' Album Launch Party, Floridita, 100 Wardour Street, London, W1F 0TN, 8pm and 10pm and supported by Cubano | Tel: 020 7314 4000 | Times: 7pm-3am | Bar Tickets: £10 on the door or book a Table at www.floriditalondon.com | www.loscharlysmusic.com