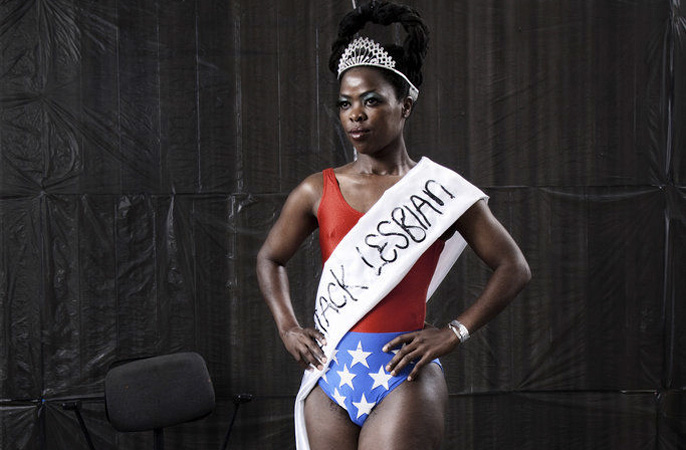 An eerie mystery where a queer wedding might have been, I Stand Corrected is a supernatural story of two black lesbian lovers from two different continents, trying to touch each other across a mortal divide. The tale is told through haunting and sometimes absurdly comic physical theatre with seductive singing, dance, music and fire.

Mojisola Adebayo is black British actor, playwright, poet, director and creator of sell-out Ovalhouse shows Moj of the Antarctic and Muhammad Ali and Me.

'She's as subtle and supple as a whole ensemble' (Time Out, Critics Choice)

Mamela Nyamza is a South African dancer and choreographer and recipient of the Standard Bank award.

'She's one dancer-choreographer who doesn't shy away from painful subjects wherever she may be' (Adrienne Sichel, lifetime achievement winning critic).

I Stand Corrected is an interdisciplinary collaboration by these two outstanding international artists.

Originally Created by Mojisola Adebayo and Mamela Nyamza
Directed by Mojisola Adebayo
Originally performed by Mojisola Adebayo and Mamela Nyamza
Set and Costume Design: Rajha Shakiry
Lighting Designer: Mannie Manim
Music Supervison: Mix 'n' Sync
Info: I Stand Corrected is at Ovalhouse Theatre from 20 November to 8 December 2012 | Book tickets now!
Related Links
I Stand Corrected on Facebook
I Stand Corrected on Twitter
Mojisola Adebayo official website
Triangle Project estimate around 10 specifically hate rapes of lesbians take place each week. Sihle Skotshi was murdered this week